JDS revolt brews against Kumaraswamy
Deve Gowda has tried to speak to each of the dissidents but so far failed to pacify them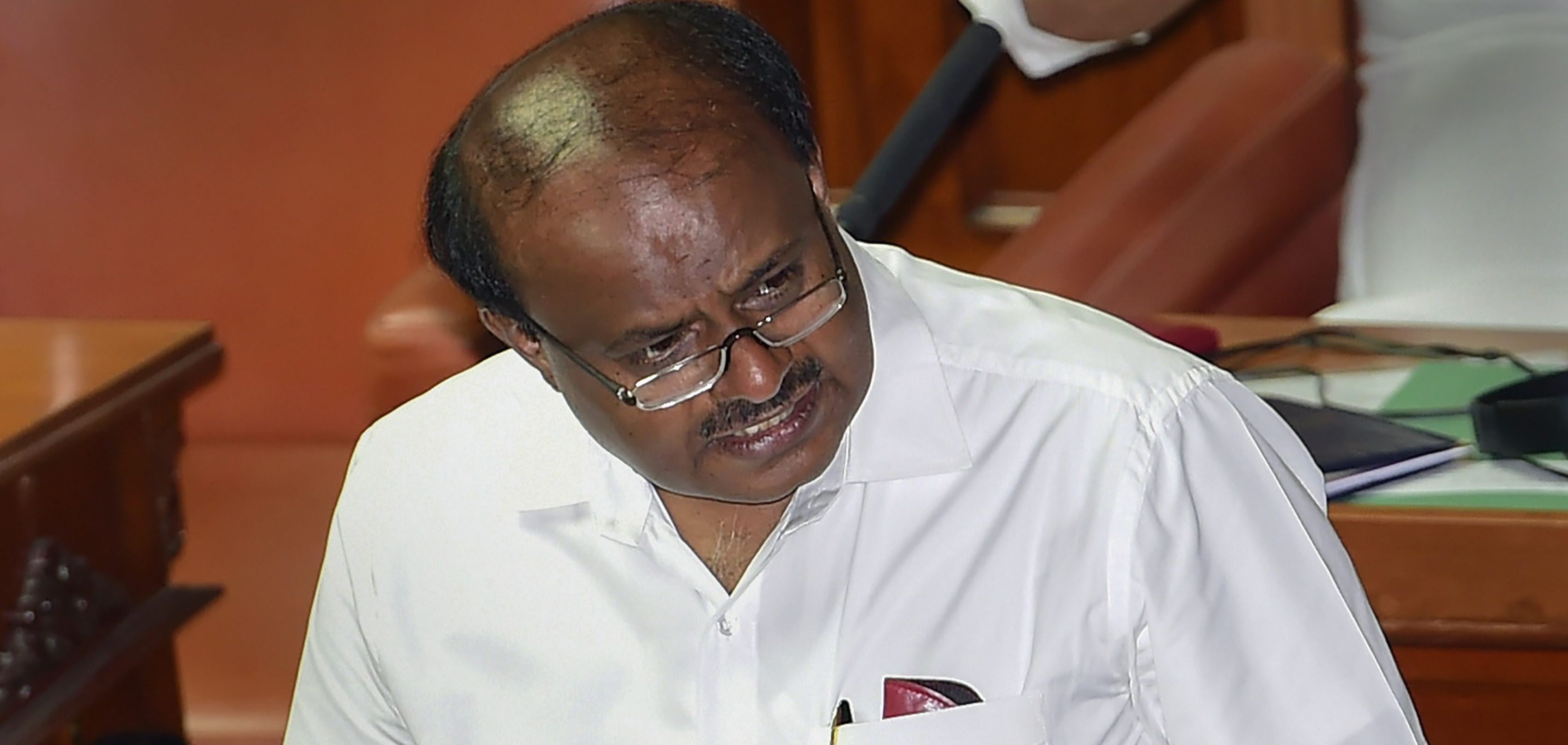 HD Kumaraswamy
(PTI file photo)
---
Bangalore
|
Published 22.10.19, 08:26 PM
|
---
Old-time loyalists of former Prime Minister H.D. Deve Gowda have risen in revolt accusing his son and former chief minister H.D. Kumaraswamy of sidelining them, facing the Janata Dal Secular with a brewing crisis weeks ahead of by-elections to 15 Assembly seats.
This group of 27 legislators includes 16 of the party's 34 MLAs and all its 11 legislative council members. An exodus would therefore severely deplete the party, which recently lost three MLAs to a rebellion that brought down its coalition government with the Congress.
Deve Gowda, the party's national president, has tried to speak to each of the dissidents but so far failed to pacify them.
The rebels, led by legislative council member Basavaraj Horatti and Assembly member S.R. Srinivas, say they had earlier sent several "warnings" to the JDS patriarch over his son's functioning but he had failed to rein him in.
Kumaraswamy, the de facto number one in the party despite holding no post, has downplayed the development, saying: "I will take some action, if needed."
Most of the dissidents — old socialists all — are apparently gravitating towards the Congress, with some of them believed to have sent feelers to P.C. Siddaramaiah, who was formerly with the JDS.
Only the veteran from Mysore, G.T. Deve Gowda, is being rumoured to be heading to the BJP although, asked a direct question, he said: "I'm thinking of staying away from active politics."
Y.S.V. Datta, a dissident and a diehard Deve Gowda loyalist, tore into Kumaraswamy as he spoke to The Telegraph on Tuesday.
"I'm a staunch loyalist of the party and our leader, Deve Gowda, but how long can I suffer this humiliation at Kumaraswamy's hands?" the former MLA asked.
After losing to the BJP candidate from Kadur in the 2018 Assembly polls, Datta had alleged sabotage within the party.
"I joined the party (the JP movement of the 1970s) when I was just 20. Now I'm 66. All these 46 years I have been a loyal worker. But now even I am being sidelined," Datta, who had been imprisoned during the Emergency, said.
He said his loyalty had sealed his lips all these years, "but it's time to speak up to save the party since it seems that Deve Gowda is helpless before his son".
Datta conceded that the rebellion would "affect the party's prospects in the December 5 by-elections — that's one reason it must be sorted out quickly".
Another dissident MLA, who didn't want to be named, said: "It seems Kumaraswamy loves only people with deep pockets, and not those like me who helped build this party."
Kumaraswamy has been accused of accepting money to field newbies in elections.