Jammu & Kashmir: 'Outsiders' enter social caste list
Government also substituted the term 'Pahari-speaking people' with 'Pahari ethnic people'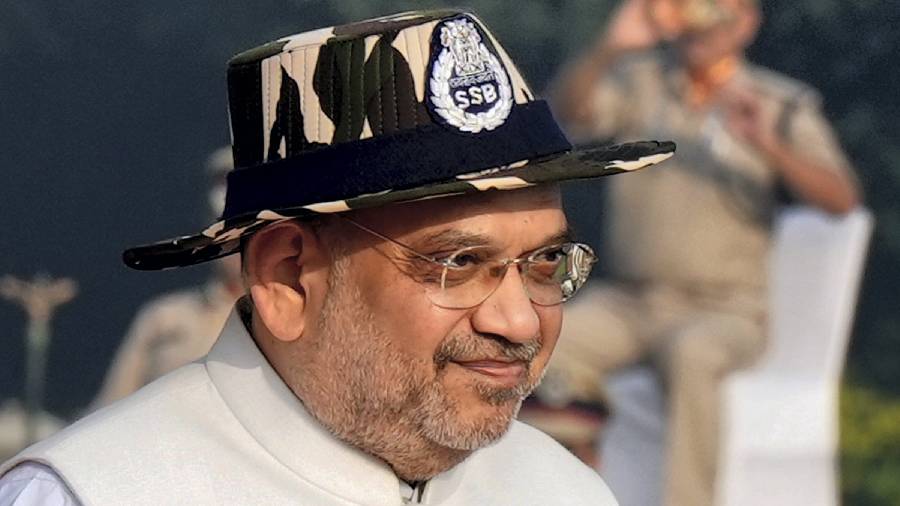 Home minister Amit Shah had recently announced that the Paharis would be included among STs and the process for that had already been set in motion.
File Photo
---
Srinagar
|
Published 23.10.22, 12:28 AM
|
---
The Jammu and Kashmir government has expanded the social caste list by adding 15 new classes, including West Pakistan refugees and Gorkhas who were deemed outsiders before the 2019 scrapping of special status.
The government also substituted the term "Pahari-speaking people" with "Pahari ethnic people". This literally turns the linguistic group that includes high caste Brahmins and Syeds among Hindus and Muslims into an ethnic group, apparently to pave the way for their inclusion in India's Scheduled Tribe list.
Home minister Amit Shah had recently announced that the Paharis would be included among STs and the process for that had already been set in motion. This is seen as an attempt to woo the Paharis, who are mostly Muslims.
Manoj Sinha, the lieutenant governor of Jammu and Kashmir, on Saturday issued the order to redraw the social caste list under the Jammu and Kashmir Reservation Act, 2004.
The act, which has different reservation yardsticks than that of the country, was not scrapped following the 2019 dilution of Article 370, but the government is gradually changing its provisions to bring it on a par with the four sets of reservations available across India — Scheduled Castes, Scheduled Tribes, Other Backward Classes and Economically Weaker Sections.
It is feared that the government might scrap the Resident of Backward Areas reservation, which was slashed to 10 per cent from 20 per cent in 2020.
This quota is available only in Jammu and Kashmir. In its place, many believe the government will introduce the OBC category and the decision to expand the social caste list is seen as a move in that direction.
Among those included in the social caste list are refugees (and their progeny) from the erstwhile West Pakistan (excluding SCs), who had migrated in 1947 and settled in Jammu and Kashmir, and Gorkhas. Both are not original residents of Jammu and Kashmir. 
The two groups became entitled to domicile rights only after 2019. They are now not only entitled to land and jobs in Jammu and Kashmir but will also enjoy reservation benefits. West Pakistan SCs will also have reservation, but in the SC category.
Besides, some advanced groups including Jats and Acharyas have been included in the list. They had no reservation in Jammu and Kashmir earlier.
The other new classes added in the list are Waghey (Chopan), Ghirath/ Bhati/ Chang, Saini, Markabans/ Pony Walas, Sochi, Christian Biradari (converted from Hindu Valmiki), Sunar/ Swarankar Teeli (Hindu Teeli along with the already included Muslim Teli), Perna/ Kouro (Kaurav), and Bojru/ Decount/ Dubdabay Brahmin Gorkans.
R.K. Kalsotra, who heads the Jammu and Kashmir chapter of the All India Confederation of SCs, STs and OBCs, said reservation for all groups that were socially and educationally deprived was welcome.
"But we are against any reservation for advanced communities. Take for example the Paharis, who are being given ST status. They include high caste Syeds, Khans and Shahs from among Muslims, and Brahmins, Mahajans and Rajputs from among Hindus. Isn't it unfair?" he asked.