'Millions cut-off for 18 months, but not a murmer'
Jammu and Kashmir schools seek 4G loss apology from Centre
Expressing surprise that certain dignitaries had lauded the govt for restoring services as though it was a favour, the institutions asked who would compensate for the academic years and jobs lost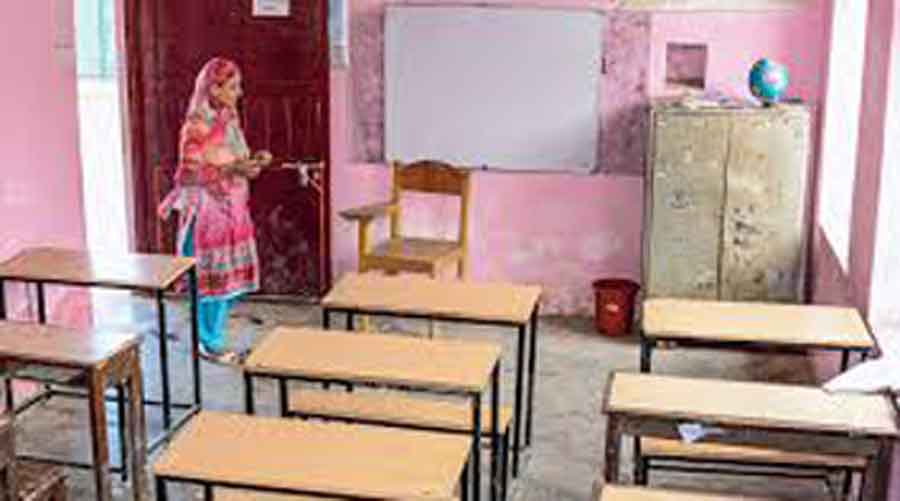 Along with many other institutions and individuals, the schools had fought unsuccessfully to have high-speed Internet restored so that online classes could be held
File picture
---
Srinagar
|
Published 07.02.21, 01:59 AM
|
---
Jammu and Kashmir's private schools on Saturday sought an apology from the government for depriving the region's students of high-speed Internet for 18 months, underlining the academic loss and mental trauma it had caused to tens of thousands of youngsters.
Expressing surprise that certain dignitaries had lauded the government for restoring 4G on Friday night as though it was a favour, the schools asked who would compensate for the academic years and jobs lost.
"When a small road is dug up or there is interruption in TV services, even the contractor or operator says 'Sorry for inconvenience'," the Private Schools Association of Jammu and Kashmir, which represents hundreds of schools, said. "But here, the high-speed Internet service was cut off for 18 months for millions of people and there was not even a murmur or sadness in their words."
The schools' association added: "The government could have shown a small courtesy by announcing its restoration with a small apology."
High-speed Internet had stayed suspended in Jammu and Kashmir since the abrogation of Article 370 provisions on August 5, 2019. All these months, educational institutions in the region had remained shut except for a few days, first because of a government clampdown and then the pandemic.
Along with many other institutions and individuals, the schools had fought unsuccessfully to have high-speed Internet restored so that online classes could be held.
Last month, the association had approached the Supreme Court, describing how students had "already lost two academic years because it is impossible to conduct online classes using videoconferencing tools like Zoom or WebEx at 2G mobile Internet speed".
It had said the prolonged school closure had prompted the local board to reduce the syllabus by 40 per cent for the annual exams but no such concession was available at national-level competitive exams.
"Many students have been forced to leave their families and live outside Jammu and Kashmir to prepare for competitive exams. Those without such privilege are left to compete with students from the rest of (the) country on an unequal field," the petition said.
Association head G.N. Var said those celebrating the restoration of 4G and thanking the government were rubbing salt into the students' wounds.
"Why should it be celebrated? They are trying to show they have done some favour to us," Var told The Telegraph.
Several dignitaries including lieutenant governor Manoj Sinha have thanked Prime Minister Narendra Modi and Union home minister Amit Shah for the restoration of 4G but expressed no regrets over its long suspension.
"I thank the Hon'ble PM @narendramodi Ji and HM @AmitShah Ji for acceding to our request and restoring 4G services in the entire J&K UT. The move will fulfil the aspirations of the people, particularly the youth," Sinha's office has tweeted.
Former chief minister Omar Abdullah has tweeted "4G Mubarak.... Better late than never", and BJP ally Altaf Bukhari has thanked Modi.
Var said many students were suffering from stress, anxiety and depression.
"You have students who purchased the study material for online classes but could not download it. The online classes were characterised by repeated buffering, all of which takes a toll," he said, adding he feared an outbreak of post-traumatic stress disorder.
"One cannot undo the huge psychological and academic loss caused by 18 months of Internet ban. But another aspect of it was the financial loss, which the government should consider for compensation. Similarly, thousands of jobs and thousands of opportunities for our students were lost because of the Internet blockade."