'Enrollment of outsiders' unites Valley parties
J&K govt issues ambiguous denial of 'media reports' on voters
Police chip in to warn people against 'rumour mongering'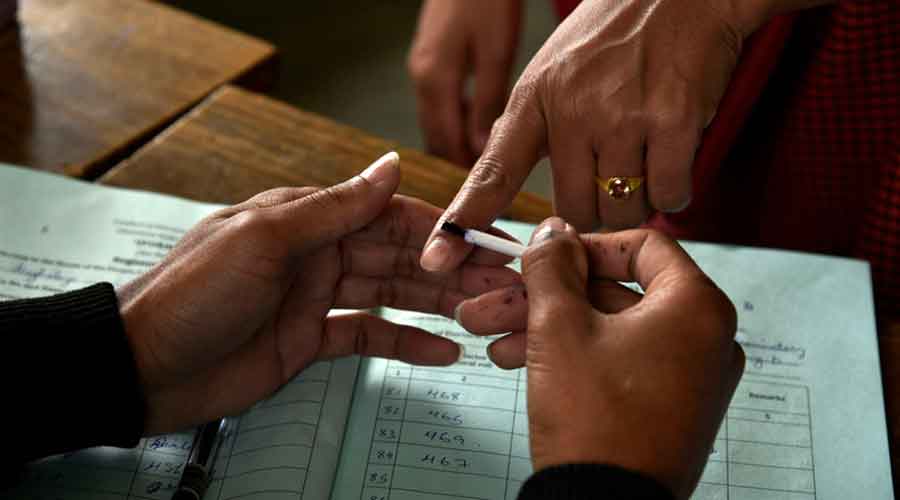 Representational image.
File photo
---
Srinagar
|
Published 21.08.22, 03:05 AM
|
---
The Jammu and Kashmir government on Saturday issued an ambiguous denial of the "media reports" that spoke of the addition of 25 lakh voters, including large numbers of non-local voters, terming them "a misrepresentation of facts spread by vested interests".
The police chipped in to warn people against "rumour mongering".
However, the government did not explicitly deny the possible inclusion of non-local voters, an issue that has united the Valley's mainstream political parties in opposition and intensified allegations about efforts to change Kashmir's demography.
The government said, in advertisements in local dailies, that the increase in voters would be because of young Kashmiris attaining voting age. It did not mention any numbers.
But it added that such rolls revisions allow people who have changed residence to enrol at their new location after getting their names deleted at the earlier location — a comment that seems to leave the door open for the enrolment of non-local voters.
Jammu and Kashmir's top election officer Hirdesh Kumar Singh had on Wednesday suggested a possible addition of about 25 lakh voters who he said would include non-local people, among them security personnel, students, businessmen and labourers.
He had said the revocation of some of the Article 370 provisions meant "there were many other people who could not vote in the Assembly (elections) but now they can be included in the voters list".
"Therefore, to become voters, people don't need to be permanent residents of J&K and they don't need to be domiciled here (either)," he had said.
Saturday's government advertisement, which did not mention Singh's comments, said: "This revision of electoral rolls will cover existing residents of the Union Territory of Jammu and Kashmir and the increase in numbers will be of the voters who have attained the age of 18 years as of October 1, 2022, or earlier."
The advertisement went on to mention the inclusion of those who have changed their residence.
Srinagar police tweeted the clarification and said it was "correct information regarding revision of electoral rolls". It warned people not to spread unverified information as that amounted to "rumour mongering".
However, opposition to chief electoral officer (CEO) Singh's comments — and the purported government plan they are seen as reflecting — has kept growing.
The five-party Gupkar Alliance for the restoration of Article 370 has called a meeting of all non-BJP parties on Monday. The Congress on Saturday accepted the invite.
Former deputy chief minister Muzaffar Hussain Baig, the only Kashmiri politician to win a Padma Bhushan since the special status was scrapped in 2019, has sought the Centre's intervention to end the "unnecessary controversy".
Baig, a lawyer by profession, said the CEO's claim was "incorrect, irresponsible and dangerous", adding that the statute changes in Jammu and Kashmir did not give outsiders voting rights.
He said Singh had based his comments on a government order of May 18, 2020, that gave employment rights — but not voting rights — to outsiders residing in Jammu and Kashmir for certain lengths of time.
Baig said there was a misconception that all the state laws here had been revoked along with the special status granted by Articles 370 and 35A.
People's Conference chairman Sajad Lone, seen as close to the BJP, said Singh's announcement had created "fears" and the Centre "must come out with the unvarnished truth".
"…What matters here is not the application of the law but the intentions of those implementing the law," Lone said.
Apni Party chief Altaf Bukhari, also close to the BJP, sought a clarification from the Centre and warned that his party would not let anyone change the region's demography.
"Our children who study in Maharashtra, Punjab or Bangalore — I do not think they are given the right to vote there. So, how are they saying this (about outsiders being allowed to vote in Jammu and Kashmir)? The Government of India should come clean on this," he said.
The Congress minder for the Union Territory, Rajini Patil, said any decision to give voting rights to non-local people would be illegal and her party would oppose it.