Ire at bid to privatise 'pride' steel plant
DMK parliamentary party leader TR Baalu opposed the move in the Lok Sabha on Thursday though his plea for a discussion was turned down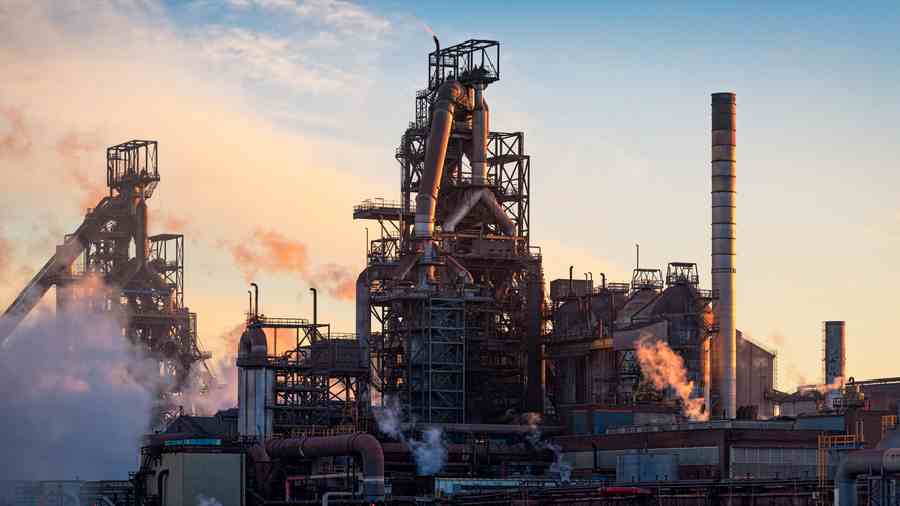 Union civil aviation and steel minister Jyotiraditya Scindia had revealed the revival of the plan to privatise the SSP — earlier stalled by Covid — while replying in the Rajya Sabha on December 19 to a question fro
Representational picture
---
Chennai
|
Published 25.12.22, 04:21 AM
|
---
The Centre's revival of its plan to privatise the Salem Steel Plant with a January 2023 timeline for the submission of financial bids has triggered protests from Tamil Nadu parties including the ruling DMK, Congress and BJP ally Pattali Makkal Katchi.
DMK parliamentary party leader T.R. Baalu opposed the move in the Lok Sabha on Thursday though his plea for a discussion was turned down.
Baalu said the plant's workers and the people of Tamil Nadu would oppose the sale of the half-century-old SSP and alleged the government's "sole aim" was to give away the plant's surplus land on a platter to private parties.
Union civil aviation and steel minister Jyotiraditya Scindia had revealed the revival of the plan to privatise the SSP — earlier stalled by Covid — while replying in the Rajya Sabha on December  19 to a question from DMK member P. Wilson.
"(The) SSP is certainly slated for disinvestment. A team of the finance ministry and steel ministry are working together on this," Scindia said.
He said the central government had been "trying to take our investors to do due diligence and visit the plant but unfortunately... the state government has not been able to create the security environment for the due diligence by the investors to take place".
"However, we have said the financial bids should be submitted — I believe, don't hold me to this — but I think sometime in January," the minister added.
Tamil Nadu Congress president K.S. Azhagiri and PMK founder-leader S. Ramadoss have accused the Narendra Modi government of using the SSP's recent losses as an excuse to hand over its 4,000 acres of land to private owners.
Azhagiri said the plant had made a profit of Rs 100 crore between 2006 and 2008 and asked whether it had been "prevented by design" from reaching its full capacity.
"SAIL (Steel Authority of India Limited) is a 'Maharatna' PSU and its Salem Steel Plant can be turned around and run profitably as a public sector unit," he said.
Ramadoss recalled the "sacrifices" that the farmers of Salem had made in the 1970s, giving up their land for the SSP at a meagre Rs 5,000 per acre.
"The Salem Steel Plant is Tamil Nadu's pride and instead of further upgrading and consolidating the production lines in the plant, whose product range is unique, it is shocking that the Centre has again (started) its privatisation move," Ramadoss said.
In November 2019, then Union steel minister Dharmendra Padhan had first revealed the decision to sell off the SSP. He had told Parliament in reply to a question from Baalu that SAIL had completed a "modernisation and expansion plan" at the SSP in September 2010 at an estimated cost of Rs 2,371 crore, so it could produce 180,000 tonnes of stainless steel slabs annually. 
Pradhan had denied that a lack of supply of raw materials from SAIL's "sister concerns" was hindering production at the SSP.
However, Pradhan had added: "Disinvestment of 100 per cent shareholding of Salem unit of SAIL to strategic buyer identified through two-stage auction process was approved by the cabinet committee on economic affairs on October 27, 2016."
Pradhan revealed that SAIL had floated a global tender for expressions of interest in July 2019, specifying that the bidder should bring in "technology, efficiency and investment in steel making in this unit (SSP)".
At that time, too, there were protests but the privatisation bid was stalled by the Covid pandemic. With the pandemic hurting global steel production — including that in China, the world's biggest steel producer — SAIL's units too were affected, Azhagiri said. 
How could the SSP's losses over the last two years be then cited to justify its privatisation, Azhagiri asked.
He and Ramadoss said that if SAIL was unable to turn the SSP around, the 4,000 acres of land should be returned to the original owners.
The Centre had agreed to set up a steel plant in Salem only after years of persuasion by then DMK chief minister M. Karunanidhi, who was following up on efforts by his Congress predecessor K. Kamaraj.
Then Prime Minister Indira Gandhi laid the foundation stone for the SSP in September 1970. The project became operational in 1972.
The SSP now has installed annual capacities of 70,000 tonnes in its cold rolling mill and 3.64 lakh tonnes in its hot rolling mill. It has a modern electric arc furnace that can produce 1.8 lakh tonnes of slabs a year.
It boasts the country's first "stainless steel blanking facility" that can turn out 3,600 tonnes a year of "coin blanks and utility blanks", according to the SAIL website.