Indian diplomacy working to resolve tanker wars
The diplomats appear to be playing a behind the scenes role in trying to secure the release of Grace 1 and the Stena Impero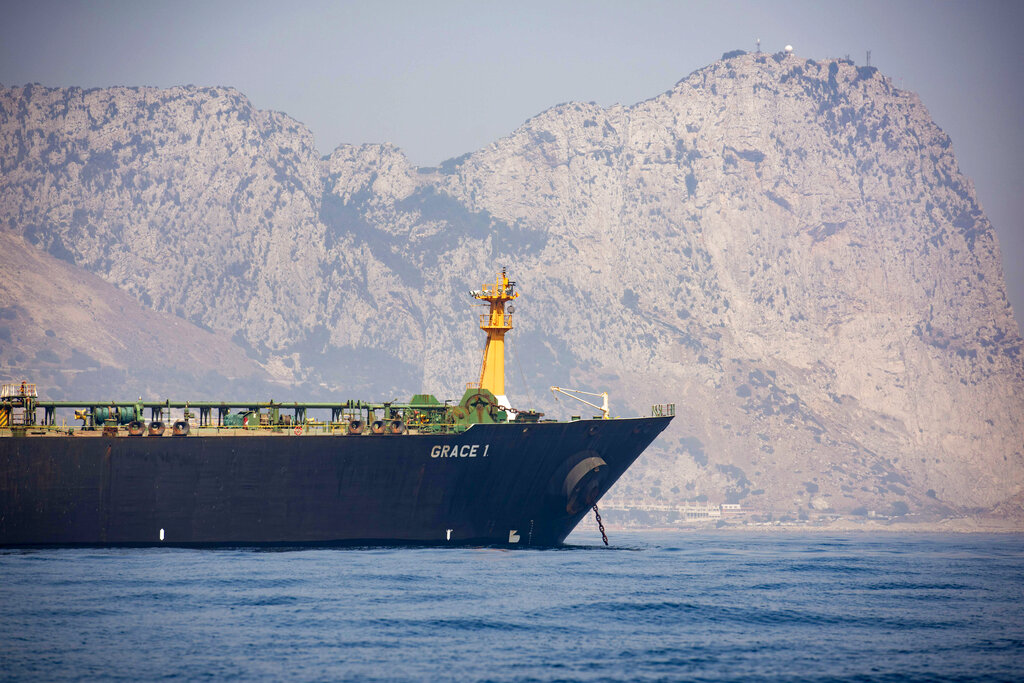 ---
|
London
|
Published 16.08.19, 08:44 PM
---
Indian diplomats appear to be playing a behind the scenes role in trying to secure the release of the two oil tankers, Grace 1 and the Stena Impero, which are at the centre of the dispute between Iran and the UK.
The drama began on July 4 when Grace 1 was seized by British Royal Marine commandos in darkness at the western mouth of the Mediterranean off Gibraltar on suspicion of violating EU sanctions by taking oil to Syria, a close ally of Iran.
In retaliation, Iranian revolutionary guards seized the British flagged Stena Impero in the Strait of Hormuz on July 19 and forced to go to Bandar Abbas.
According to sources in London, out of the 28 crew on Grace 1, 24, including the cap¬tain, are Indian. The latter have all given "a clean chit" by the court in Gibraltar and told "they are free to go".
Grace 1 has also been given clearance to leave after a promise by the Iranians that the oil will not end up in Syria but it seems there is a now last ditch attempt by the American to block its release.
Although the British insist there is no linkage between the two tankers, there are hopes that if Grace 1 is freed, the Iranians will respond by releasing the Stena Impero, where 18 of the 23 crew, including the captain, are Indians.
Whether the Indian brokered deal will succeed re¬mains to be seen.
The Swedish owners of the Stena Impero revealed on Wednesday on the eve of Independence Day that they had "made a direct appeal to the Prime Minister of India, Narendra Modi, seeking help and assistance with the re¬lease of 18 Indian seafarers detained by the Iranian authorities on board the Swedish owned vessel for over three weeks".
In his letter to Modi, Erik Hanell, president and chief ex¬ecutive officer of Stena Bulk, pointed out that "Islamic Revolutionary Guard Corps naval forces intercepted our tanker Stena Impero while on pas¬sage through Hormuz Strait".
He went on: "Since that time our valued crew members (18 Indian, 3 Russian, 1 Filipino and 1 Latvian nation¬al) have been detained on the vessel at anchor off Bandar Abbas. While our seafarers are proud professionals, they are becoming increasingly concerned about their fate and their families increasingly worried about the continued detention of their loved ones, particularly as they are guilty of no crime or reason to be held in this manner. We are confident that Stena Impero and her crew acted in a professional manner and broke no rules or regulations whether local or international."
"Despite our repeated re¬quests for access to the vessel, so far this has not been permit¬ted for evidence gathering."
He added: "As an international shipping company, we at Stena Bulk, have no involvement in geopolitical matters, nor do we wish to have. I am sure, however, that we do both share a com¬mon humanitarian concern for the welfare of all our people, whether they be for our family on board our ship or for your family of Indians at home or abroad.
"I thank you and your officials for the attendance by the Indian Embassy in Teheran to our vessel whilst at anchor in Bandar Abbas to meet the crew."
He emphasised: "However, before the situation with those on board and with their families becomes more distressing, I would request you to personally intervene and ask for the release of the crew back to their families, who anxiously await their safe return."
It is understood the Iranians urged Indian diplomats to persuade Britain to release Grace 1.
On Friday, the Foreign Office in London commented on the decision of the Gibraltar courts to release Grace 1.
"We note the government of Gibraltar has received assurances from Iran that the Grace 1 will not proceed to Syria. Iran must abide by the assurances they have provided. We will not stand by and allow Iran – or anyone – to bypass vital EU sanctions on a regime that has deployed chemical weapons against its own people."
The statement emphasised: "There is no comparison or linkage between Iran's unacceptable and illegal seizure of, and attacks on, commercial shipping vessels in the Strait of Hormuz and the enforcement of EU Syria sanctions by the government of Gibraltar.
Freedom of navigation for commercial shipping must be respected and international law upheld."
Gibraltar's first minister Fabian Picardo told the BBC that Grace 1 "is able to leave as soon as she organises the logistics necessary in order to sail a ship of that size. Could be today, could be tomorrow."
Asked about Washington's attempt to block the tanker's release, he said that would be subject to the jurisdiction of Gibraltar's Supreme Court. "It could go back to the court absolutely."
US secretary of state Mike Pompeo warned all mariners that if they crewed a ship affiliated to the Iranian Revolutionary Guards, they would jeopardise their ability to enter the United States. "#NotWorthIt," he tweeted.
Iranian officials condemned the US move as "piracy".
State television in Teheran quoted Jalil Eslami, deputy head of Iran's Ports and Maritime Organisation, as saying: "Based on the owner's request, the oil tanker Grace 1 will depart for the Mediterranean after being reflagged under the Iranian flag and renamed Adrian Darya after preparing for the journey.
"The ship was of Russian origin and Panamaflagged and is carrying 2 million barrels of Iranian oil."