Indian Air Force aircraft lands on national highway in Rajasthan
The landing — on the SattaGandhav stretch of National Highway 925 near Barmer — was the first time the IAF had used a highway to perform a mock emergency landing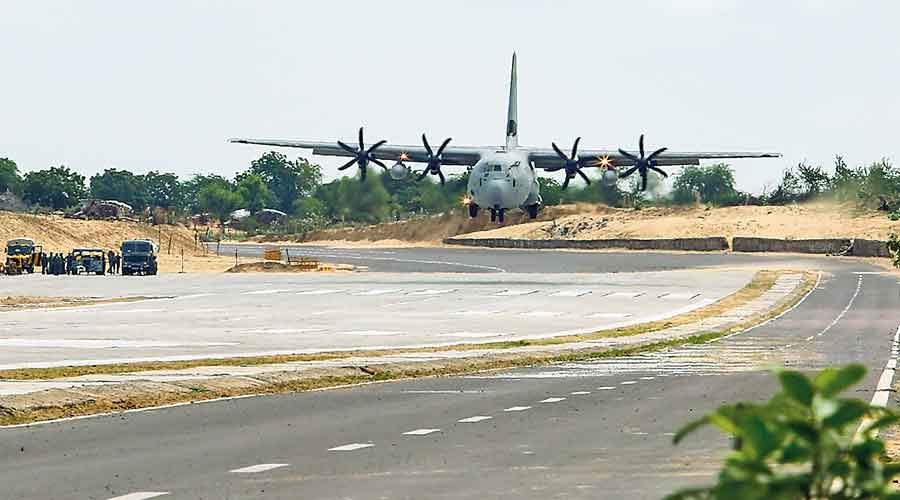 ---
New Delhi
|
Published 10.09.21, 01:04 AM
|
---
An Indian Air Force C130J Super Hercules aircraft carrying defence minister Rajnath Singh, roadways minister Nitin Gadkari and chief of defence staff Bipin Rawat conducted a mock emergency landing on a national highway in Rajasthan.
The landing — on the SattaGandhav stretch of National Highway 925 near Barmer — was the first time the IAF had used a highway to perform a mock emergency landing.
The stretch, which will serve as an emergency landing strip for IAF planes, was inaugurated by the two ministers.
"This is the first time that a national highway has been used for the emergency landing of a transport aircraft of the Indian Air Force. This landing strip will be able to facilitate the landing of all types of IAF aircraft," a statement from the defence ministry said.
The 3km strip, which is part of the SattaGandhav stretch on NH925 was developed by the National Highways Authority of India (NHAI) specifically for the IAF to conduct emergency landings.
The IAF and NHAI are jointly studying 24 other national highways to see if those can also be used in a similar way, sources in the defence ministry said.
Singh said the newly inaugurated emergency landing strip near the international border was part of the government's commitment to protect the unity and sovereignty of the nation.
"This highway and landing field will further cement the basic infrastructure along the western border and strengthen national security. Such emergency fields will provide more edge to the operational and civil assistance of our forces. It will also play a crucial role in facing natural calamities," he said.
The NHAI has developed the 3km section as an emergency landing field for the Indian Air Force. It is part of the newly developed twolane paved shoulder of GagariyaBakhasar and SattaGandhav Section having a total length of 196.97km and costing Rs 765.52 crore under Bharatmala Pariyojana. The work started in July 2019 and was completed in January 2021, the the defence ministry statement said.
This project will improve connectivity between villages of Barmer and Jalore districts located on the international border. The stretch located in the western border area will facilitate the vigilance of the Indian Army and strengthen the basic infrastructure of the country. During normal times, the facility will be used for smooth flow of road traffic, the statement said.
Apart from the emergency landing strip, three helipads have been constructed in Kundanpura, Singhania and Bakhasar villages under this project as per the requirements of the armed forces.