India-Pakistan consensus on ceasefire agreement
Militaries signal thaw after surge in violations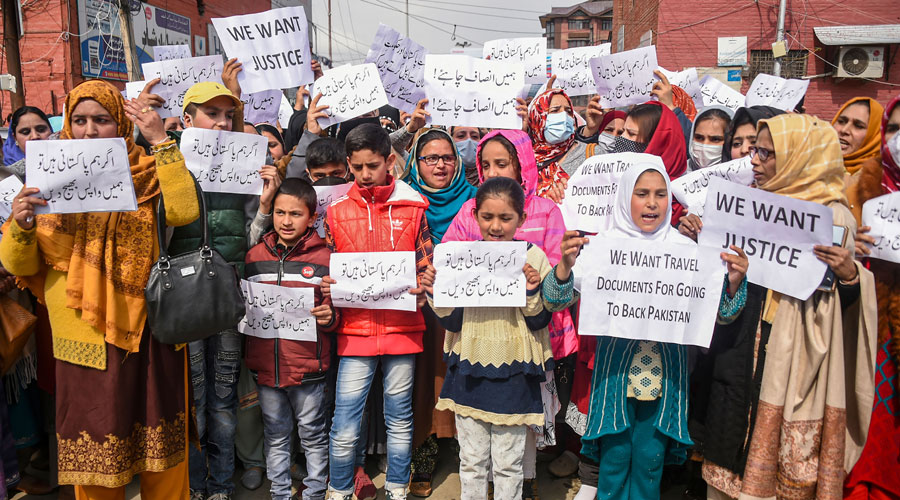 Pakistan-origin family members of former Kashmiri militants raise slogans and hold placards during a protest march, demanding travel documents for enabling them to visit their family in Pakistan, in Srinagar on Tuesday, Feb. 23, 2021.
PTI
---
New Delhi
|
Published 26.02.21, 01:00 AM
|
---
The Indian and Pakistani militaries on Thursday announced that they have agreed to strictly observe the ceasefire agreement along the Line of Control and all other sectors from the midnight of February 24.
The move is perceived to be significant considering the record number of violations along the LoC last year, making it one of the most violent since the two countries had agreed in November 2003 to a ceasefire.
Sources in the Indian security establishment termed the agreement as a "very important" development amid heightened tension along the LoC and the ongoing standoff with China along the Line of Actual Control in eastern Ladakh since May last year.
"The latest agreement between the two armies (of India and Pakistan) comes after at least four months of back-channel talks at various levels," said a security official.   
A rare joint statement issued by the armies said the move followed a discussion between India's director-general of military operations (DGMO) and his Pakistani counterpart over their established mechanism of telephone hotline.
The statement said that during their discussion the two sides reviewed the situation along the LoC and all other sectors in a "free, frank and cordial atmosphere".
"In the interest of achieving mutually beneficial and sustainable peace along the borders, the two DGMOs agreed to address each other's core issues and concerns which have the propensity to disturb peace and lead to violence. Both sides agreed for strict observance of all agreements, understandings and cease firing along the Line of Control and all other sectors with effect from midnight 24/25 Feb 2021," the joint statement said.
"Both sides reiterated that existing mechanisms of hotline contact and border flag meetings will be utilised to resolve any unforeseen situation or misunderstanding."
Earlier this month, India's defence minister Rajnath Singh had informed Parliament that Pakistan had resorted to 5,133 incidents of ceasefire violations last year in which 46 security force personnel had been killed. Replying to a question in the Rajya Sabha, he had said "appropriate retaliation" to the ceasefire violations had been carried out by the security forces.  
The defence minister had said 299 incidents of ceasefire violations had been reported till January 28 this year.  
The November 2003 ceasefire was the biggest confidence-building measure between India and Pakistan but it has been frequently violated in recent years. The relations between the two countries also hit a low after the Pulwama terror attack in February 2019 and India's decision to scrap Jammu and Kashmir's special status in August 2019.
Sources in the army said there won't be any let up in counter-infiltration and counter-terrorism operation in the wake of the latest agreement.