India prepared to hold its ground in eastern Ladakh: General M.M. Naravane
The army chief also said both Pakistan and China posed a "potent threat" to national security and their collusive approach could not be wished away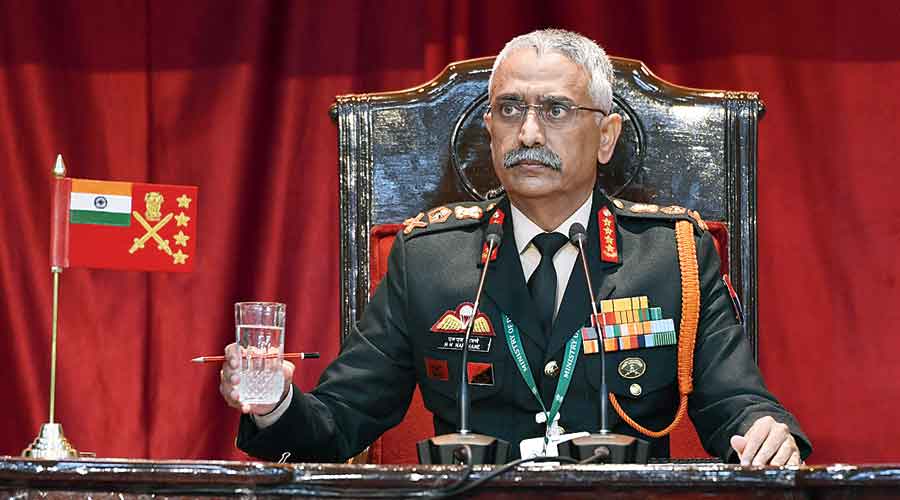 ---
---
Army chief General M.M. Naravane on Tuesday said India was prepared to hold its ground in eastern Ladakh "as long as it takes" to achieve the national objectives and his force was alert and ready for any eventuality, but at the same time expressed hope for an amicable solution to the border standoff through the ongoing military talks with China.
The army chief also said both Pakistan and China posed a "potent threat" to national security and their collusive approach towards India could not be wished away.
Addressing the annual media conference ahead of Army Day on January 15, General Naravane said: "We are prepared to hold our ground as long as it takes to achieve our national goals and objectives. I am hopeful for a positive situation, but we are ready to meet any eventuality. Our operational preparedness is of high order."
He said he was hopeful that India and China would reach an agreement through dialogue "for disengagement and de-escalation of forces from friction points based on the principle of mutual and equal security".
"We are confident of finding a solution to the issue on the basis of mutual and equal security," the general said, while asserting that the Indian Army would maintain its current positions. Naravane said there had been no reduction of troops from either side along the Line of Actual Control in eastern Ladakh.
Asked about the current situation along the LAC, the army chief said: "The situation is the same as was prevailing last year. There is no change in the status quo."
Naravane said Indian soldiers were maintaining a high level of alertness all along the LAC and not just in Ladakh. The army has established habitat facilities for its nearly 50,000 additional troops deployed along the LAC in the Ladakh sector where the temperature has now reached -40 degrees Celsius.
The border standoff started between the two armies on May 5 last year before it snowballed into a violent face-off on June 15 in the Galwan Valley that killed 20 Indian soldiers and caused an unspecified number of Chinese casualties.
Sources in the defence ministry said Beijing continued to resist New Delhi's demand for disengagement and de-escalation of troops from multiple friction points along the LAC. General Naravane said the force was awaiting the final dates for the ninth rounds of military talks between India and China to resolve the standoff. "We will ensure that we reach a solution through dialogue which is acceptable and not detrimental to our interest."
He said considering the security challenges at the LAC, a need was felt about rebalancing of troops along the northern borders. "As events in Ladakh show, there is need of carrying out re-balancing of the northern border. That is what we have put in place."
Responding to a question on how long it will take for the standoff to be resolved, Naravane said: "We are prepared to hold our ground for as long as it is needed to achieve our national goals."
On Pakistan, General Naravane said it continued to embrace terrorism as a State policy. "We have zero tolerance for terror and we reserve the right to respond at the place and time of our choosing and with precision," he said.
He said there was increased cooperation between China and Pakistan in both military and non-military sectors. "Pakistan and China form a potent threat that cannot be wished away."