Army to Rajnath: Ready for Ladakh long haul
Indian and Chinese troops are eyeball to eyeball, but there has been no fresh confrontation since the recent foreign ministers' meeting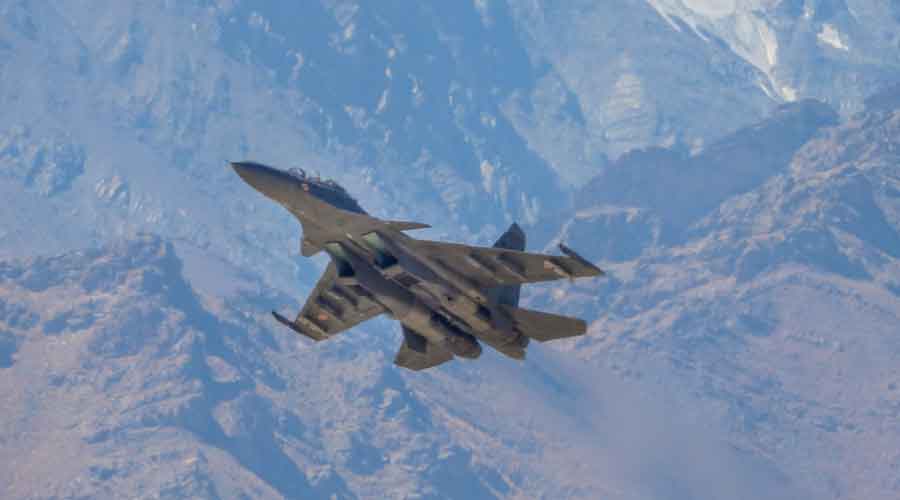 ---
---
India's army is gearing itself to weather the long and harsh Ladakh winter at icy heights as it awaits Chinese confirmation of the fresh talks expected this week, defence minister Rajnath Singh was told on Friday by the military leadership.
Rajnath was reviewing the situation along the Line of Actual Control in Ladakh amid a massive build-up by the Indian and Chinese armies at multiple friction points.
"We are maintaining high alertness as the Chinese military has not yet confirmed the date for the corps commanders' meeting," a defence ministry official said. "Both sides are expected to decide on the modalities to carry forward the disengagement process from the friction points."
Military veterans and security experts say the Chinese may be using the negotiations to buy time and further consolidate their positions as part of a strategy to establish a new status quo in the region.
At Friday's meeting, Rajnath asked the military brass to ensure operational readiness to deal with any eventualities, the ministry official said.
"He asked the top brass to keep the army fully prepared for deployment in the harsh winter months in the treacherous terrain in case the standoff is not resolved during the fresh round of talks," he said.
Sources said the army was fully prepared for winter deployment at altitudes of 14,000-16,000ft, and had stocked up on all essentials including food, clothing and fuel.
"We have prepared ourselves to maintain the current strength of men and machines at all the friction points. Considering the hostile terrain, where the temperature drops below minus 20-25 degrees Celsius in peak winter, we have made elaborate arrangements," an army official said.
The temperature has already dipped to minus two degrees Celsius on the south bank of the Pangong Lake, the latest confrontation point, he said.
Indian and Chinese troops are eyeball to eyeball, but there has been no fresh confrontation since the recent foreign ministers' meeting.