In concert: TM Krishna's vocals, AAP's awaz
The Carnatic vocalist will perform at a free event, which is part of a concert series the AAP government organises to encourage free speech and dissent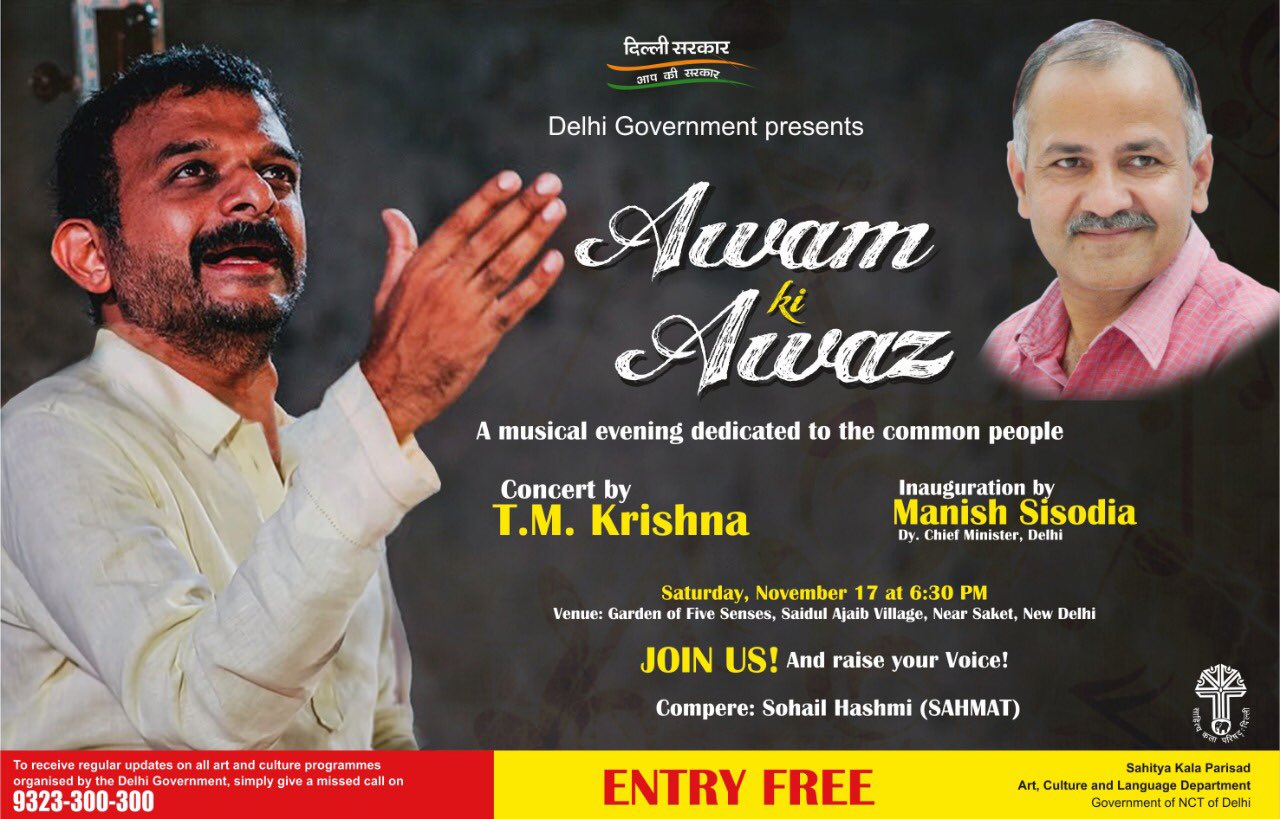 The Awam Ki Awaz poster announcing Krishna's performance that was released on AAP's Twitter handle on Friday
---
New Delhi
|
Published 16.11.18, 08:45 PM
|
---
Carnatic vocalist T.M. Krishna is scheduled to sing in a concert titled Awam Ki Awaz, organised by Delhi's AAP government on Saturday, a stone's throw away from the Qutub Minar, the tower symbolising the first stamp of Muslim rule in Delhi.
Krishna was anyway scheduled to sing in Delhi on November 17, but at Nehru Park in Chanakyapuri. Then the Airports Authority of India, one of the organisers of the show, indefinitely postponed the event. The AAI officially said "some urgent engagements" had forced the change, but many fans of the Carnatic vocalist saw the influence of right-wing trolls. Recently Krishna had been called an 'urban Naxal' and 'anti-India' on social media.

The choice of the AAP government's concert venue may be a coincidence, but it wants the event to deliver a message to the BJP-led dispensation at the Centre.
Awam Ki Awaz, where Krishna is expected to perform, is part of a series of concerts started by Delhi's culture minister Manish Sisodia in 2017. The name, a phrase in Urdu, means the voice of the common people.
AAP had explained in a blog in February this year that the monthly Awam Ki Awaz concerts were being organised 'at a time when the dominant political party is doing little to stop the increasing polarization witnessed in recent times'. It added: 'The AAP government is leaving no stone unturned to bring society together and shift the discourse to things that matter to the common people.' The blog also said that bands such as Swarathma and Indian Ocean and vocalist Krishna would perform in the coming months.
As TV channels flashed on November 14 that the AAI had postponed the show, Krishna said: 'Give me a stage anywhere in Delhi on November 17. I will come and sing.'
The AAP government, which has been at loggerheads with the Narendra Modi-led Centre for a long time, announced on November 15 that it would host the vocalist. 'After Krishna said he is willing to perform anywhere if given a stage, it was natural for us to invite him to perform for our cultural initiative, Awam Ki Awaz,' said Abhinandita Mathur, advisor to Sisodia.
Mathur said AAP was already in talks with Krishna for an Awam Ki Awaz performance and this was a good opportunity to invite him. "If anyone else had written, tweeted or approached us, we would have done the same for them," she said, when asked why the other AAI concert artistes, such as dancer Sonal Mansingh, were not invited too.
Asked if the concert around Krishna was done to make a political statement, Mathur said: "Absolutely. There is no doubt about it."
On Friday evening, in a statement released by AAP, Delhi chief minister Arvind Kejriwal said: "If you believe in an inclusive India, an India which belongs to all religions, faiths and castes, your presence tomorrow will be a statement against those forces who are trying to divide and destroy our beloved India."
The Garden of Five Senses, where Krishna's performance is supposed to unfold, is 3km from the Qutub Minar, the 13-century monument commissioned by Qutub-ud-din Aibak who was Delhi's first Muslim ruler. The venue itself is a park maintained by the state government and situated in one of Delhi's several urban villages called Saidul Ajaib. Entry to the concert is free.
Krishna, a Ramon Magsaysay Award winner, writes about social and cultural issues. He has also been critical of the ruling dispensation.
In January, Sangh parivar groups had opposed his concert in Tamil Nadu's Tiruppur because he sang poems by Perumal Murugan, one of whose novels had attracted Right-wing attacks, and also Islamic hymns.
Rashmi Malik, the coordinator for Spic-Macay, which was the co-organiser of the Nehru Park concert, said a fresh date for that concert was yet to be finalised.