IIT (ISM) pitches for product development
The institute is focusing on engaging B Tech students with the research and development process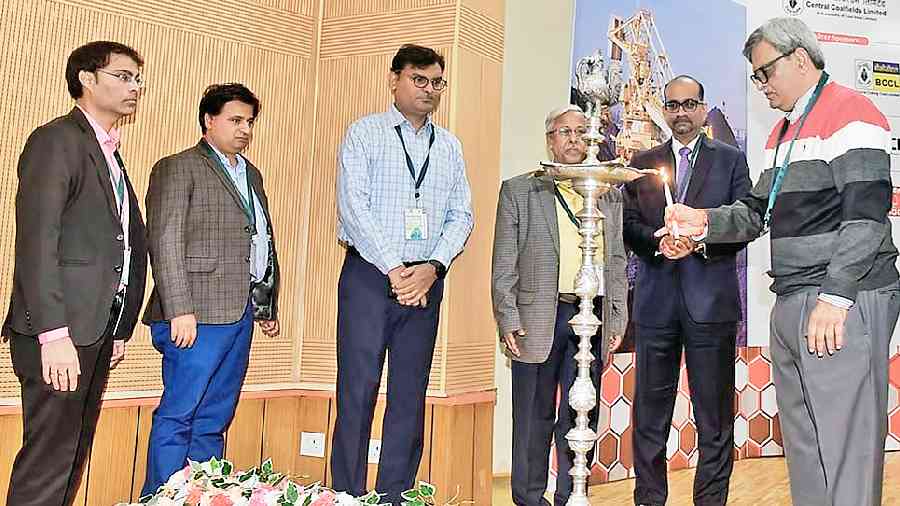 IIT (ISM) director Rajiv Shekhar lights the lamp to inaugurate the function at Dhanbad.
Shabbir Hussain
---
Jamshedpur
|
Published 07.02.23, 03:15 AM
|
---
Indian Institute of Technology (Indian School of Mines), Dhanbad, has undergone a major shift in approach towards research activities with a focus on product development instead of publication.
IIT (ISM) director Rajiv Shekhar, while addressing industry leaders during the annual research and development fair on the institute campus on Sunday, said: "We are encouraging students to ensure patenting of their work and products. We also encourage them to plan their research in a holistic manner and students should think in terms of manufacturing and simultaneously also think about circular engineering and the environmental impact of research."
The institute is focusing on engaging B Tech students with the research and development process. "It is generally observed that while M Tech and PhD students carry out research, the B Tech students are excluded from the R&D activities.
As these students (B Tech) are a very talented lot, we have established a tinkering and innovation hub at the institute, titled Naresh Vashisht Centre for Tinkering and Innovation (NVCTI). It was set up with the financial support of our distinguished alumnus Naresh Vashisht," Shekhar informed.  
"We have launched an academic course known as Product Development Internship, whereby students are supposed to come up with innovative ideas and we provide them with support to develop products based on their innovative ideas at NVCTI, equipped with a well-equipped robotics lab, IOT (internet of things) centre and pouch battery lab," added the director.
He also spoke at length about the technology innovation hub of IIT (ISM), TEXMiN, established in October 2020 on the campus, in order to holistically address the challenges in the mining industry and also to propel innovation and development of technologies to address the needs of the industry.
The R&D Fair was organised by the Office of the Dean, R&D, in association with the TEXMiN, as part of Industry Institute Interaction (IIT) during which different engineering departments, as well as innovation centres of the institute such as TEXMiN, Atal Community Innovation Centre (ACIC) and NVCTI, showcased their major products, technologies, research facilities and capabilities.
"The demonstration of technologies and products was made by each participating department and the centre on their allotted stall in front of Golden Jubilee Lecture Theatre with the help of demonstrable prototypes/models/ products, posters showcasing the department's expertise and research areas and one poster on the department's research facilities," media, branding dean Rajni Singh said.