I hang my head in shame, says Kapil Sibal on state of judiciary
'What the investigating agencies now do is arrest a person and then start investigating what law he may have violated'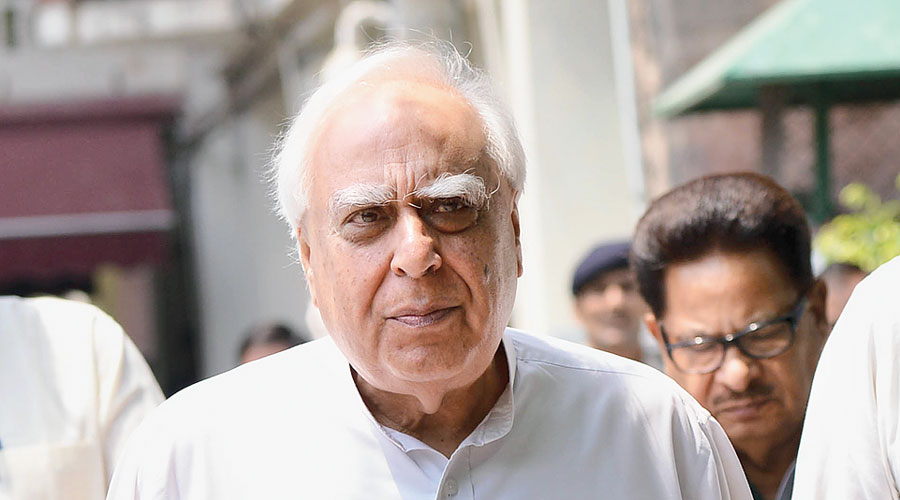 ---
New Delhi
|
Published 04.07.22, 03:09 AM
|
---
Rajya Sabha MP and senior advocate Kapil Sibal on Sunday said some members of the judiciary had "let us down" and "I hang my head in shame" for what had happened in the recent past.
"Some members of the institution (judiciary), of which I have been a part for 50 years, have let us down. I hang my head in shame that this has happened. When the judiciary turns a blind eye to ex facie (on the face of it, what is apparent) violations of the rule of law, one wonders why an institution designed to protect the rule of law allows the rule of law to be infringed with open eyes," Sibal told PTI in an interview over the phone from the UK.
On the arrest of AltNews co-founder Mohammed Zubair, Sibal said that for a tweet four years ago without any communal outcome, it was "unthinkable" for that person to be arrested.
"More than that, now having realised that the arrest cannot possibly be sustained, the investigating agency is looking for other matters which have nothing to do with the original arrest. Clearly what we are witnessing is a mala fide arrest and a subsequent fishing inquiry," Sibal said.
What the investigating agencies now do is arrest a person and then start investigating what law he may have violated. For that, they seek access to other records and come back to court alleging the commission of other offences to try and have bail denied to the accused, he said.
Asked about the criticism from certain quarters of the Supreme Court ruling in the Zakia Jafri case, Sibal said that since he was a lawyer for Jafri, it would not be proper for him to comment at this stage.
"But I can say this to you that we have seen in the recent past judges rendering findings on matters that were not argued before them, judges rendering findings in matters which are not appealed against and some judges… upholding executive actions that are indefensible," Sibal said.
"I don't want to make a comment on any particular case but, as I said, having been a part of this institution, for what has happened in the recent past, I hang my head in shame," he said.