'Howdy, Modi' mesmerises BJP
Shah said Modi's popularity had 'soared across the globe'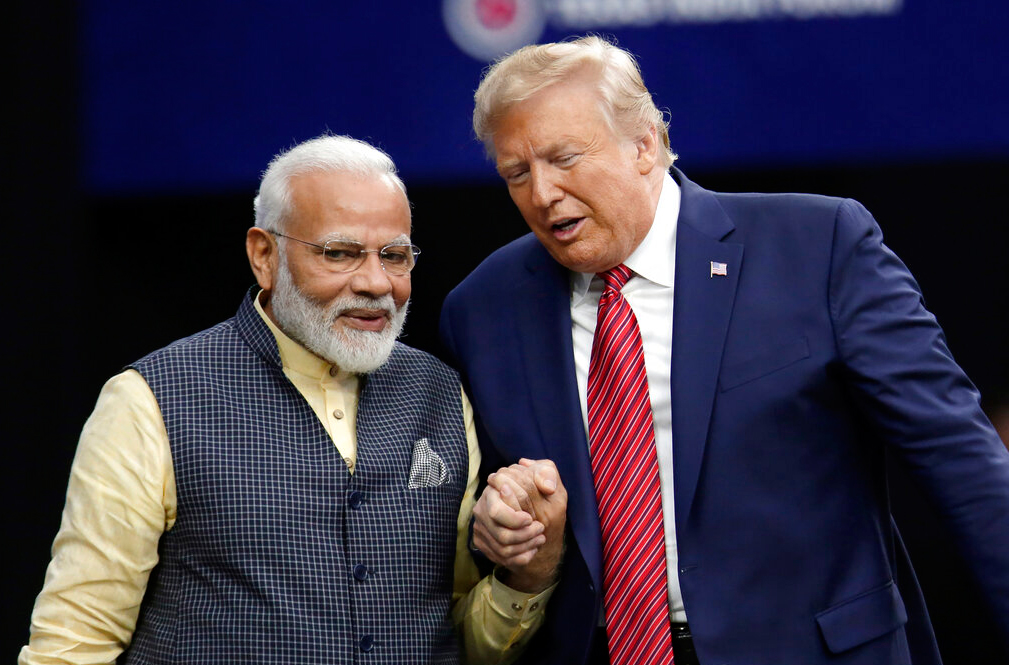 ---
---
Ministers and BJP leaders on Monday hailed Narendra Modi and the response he got at the #HowdyModi show in Houston in the presence of President Donald Trump, some calling him not just a leader but a "phenomenon" and the "most beloved" Prime Minister.
"Make no mistake. He is not just a leader. He is a phenomenon. The real India, that is Bharat, is rising. Aurobindo had predicted its eventuality. Gandhi said it would take 50 years. And it is here, the awakened New India.... In the form of the most beloved PM Modi," BJP general secretary Ram Madhav said in a tweet.
Law and information technology minister Ravi Shankar Prasad called Modi a "statesman" who was "shaping the course of global economic growth".
"Very proud of our Prime Minister @narendramodi who spoke like a statesman, a truly powerful global leader from India who is not only transforming India but also shaping the course of global economic growth. Greetings and profound respect to our Prime Minister. #HowdyModi," Prasad said in one of the many tweets he posted.
The chemistry between Modi and Trump, Prasad added, was "extraordinary and unprecedented".
Prasad said Modi's references to terrorism and the revocation of Jammu and Kashmir's special status under Article 370 was a "shining moment". "The relationship between two democracies- India and US, today acquired new heights. So proud of my leader. #HowdyModi," he tweeted.
Modi and US President Trump had on Sunday addressed the "Howdy, Mody" event at Houston where their references to Article 370, safe borders and radical Islamic terrorism drew applause from the audience, including around 50,000-plus Indian Americans.
BJP president and Union home minister Amit Shah, who too posted a series of tweets, described the coming together of Modi and Trump on the Houston stage as a "historic day" for world politics.
"A historic day in world politics! Leaders of the two most powerful democracies shared their ideas & dreams for a prosperous world together in a way that one has never seen before. #HowdyModi was unprecedented. It has left an indelible footprint of a stronger India on world map."
Shah said Modi's popularity had "soared across the globe". "It is a recognition of people of India. The grand #HowdyModi event is a testimony of #NewIndia's power under the leadership of PM @narendramodi."
He stressed on security, saying: "The message to the world is loud and clear that this #NewIndia will leave no stone unturned to keep our country safe and united. Thanks to PM @narendramodiji's leadership, entire world today stands firmly with India in its decisive fight against the menace of terrorism."
Other BJP leaders too joined the Twitter drive to project Modi as a leader whose voice is being heard by the US. "Now India speaks and the entire world listens…," general secretary P. Murlidhar Rao tweeted.
"Yesterday, Modi ji showed that India has established itself on the world map," BJP working president J.P. Nadda told a rally in Maharashtra where elections have been scheduled next month.
The BJP hopes Modi's visit to America will have enough impact on voters to help the party not only to retain power in the state but also win the elections by a bigger margin.