Houston hug sealed with 370, terror and border
Country's decision on Article 370 has troubled some people who can't handle their country, who support terrorism: Modi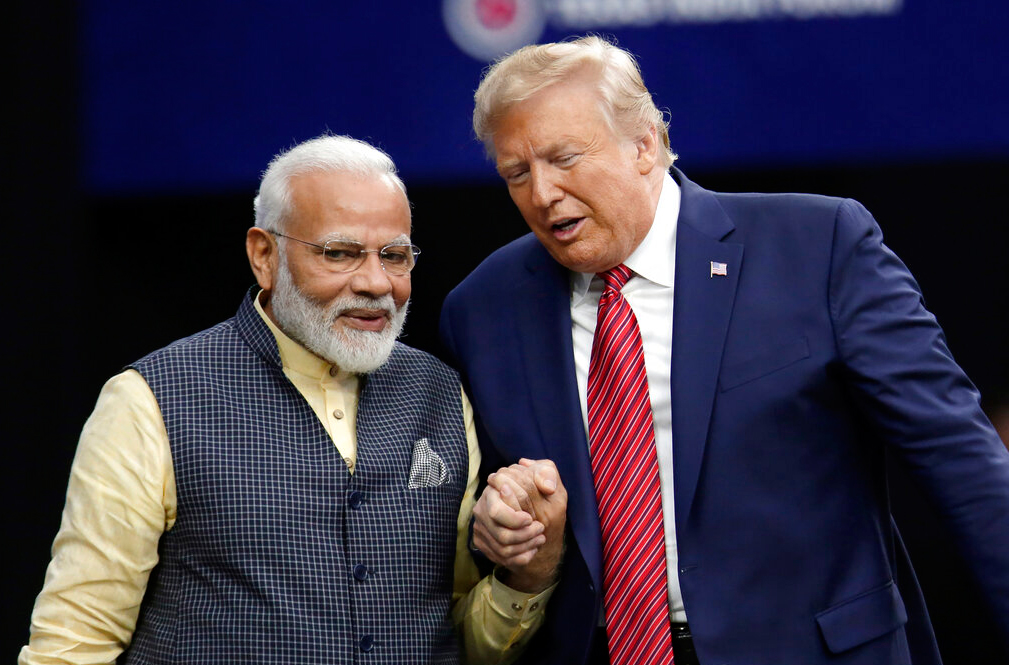 President Donald Trump shakes hands with Prime Minister Narendra Modi during the 'Howdy Modi: Shared Dreams, Bright Futures' event at NRG Stadium in Houston on Sunday
(AP)
---
New Delhi
|
Published 22.09.19, 09:17 PM
|
---
Prime Minister Narendra Modi and President Donald Trump threw a "magnificent" Indian audience into a delirium of joy by referring to Article 370, safe borders and radical Islamic terrorism.
Addressing the "Howdy, Mody" event in Houston, Prime Minister Modi told the crowd to give a standing ovation to Indian parliamentarians for ensuring the nod to repeal key provisions of Article 370 that deal with Jammu and Kashmir.
The 50,000-plus Indian Americans responded with enthusiasm and rose to their feet.
India has bid farewell to Article 370, which allowed terrorism and separatism to rear their heads in Jammu and Kashmir, Modi added.
The country's decision on Article 370 has troubled some people who can't handle their country, who support terrorism, the Prime Minister said.
In an indirect reference to Pakistan, Modi asked: "Where do you find conspirators of 9/11 and 26/11 terror attacks?"
Modi also lent his campaign theme to the election-bound US President, declaring with gusto: "Abki baar, Trump sarkar."
Trump, who delivered an election speech aimed at his domestic audience, received thunderous applause when he said: "We are committed to protecting innocent civilians from the threat of radical Islamic terrorism."
Addressing the record crowd at the NRG stadium in Houston in the presence of Modi, Trump added: "We are committed to protecting innocent civilians from the threat of radical Islamic terrorism.
"India and the US also understand that to keep our community safe, we must protect our borders. Border security is vital to the United States. Border Security is vital to India. And we understand that," Trump said as Modi was seen clapping.
Trump and Modi showered each other with praise at the rare mass showing for a foreign leader on American soil. Trump, calling the gathering a "profoundly historic event", was greeted with a standing ovation by the Indian American crowd and his speech was interrupted several times by roars of approval.
The US leader hailed the bilateral relationship and the Indian American community as he reached out to an ethnic group that had voted overwhelmingly against him in 2016.
"You uphold our values, you uplift our communities and you are truly proud to be American and we are truly proud to have you as Americans," Trump told the crowd.
Trump said "very soon, several defence deals would be signed between India and the US to bolster our security relationship".
The President added: "I look forward to working with Modi to make our nations more prosperous than ever before."
Modi began his talk inside the NRG Stadium, home to the Houston Texans football team, with a loud, "Howdy, my friends!"
Modi stressed India's linguistic diversity — he said "everything is fine" in India in several Indian languages. The gesture, possibly prompted by the diverse origins of the audience, stood out against the backdrop of home minister Amit Shah's recent statements on Hindi.
Introducing Trump, Modi described the President as a very "special person". Modi said it was an honour and a privilege to welcome Trump to the magnificent stadium and magnificent gathering.
"He (Trump) was a household name even before he went on to hold the highest seat in he US," Modi said. "His name is familiar to every person on the planet. His name comes up in almost every conversation in the world on global politics," he said.
Modi said he had met Trump a few times and every time he had been warm, friendly, accessible, energetic and full of wit.
"And I can say I had a chance to meet him often and every time I found the friendliness, the warmth and the energy," he said.
"President, this morning in Houston, you can hear the heartbeat of this great partnership in this celebration of the world's two largest democracies. You can feel the strength and depth of the bonds between our two nations."
Trump has already made the American economy strong again, Modi said. "He has achieved much for the US and for the world," Modi said. "We in India have connected well to him," he said, adding: "Abki baar, Trump sarkar."
Devesh Kapur, director of Asia Programs at Johns Hopkins University, who has written a book on Indian Americans, said that while the rally had symbolic value for both leaders, "it's unlikely by itself to impact thorny trade issues.… But it can't hurt".
Kapur forecast little improvement regarding Trump's standing with Indian Americans.
"The Trump administration's hard-line policies on immigration... have hardly endeared (him) to the community," Kapur said. "Appearing with PM Modi might mildly help but certainly not reverse the community's overall pro-Democrat leanings."
Additional reporting by Reuters