Trinamul Congress raises issue
House panel to look into Bengal, Assam and Punjab BSF widening
Decision comes after the Trinamul Congress flagged the issue and underscored that the Union government's decision went against the spirit of federalism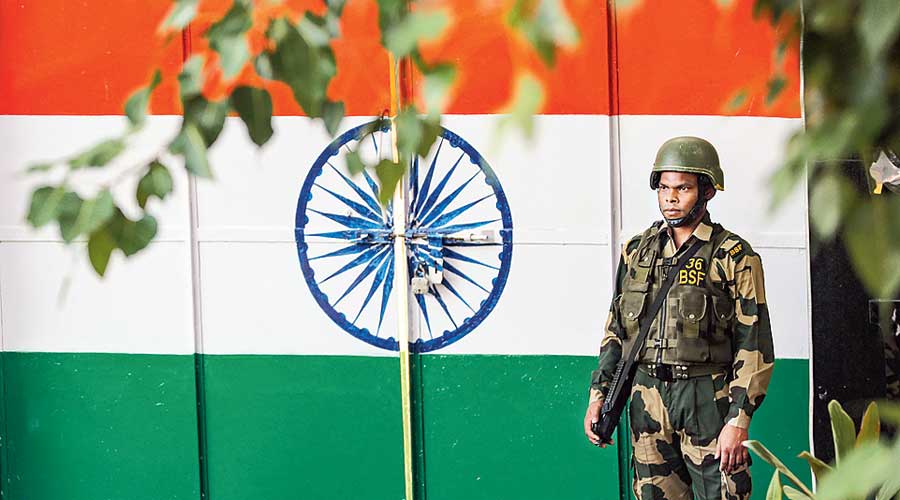 ---
New Delhi
|
Published 21.10.21, 02:22 AM
|
---
The parliamentary standing committee on home is learnt to have decided to take up border management for closer scrutiny in light of the Narendra Modi government's recent decision to widen the jurisdictional area of the Border Security Force (BSF) in Bengal, Assam and Punjab.
This was agreed at the meeting of the committee on Wednesday after the Trinamul Congress flagged the issue and underscored that the Union government's decision went against the spirit of federalism as now the BSF had the powers to conduct searches and make seizures and arrests without informing the local police within 50km of the international border.
On October 11, the Union home ministry had issued a notification amending the BSF Act, 1968, to extend the "arrest, search and seize" powers of the central paramilitary force up to 50km from the international boundary in Assam, Bengal and Punjab. In Gujarat, the limit was reduced from 80km to 50km.
Prior to this amendment, the BSF's writ in Bengal, Assam and Punjab extended only 15km from the international border.
The Centre contends that the amendment was done to bring uniformity across the states where the BSF guards the borders.
The BJP ecosystem has been underlining that the change was suggested by the Congress too when it was in office about a decade ago. However, the Opposition contends that the move is yet another effort by the Modi government to erode the federal structure, and has highlighted that unlike the UPA, the current dispensation had not consulted the state governments before bringing out the notification.
Since the standing committee is already discussing coastal security, chairperson and Congress veteran Anand Sharma is learnt to have agreed to club border management with this issue.
State governments are now likely to be asked to weigh in on the issue whenever coastal security and border management are slated for detailed discussions.
The issue is also likely to generate heat in the next session of Parliament when the government is mandated to table the notification in both Houses. There is also talk in Opposition quarters of bringing in a statutory resolution opposing the move even if the numbers are stacked in favour of the government.