UP police keep journalists out
Opposition and the media barred from the village so there is no 'meddling in the investigation'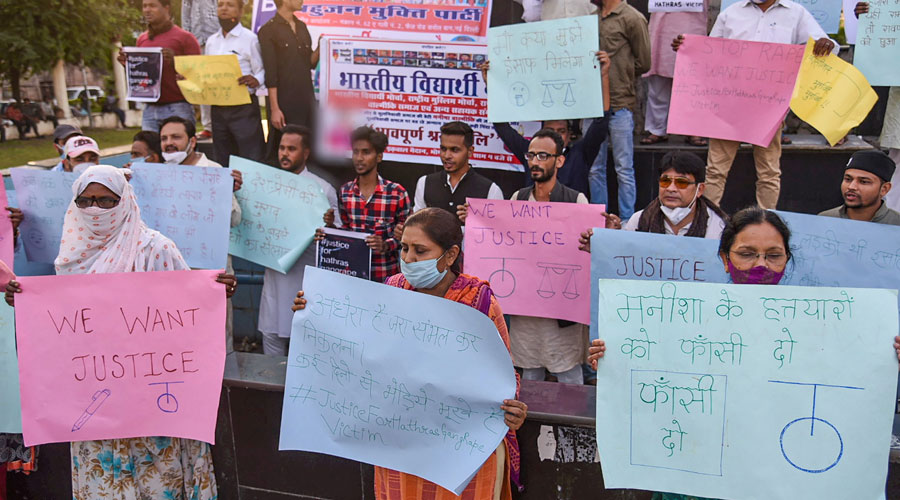 Members of various organisations stage a protest against the alleged gang-rape of a 19-year-old Dalit woman in Uttar Pradesh's Hathras in Bhopal on Friday.
PTI
---
New Delhi
|
Published 03.10.20, 04:39 AM
|
---
ABP News reporter Pratima Mishra and accompanying cameraman Manoj Adhikari were shoved and pushed by police and prevented from visiting the Hathras gang-rape-and-murder victim's home on Friday.
The two journalists were stopped after they had got to within 1km of the house on foot. Mishra kept pleading with the police to be allowed to visit the victim's family but policewomen and policemen surrounded her and Adhikari.
Told that journalists were barred from the village under government instructions, Mishra asked to be shown a copy of the order. The police continued to block her way and asked her not to report on the subject. Mishra later sat on a dharna before she and her colleague were forcibly taken into a police vehicle. They were released a while later.
Local reporters said the victim's family members had been confined in a single room of their house.
A young cousin of the victim somehow managed to give the police the slip, made his way out of the besieged village and spoke to journalists around 11.30am on Friday. He said his family had sent him out to speak to the media. "The police have taken away our phones. Nobody is allowed to step outside their homes," he said. "I have come here hiding all the way. The DM kicked my uncle in the chest and locked him inside a room because he had asked to call the media. He is unconscious."
The police said the prohibitory orders had been put in place as the special investigation team was still in the village, trying to collect statements and evidence.
A local sub-divisional magistrate said the Opposition and the media were being barred from the village so there is no "meddling in the investigation".
Tapping charge
The India Today group issued a statement alleging the tapping and leak of a phone conversation between one of its reporters and the victim's brother, and demanding an explanation from the government.
"The Uttar Pradesh administration has barred journalists from entering Hathras and is not allowing the victim's family to speak to the media. This evening, the audio of telephone call between the victim's brother... and India Today's reporter, Tanushree Pandey, was leaked on social media," it said.
"India Today first asks why was the telephone of our reporter, who was covering the Hathras murder, being tapped? If it was (the brother's) phone that was being tapped, then the government needs to answer why are the phones of the grieving victim's family under surveillance or being tapped. And under what provision of law were the phones tapped and call recordings leaked by officials who had access to these recordings."
Outrage on tractor Silence on daughter