Twice in two years has Ajay Mohan Bisht, also known as Adityanath, been voted the nation's best chief minister in polls that purport credibility.
It may be fair to wonder which sordid corners of hell those pollsters went scouring. Or perhaps they were merely scouring Adityanath's Uttar Pradesh, which answers to multiple descriptions of hell.
Such as the one whose grisly layers we might yet want to banish as the fiction of a traumatic nightmare. Unfortunately, we are living it and being cynically denied the ordeal of the dead.
A 19-year-old is gagged, raped and bludgeoned by an entitled crew of criminals in Hathras, barely 200km southeast of Delhi. So brutally that her spine snaps and leaves her paralysed.
When news of the savagery breaks, district authorities damn it as "fake news". But she survives the multiple assaults and the slur of official lies. She struggles for life a fortnight, shifted from hospital to hospital, and eventually dies in Delhi. She can no longer be dismissed as "fake news", she has become a dead body.
But this is Adityanath's realm, what it decrees dismissed will have to be dismissed.
She is bundled and hauled all the way back to Hathras, tossed onto an unseemly pile of timber and bric-a-brac, and set aflame. Her family is offered no part in her final rites; uniformed policemen, guardians of law and order, such as it is in Uttar Pradesh, watch over and accomplish criminal destruction of evidence.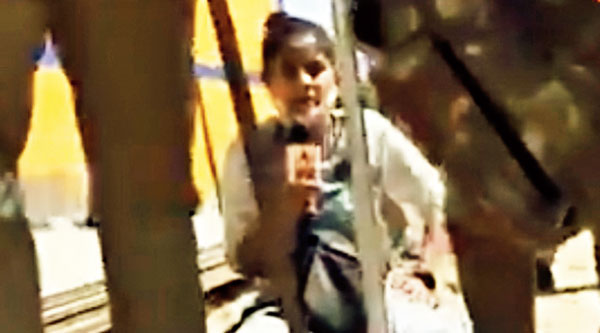 ABP News reporter Pratima Mishra sits on the ground and reports after police stopped her near the village in Hathras Sourced by The Telegraph
To the agitated enquiries of journalists present, one of them says out loud on camera: "You cannot go anywhere near, we have instructions. And we cannot speak; we have no permission to speak in Hindustan."
In no time, the 19-year-old has turned into a baleful stretch of ash and embers. On cue, Prashant Kumar, additional director-general (law and order) of the UP police, pulls out a forensic lab report and announces that the girl had never been raped.
Kumar is the same man entrusted, two years ago, with the onerous task of showering rose petals from a chopper seat on streams of "kanwarias" in western Uttar Pradesh.
But evidently the Adityanath regime puts little faith in its topmost law-and-order officer. So it fields a Mumbai PR firm.
An account executive of a PR firm, enters the mailboxes of a select group of journalists on a cheery note. "Greetings!" she begins.
Thereon, her tone turns deeply informed and instructive: "Hathras girl was not rape… FSL report reveals…. It should put to rest all speculations…. The reports also reveal the conspiracy to push the state into caste turmoil (It is not clear whether Rodrigues is still referring to the said forensic report)…. SIT is sure to unveil evil design behind the whole incident…."
The executive, from her offices in Fort, Mumbai, is already announcing what the SIT will reveal. That's called imaginative PR.
When that client is called Adityanath, imagination is nothing to knock. It takes imagination, as Adityanath demonstrated early in his tenure as Uttar Pradesh boss, to arrogate to yourself the power to abrogate all criminal charges and cases against yourself.
It takes imagination to so manage traffic that a dreaded offender and mafia don like Vikas Dubey, a man who can put you in trouble if he decides to sing, is killed in a road accident en route to the state after capture in Ujjain.
It takes imagination to pull out thousands of crores from the employees' provident fund account and give the sums over to a dubious housing finance corporation. It takes imagination for an avowed saffron-clad mahant to turn Talibani — in January 2018, Kathak dancer Manjari Chaturvedi's qawwali performance at an official function was scrapped at the last minute because the "CM does not like Islamic song, music or dance".
It must take imagination to pronounce that when men imitate women, they become godly, but when women imitate men, they turn devilish and, therefore, perhaps, "women are not capable of being left free or independent".
It must take a certain kind of imagination to hector the renaming of a museum of Mughal-era treasures and artefacts at Agra after Shivaji.
Can it also be called an act of imagination that Adityanath recently conjured a Special Security Force that is empowered, by law, to "arrest anybody or conduct a search operation" without a warrant, or, unwarranted?
Some differ: they call it an act of imitation, and they quote precedents from Germany of the 1940s.
Uttar Pradesh, like neighbouring Bihar, has long lumbered with deserved ill-repute. "Lawless" is among the first descriptions that float up at its mention. Successive governments have been not merely derelict but encouraging of lawlessness, and have used crime and muscle, overtly or covertly, as an instrument for grabbing or demonstrating political power.
This became particularly true of the years that the Samajwadi Party and the Bahujan Samaj Party jostled for upmanship.
But the Adityanath regime comes with upscaled differences in how brazen and unapologetic it is with twisting the law to its political and social purposes.
Activists have been picked up off peaceful barricades, jailed, beaten and tortured. Thereafter, through methods that mimic lumpen justice, their names, photographs and addresses have been strung up on hoardings as a way of not merely shaming them but as dog-whistling tactic.
Allahabad High Court had to order those hoardings — of anti-CAA protesters — pulled down because they amounted to "unwarranted interference in the privacy of people".
Dr Kafeel Khan, saviour of hundreds of ailing children in Gorakhpur, has been systematically hounded and repeatedly jailed. Again, the courts had to strike down National Security Act charges against him; he had to be assisted to relocate to Rajasthan.
But Rajasthan isn't far beyond Adityanath's sights because he has publicly sworn that he "shall not stop till I turn UP and India into Hindu Rashtra". Dr Khan might want in the future to seek locations farther afield.
As mahant of the Gorakhpur Math, Adityanath has been used to wielding unquestioned authority and expecting blind obeisance. Such, that he has often brooked no restraint from the law and flagrantly violated it.
Jailed once in 2007 for encouraging Hindutva rioters and flouting prohibitory orders, Adityanath has often not been ashamed to play outlaw. This man is now the law in Uttar Pradesh.
He hasn't baulked at bringing peril to social peace. He has shared a stage with hate preachers and those that have made open exhorts to violence against minorities.
He is the one who inspired the "love jihad" campaign a few years ago, blaming upon the minority community a civilisational conspiracy to gain ascendancy of numbers.
Later, using "love jihad" as leitmotif, he played militant proselytiser, peppering the heartland with aggressive calls for a counterblast: "We must do the same with their girls. I will celebrate each one of their girls that comes into our homes, each one that becomes a Hindu and enhances our national pride!"
We cannot name or identify the 19-year-old from Hathras any more than that she belonged among Dalits, but it can justly be said that she has become neither a thing of celebration nor of any pride. If anything, she is now playing an appropriated ghoul in the macabre theatre of Adityanath, the best chief minister we have.