Hate speeches warrant stringent action: Delhi High Court
Petitioners point out that at a rally in the capital's Rithala on January 27, 2020, Anurag Thakur had egged on the crowd to shout 'shoot the traitors'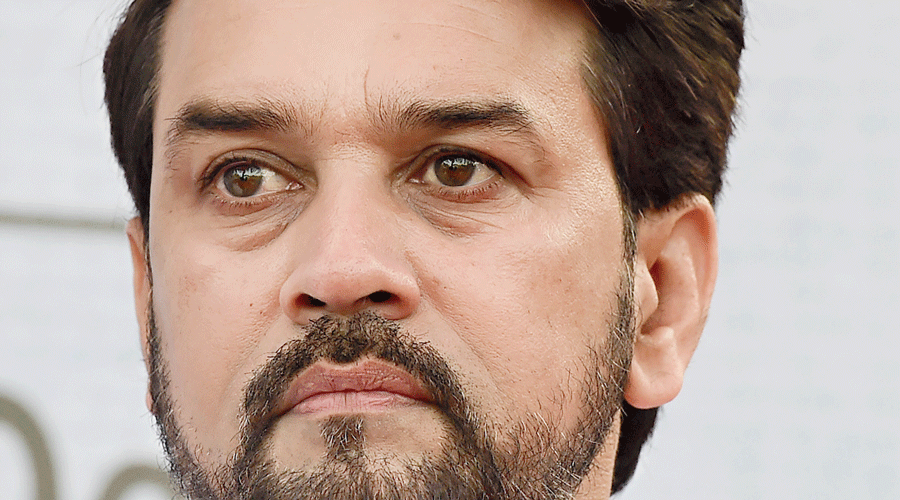 Anurag Thakur.
File photo
---
New Delhi
|
Published 14.06.22, 01:19 AM
|
---
Hate speeches by elected representatives, political and religious leaders based on religion and caste bulldoze the constitutional ethos and violate constitutional provisions and, therefore, warrant stringent peremptory action on the part of central and state governments, Delhi High Court said on Monday.
 Justice Chandra Dhari Singh made these observations while dismissing a petition challenging the trial court's refusal to direct the registration of an FIR against Union minister Anurag Thakur and his BJP colleague and MP Pravesh Verma for their alleged hate speeches concerning the anti-CAA protest at Shaheen Bagh here.
The court refused to interfere with the trial court's order on the ground that under the law, the requisite sanction is required to be obtained from the competent authority for the registration of an FIR. The central government is the competent authority in this case.
The petition contesting the trial court order was filed by CPM leaders Brinda Karat and K.M. Tiwari.
The petitioners had pointed out that at a rally in the capital's Rithala on January 27, 2020, Thakur had egged on the crowd to shout "shoot the traitors".
Thakur had shouted "desh ke gaddaron ko", to which the crowd responded "goli maro sa*** ko" (shoot the traitors).
The petitioners had further said that Verma had, on January 28, 2020, allegedly made incendiary comments against the anti-CAA protesters at Shaheen Bagh.
The high court noted that there had been instances of hate speeches which led to demographic shifts in the country in their aftermath, stated that mass leaders and those occupying high offices must conduct themselves with utmost integrity and responsibility and it does not befit or behove the leaders to indulge in acts or speeches that cause rifts amongst communities, create tensions and disrupt the social fabric.
The judge said elected leaders in a democracy owe their responsibility not only to their electorate but also towards the society and nation as a whole and ultimately to the Constitution.
The court quoted a shloka from the Bhagwad Gita to emphasise that "whatever action is performed by a leader, common men follow in his footsteps; and whatever standards he sets by his acts, are pursued by his subjects".
The sections suggested by Karat and Tiwari carry a maximum punishment of seven years in jail.