Harsh Vardhan meeting does not end doctors' protest on medical commission bill
Doctors in AIIMS and all government hospitals in Delhi are on a general strike, Rajya Sabha passed the bill on Thursday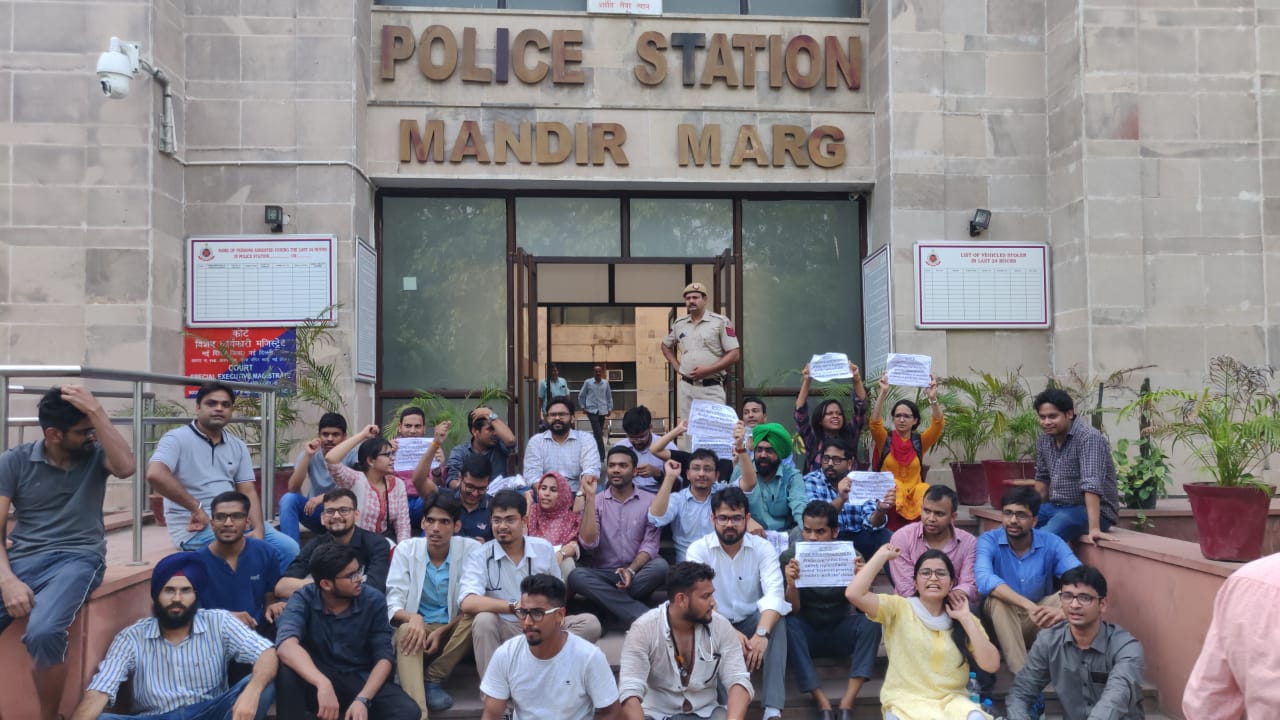 Doctors detained for protesting near Parliament on Thursday
Photo credit: AIIMS Resident Doctors' Association
---
New Delhi
|
Published 02.08.19, 02:40 PM
|
---
The Indian Medical Association (IMA) has decided to continue its opposition to the National Medical Commission (NMC) Bill, especially against the newly introduced Section 32.
The section, which was not part of the original bill and was introduced after the draft was vetted by a select committee, makes provision for community health providers allowed to administer primary health care treatment. 
The bill, passed in the Rajya Sabha on Thursday, seeks to replace the Indian Medical Council Act and and create a new nationalised graduation exam, or exit test, for all medical campuses.  
The IMA, almost all resident doctors' assciations and some Opposition parties feel that this will institutionalise quackery on the pretext of closing the gap between demand for primary health care and the paucity of doctors and trained nurses. 
"The IMA can never accept Section 32 of the act providing for unqualified non-medical persons being registered and allowed to practise. Their ability and capability will always be doubtful, not to talk of the irreparable damage to health care management," the association said in a statement on Friday.
The IMA also expressed disappointment against three amendments proposed in the Rajya Sabha, to be discussed again in the Lok Sabha later, saying that these addressed their concerns partially. It has called for a meeting on Sunday to discuss the future course of action.
At the time the bill was passed in the Upper House, hundreds of doctors across government hospitals in Delhi protested on the streets against it. The strike is still on, hampering all hospital services, including emergecy treatment.

Congress leader Jairam Ramesh called Section 32 in the bill an attempt to "institutionalise quackery" in the Rajya Sabha. He proposed another change in the provision, which asked for a regulation of fees in 50 per cent of seats in all medical colleges, proposing that the number should be 75 per cent. "I am all for privatisation. I want Air India to be privatised. I want Ashok hotel to be privatised. But I want a fee, even in private colleges, to be affordable to everyone," he said.
Many AIIMS resident doctors, who are on an indefinite strike, were detained by the police when they tried to reach the Parliament with an aim to protest there. They were taken to Mandir Marg police station.
Today health minister Harsh Vardhan met members of the AIIMS resident doctors' association but they did not budge on the strike despite the minister's request.