Hands-off call on Afghanistan at Delhi Regional Security Dialogue
The declaration reflected the views of India, Russia, Iran, Kazakhstan, Kyrgyzstan, Tajikistan, Turkmenistan and Uzbekistan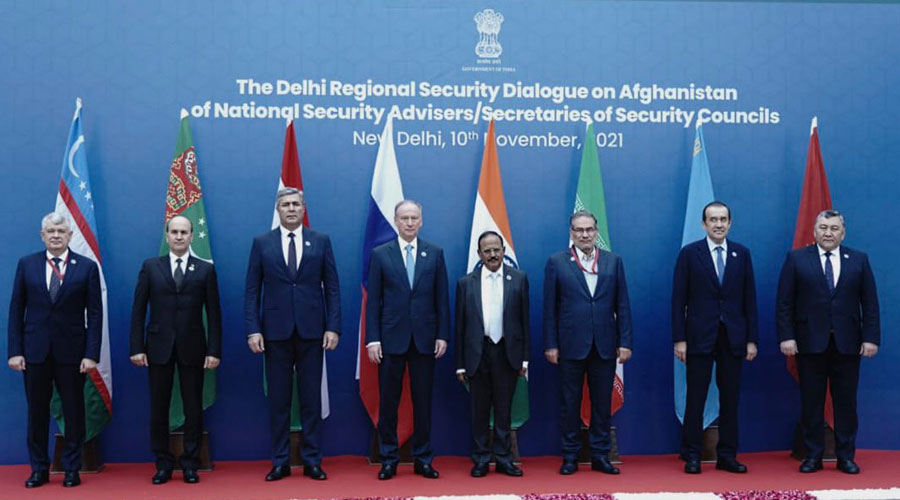 ---
New Delhi
|
Published 11.11.21, 01:35 AM
|
---
The Delhi Declaration on Afghanistan, adopted at the third Regional Security Dialogue hosted by India here on Wednesday, called for non-interference in the war-ravaged country's internal affairs and "collective cooperation" against radicalisation, extremism, separatism and drug trafficking in the region.
With China and Pakistan staying away from the meeting, the declaration reflected the views of India, Russia, Iran, Kazakhstan, Kyrgyzstan, Tajikistan, Turkmenistan and Uzbekistan.
This is one in a series of such conferences being organised by different groups of countries in quick succession since the Taliban overran Afghanistan on August 15.
Pakistan is hosting a meeting of the Troika Plus — the US, Russia and China — in Islamabad on Thursday where special representatives of all four countries will meet Afghanistan's foreign minister Amir Khan Muttaqi.
The stated purpose of both meetings and all the others has been to push the Taliban government to be more inclusive and representative of all the ethnicities of Afghanistan, protect women's rights, avert the humanitarian crisis facing the country and ensure that there is no spillover of the security situation into the neighbourhood.
For India, which had made huge investments in Afghanistan during the two-decade-long US-led war on terror, protecting its stakes in the country is high on the agenda. For this, India must have a say in the direction Afghanistan takes despite the obvious advantage Pakistan has, having provided safe havens to the Taliban leadership for nearly three decades.
At Wednesday's meeting convened by him, national security adviser Ajit Doval stressed the need for close consultation, greater cooperation and coordination among the regional countries, not just those that share a border with Afghanistan.
It is in keeping with this principle that India invited Kyrgyzstan and Kazakhstan, which do not share a border with Afghanistan, to the meeting. Russia, too, does not have a border with Afghanistan after the collapse of the USSR but is a key stakeholder and a member of many such dialogue processes.
Addressing the meeting, the secretary of Russia's Security Council, Nikolai Patrushev, sought to underscore the importance of the October 20 Moscow format of consultations in the midst of all the increased activity and sessions on Afghanistan.
The joint statement issued at the end of the Moscow format had said that participants advocated taking into account the new reality in Afghanistan irrespective of recognition of its changed ruling arrangement by the international community. India is yet to comment on the Moscow format joint statement.
The Taliban was represented at the Moscow format, providing India the first opportunity to sit across the table with the new government in Kabul.
The Delhi Declaration talks of the humanitarian crisis and urgency to reach relief to the people, calls for a government that represents the major ethno-political forces in Afghanistan and underscores the need to ensure the rights of women and minorities.