Guwahati unrest death toll rises
Common platform comes up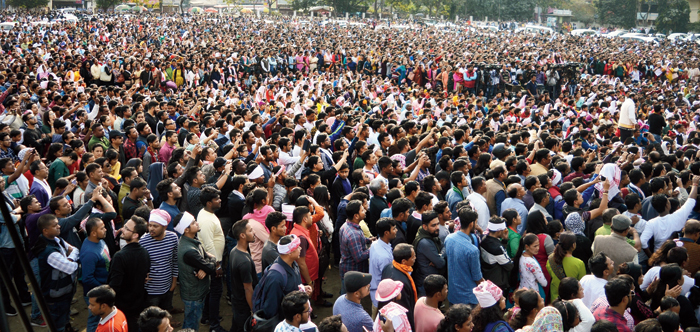 ---
|
Guwahati
|
Published 15.12.19, 09:55 PM
---
Protests against the Citizenship (Amendment) Act, 2019, continued for the fifth day in Assam on Sunday with artistes and student organisation members joining hands across the state and intellectuals, representing 45 organisations, forming a common platform.
The toll in the suspected police firing on protesters rose to five during the day. Two more protesters, who were injured in alleged police firing on Thursday, succumbed to injuries at Gauhati Medical College and Hospital on Sunday. The victims have been identified as Ishwar Nayak of Udalguri and Abdul Alim of Lalung Gaon here.
Director-general of police Bhaskar Jyoti Mahanta confirmed four deaths while the All Assam Students' Union (AASU) claimed five deaths.
On Thursday, Dipanjal Das and Sam Stefford were killed in alleged police firing on protesters. The fifth casualty is yet to be confirmed by the authorities or the AASU.
Altogether 27 have been injured in Guwahati and 1,406 detained across the state for resorting to violence.
Although the police claimed the situation was "under control", curfew, which was relaxed during the day, was re-imposed in Guwahati, Dibrugarh, Tinsukia, Sonitpur and Jorhat in the evening. During the curfew relaxation, more shops opened and vehicles plied on the roads than on Saturday.
Cabinet minister Himanta Biswa Sarma tweeted that day curfew will be withdrawn but night curfew will continue from 9pm to 6am.
Assam remains on high alert with the administration making it clear that those indulging in violence will not be spared.
The day started with 40 leading artistes, including singers Zubeen Garg and Manas Robin, actors Prastuti Parashar, Barsha Rani Bishaya and Nishita Goswami, among others, staging a massive musical protest, where 15,000 student activists and others joined. Similar protests were also staged in different parts of the state. Zubeen also hinted at floating a new political party if the necessity arises to replace the BJP-led government in the state. At the protest here, choreographer Uday Shankar announced his decision to return two state film awards in protest against the "imposition" of the legislation on Assam.
The All Adivasi Students Association of Assam on Sunday blamed the state government for Nayak's death.
Association president Pradeep Nag said, "Had the government paid heed to the sentiments of the Assamese people, such incidents could have been averted. The Centre should have implemented Clause 6 for protection of rights of the indigenous people first, before implementing the Citizenship (Amendment) Act, to prevent such an outcry."
Nag demanded the state government to recognise Nayak as a martyr and ex gratia of Rs 20 lakh to the youth's family.
Former MP Santiuse Kujur also exhorted the Assam government to grant ex gratia to Nayak's kin.
AASU activists staged protests at Kaliabor, Batadrava and Puranigudam in Nagaon district, Duliajan in Dibrugarh district, Doomdooma and Rupai Siding in Tinsukia district, Kokrajhar, Bongaigaon, Jorhat and Sonitpur districts, apart from other places. The AASU had called three-day satyagraha from Monday, to which its district and subdivisional units extended support.
There were, however, no protests against the act in the three Barak Valley districts and in Dhubri district in lower Assam on Sunday.
Various organisations continued their call for unconditional release of Krishak Mukti Sangram Samiti leader Akhil Gogoi, who has been in police custody since Thursday on charges of waging war against the nation.
Gogoi could possibly become the first person to be tried under the amended Unlawful Activities (Prevention) Act that empowers the Centre to designate an individual as a "terrorist" if they are found to be committing, preparing for, promoting or being involved in an act of terror.
On the other hand, senior pro-talks Ulfa leader Jiten Dutta, who was arrested from his Digboi residence on Saturday, was remanded in police custody for three days on Sunday.
In view of the protests, bandhs and damage to railway tracks in the Northeast, particularly in Assam, and burning of the railway station at Bhaluka Road in Bengal, Northeast Frontier Railway either suspended or short-terminated and diverted 40 long and short-distance trains.
Airline operations were also affected with at least seven flights cancelled from Guwahati while the Dibrugarh airport, which was closed since Wednesday, reopened on Sunday.
In Meghalaya, the East Khasi Hills district magistrate issued orders to relax curfew hours on Monday in areas notified under Lumdiengjri police station and Sadar police station and their respective outposts and beat houses for 13 hours from 6am to 7pm. Curfew will be clamped again from 7pm and until further orders.
In Mizoram, the Mizo Zirlai Pawl (MZP) on Sunday vehemently condemned the killing of a youth allegedly by illegal migrants during a protest in Tripura against the act last week.
Additional reporting by Shajid Khan in Udalguri, Andrew W. Lyngdoh in Shillong and Henry L. Khojol in Aizawl