Gutted tyre market has a story to tell
Shops looted, then set ablaze; 200 calls for help went unanswered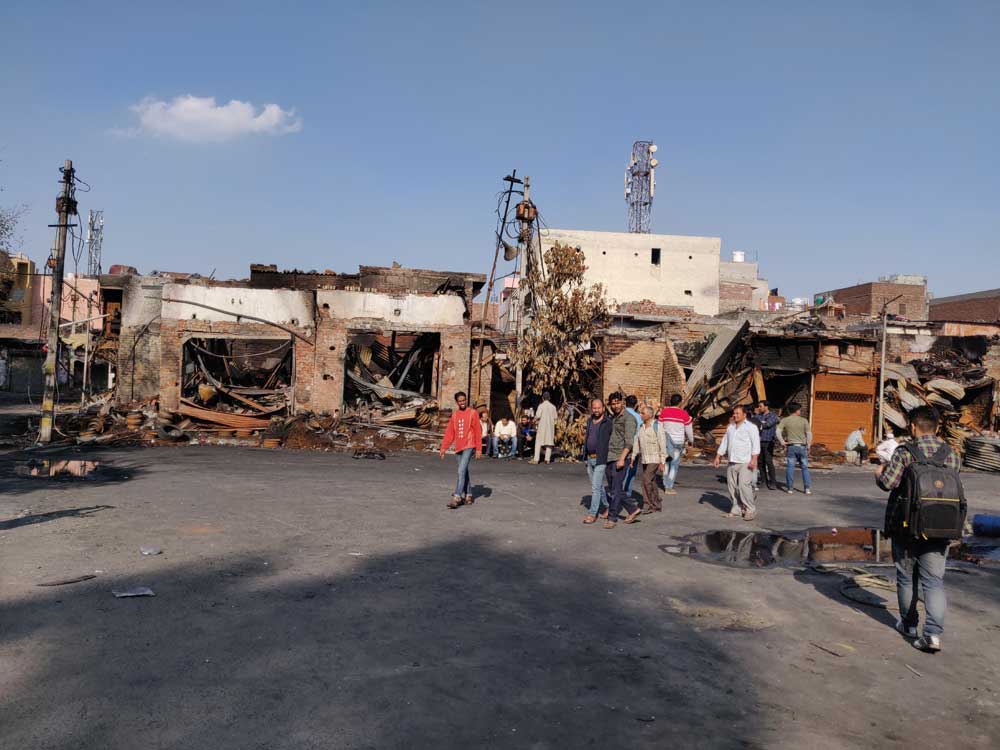 Shops in New Delhi's Gokulpuri tyre market
(Furquan Ameen)
---
New Delhi
|
Published 05.03.20, 02:56 PM
|
---
A steady stream of shop owners in New Delhi's riot-ravaged Gokulpuri tyre market have been returning since Sunday to find their shops gutted.
The shop owners had been avoiding northeast Delhi for days due to the atmosphere of fear in the district. They decided to return after a sense of normalcy returned to the area.
Md Zama Khan, a 40-year-old shop owner, said the tyre market was first set ablaze last week on Monday night, then again on Tuesday and once more on Wednesday.
"Teen din lagatar lagayi hai aag. Fire brigade ne bujhayi phir dobara laga di (It was set on fire on three days. They'd come and light it again," said Khan.
Located close to the Gokulpuri Metro station, the tyre market is a cluster of 224 shops owned by Muslim families from Old Delhi. The market was moved from Meena Bazaar near Jama Masjid to its current location in 2001.
Khan was allotted a shop in the market in September that year. It, however, was spared from the fire but was destroyed after the locks were broken. He held one up to show.
"Dekhiye kya haal kar rakha hai talon ka. Sab maal galla khali kar rakha hai (Look what they have done. They have emptied the cash register)," said Khan.
He said the shops in the market were looted before being set on fire.
"Police ne kuch nahi kara, military ne kuch nahi kara, kisi ne kuch nahi kara," added another shopkeeper.
Most of the businessmen live near Jama Masjid, where the old market was located. When the news of the violence reached them last Monday, they shut their shops and left for home. Nobody returned for a week.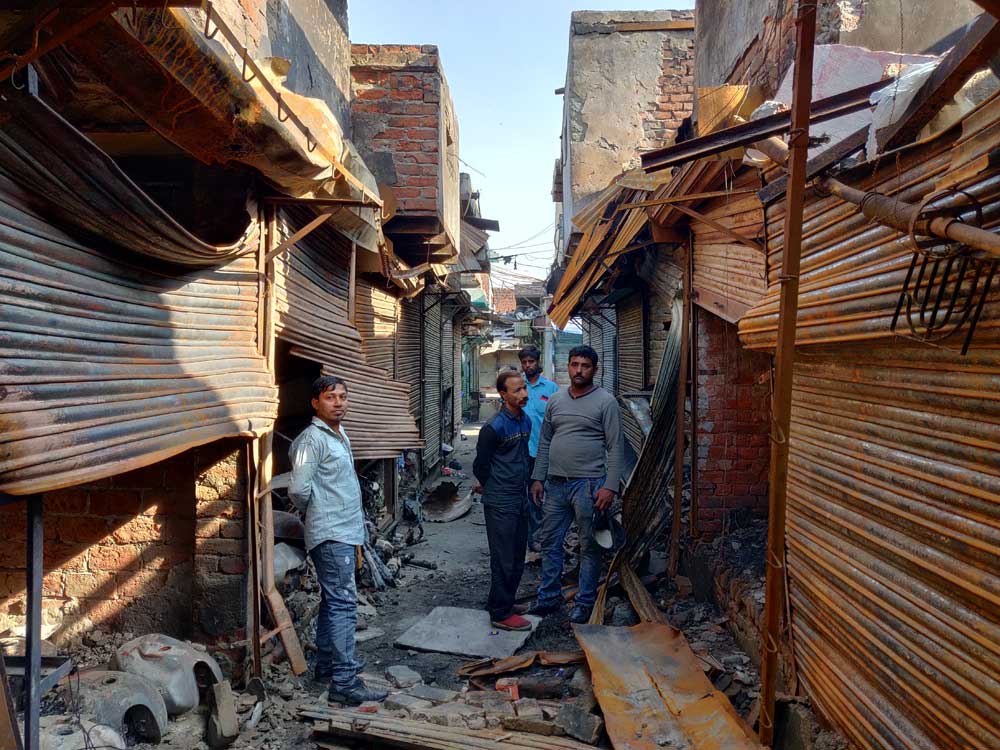 The shopkeepers told The Telegraph Online that second-hand tyres and motor parts were sold in the market.
"Naya bohot kam bikta tha yahan pe. Maal kabare se hi aata hai, kabare me hi becha jaata hai. Logon ki zindagi bhar ki punjiyan thi (Very little of the goods sold here was new. Things that would come as scrap was again sold as scrap. People had invested their life earnings here)," a shopkeeper said.
The market association estimates a loss of Rs 15 crore.
"Nobody had any insurance cover, and any cash or inventory is gone. A lot of us would keep some cash here to purchase goods the next day," said a member of the market association.
Each shop supported two-three families, the association said. It estimated that more than 400 families have lost their livelihoods in the fire.
The shop owners claimed that when the fire brigade arrived on the first day, the mob didn't let them enter the market.
On February 25, the firefighters managed to douse the fire but it was lit again.
Two police stations are located a mere 100 meters away.
"More than 200 calls were made to the police, but no one came here. They told us that they didn't know," said Mohd Shakir, president, Gokulpuri tyre market association.
The Abdullah Bukhari mosque, which existed under a tin shed in one corner of the market bordering a government school, was set ablaze by the mob.
"First, the mosque was set ablaze and then the shops. Aaraam se tasalli se aag lagayi gayi hai (They had all the time to set fire to the market)," added Shakir.