Graft punch at Modi over Lokpal, RTI
Rahul says BJP govt has weakened legal framework needed to fight corruption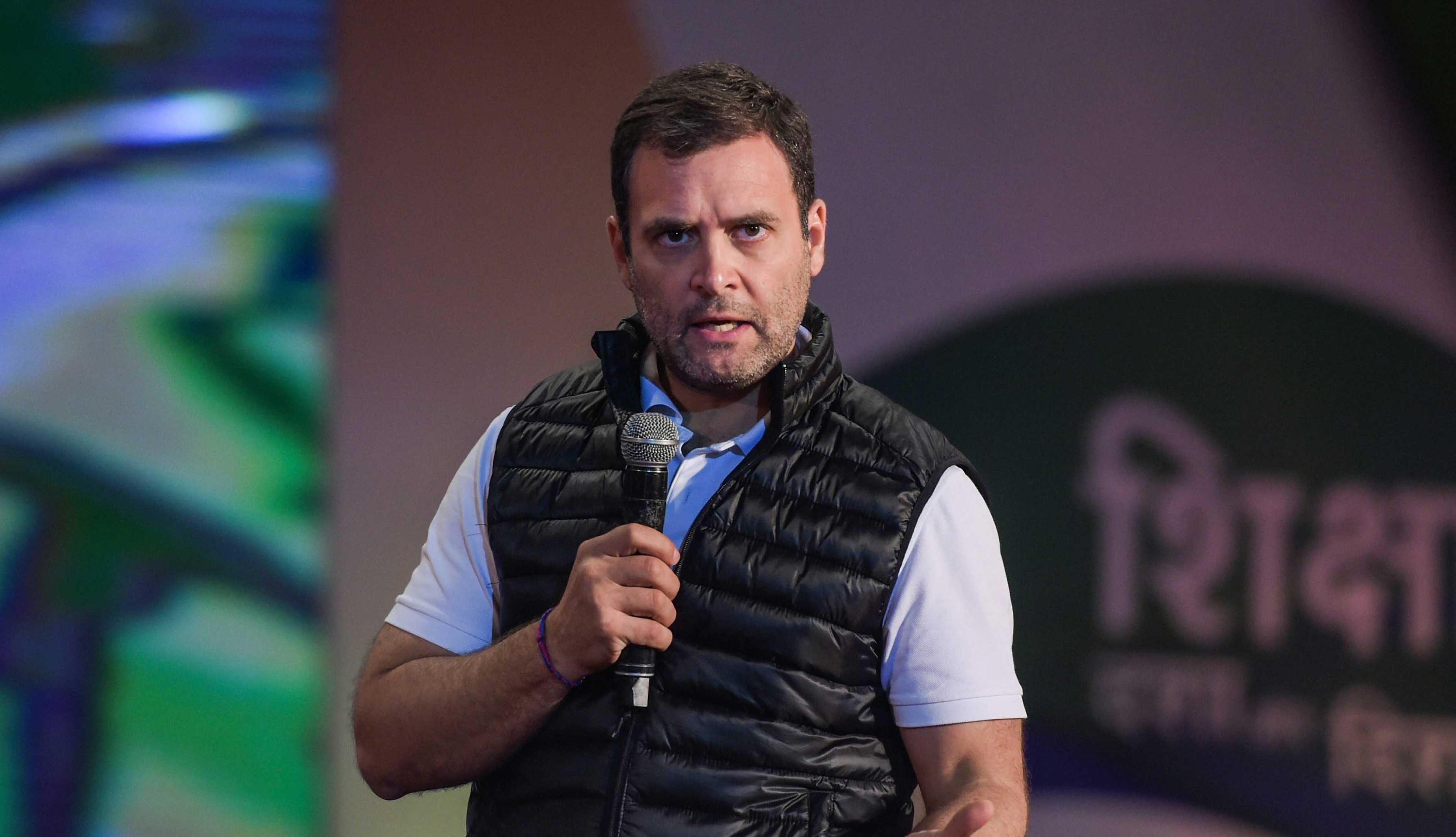 Rahul Gandhi interacts with students on "Shiksha Dasha aur Disha" at JLN Stadium, in New Delhi, on Saturday.
(PTI Photo)
---
New Delhi
|
Published 23.02.19, 09:34 PM
|
---
Rahul Gandhi on Saturday said the Narendra Modi government had weakened the legal framework needed to fight corruption by not appointing the anti-graft ombudsman Lokpal and diluting the Right to Information Act.
The Congress chief was responding to a question while interacting with students at Jawaharlal Nehru stadium about the need to bring funding for political parties under the transparency law.
A student had asked how citizens could trust political parties that were bent on hiding the sources of their funds and spent huge amounts on fighting elections.
Political outfits have collectively opposed attempts to bring them under the RTI law and the Modi government has submitted in the Supreme Court that parties should be exempt from the act.
Rahul said he would accept the proposal to bring parties under RTI if the judiciary, executive, the media and corporate houses too were brought under the law. "By only bringing political parties which work for the people, we will be weakening the system," he said.
Rahul said there were multiple ways of fighting corruption. "Lokpal is one of them but this was not allowed by the government. We brought (the) RTI (law) but this was diluted. Demonetisation was the worst scandal. The biggest corruption happens in land. We passed the Land Acquisition Act and Narendra Modi's first attack (was) on this act. He wants to give land to corporate(s). I was battered for taking a tough stand on the land act," Rahul said. "You know the leader who fights against corruption comes under greater attack. You check the media and will know who is being battered — me or Modi?"
The government recently advertised for the post of India's first Lokpal, after dragging its feet for five years.
The Congress chief, who had established an immediate connect with the students from the very outset by asking them to call him Rahul, not "sir", was applauded throughout the interaction that was preceded by a musical tribute to soldiers and patriotism.
He insisted the state must support education and health care and alleged that the Modi government had slashed budgetary allocations on these two sectors because it intended to privatise them.
Rahul also drew applause when he asked a student, who had faltered while asking a question, to take it easy.
"Don't worry," he told the student, "this happens to many persons, including me. I also get nervous at times."
Asked if he would support making teaching of moral and ethical values a mandatory part of the syllabus, he said: "Education should be empowering. I don't believe in rigid structures. What you should do and what you should not, should be left to you. Education must not crush your spirit."
Rahul rued that ideologically motivated people from one organisation were being placed everywhere and said institutions could not become political instruments. "They have nothing with global vision, students' ideas…. They just want India's education system as their political tool."
Asked about the yet-to-be-born Jio institute getting the eminence tag, Rahul said: "There are 15-20 industrialists who can get any tag — IIT, Harvard, anything."