Govt trying to crush every voice: Congress
The government could have countered the movie on the basis of facts, points out Pawan Khera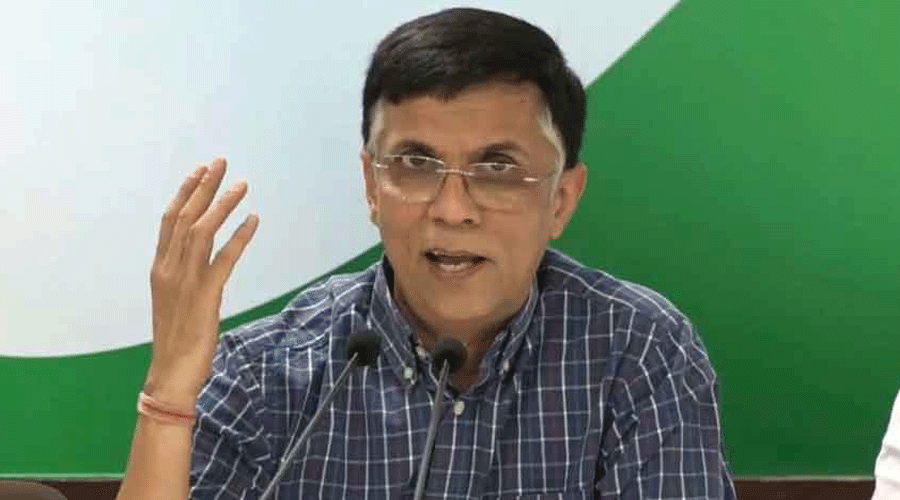 ---
New Delhi
|
Published 26.01.23, 03:15 AM
|
---
A day before the launch of its biggest public outreach programme Haath Se Haath Jodo, the Congress accused the Narendra Modi government of crushing all critical voices to protect the false image of the Prime Minister.
As part of the 21 media conferences held across the country to spread the message of Haath se Haath Jodo, party spokesperson Pawan Khera, in response to a question about the BBC documentary on Modi, said in Hyderabad: "Concerns go far beyond the BBC documentary. We are worried about democracy; about the attack on institutions. Every voice that is critical of the Modi government is sought to be crushed."  
Explaining the government's desperation to enforce an unofficial ban on the documentary India: The Modi Question, Khera said: "People of India know what happened (in 2002) and what's happening now. Truth cannot be suppressed. The government could have countered the movie on the basis of facts. But the government believes in suppressing facts. What has happened to the institution of CAG? Has any CAG report made headlines or debated on prime time after 2014?"
Khera added: "The level of censorship on institutions was never seen in India. What's happening to the CJI (Chief Justice of India)? Look at the way the government is trying to infiltrate the collegium system. We can't accept a system in which the government controls the institution (judiciary), which draws sustenance from its autonomy."
Law minister Kiren Rijiju has been attacking the collegium system of selecting judges for the higher judiciary. Even Vice-President Jagdeep Dhankhar has bluntly targeted the Supreme Court, going so far as to question the basic structure doctrine. 
Congress president Mallikarjun Kharge issued a statement on the eve of Republic Day expressing similar concerns.
He said: "There is a conspiracy to control every institution, which was functioning independently according to the constitutional mandate. Constitution is the soul of our country and the foundation of our democracy. The makers of the Constitution created this document on the principles of equality, justice, freedom, secularism and socialism. But the forces which never believed in constitutional values are now weakening every institution."
Kharge added:  "These forces topple Opposition governments, misuse agencies to harass Opposition, sell national assets to capitalist friends and control media with their help, suppress uncomfortable truths, attack judiciary and sow seeds of hatred among youth. There are conspiracies to weaken Dalits and tribals, instigate conflicts among communities and pursue anti-poor policies."