Gold smuggling accused points finger at Vijayan
Swapna Suresh on Wednesday accused Kerala CM of playing 'dirty games' by 'kidnapping' her colleague P.S. Sarith from his flat in Palakkad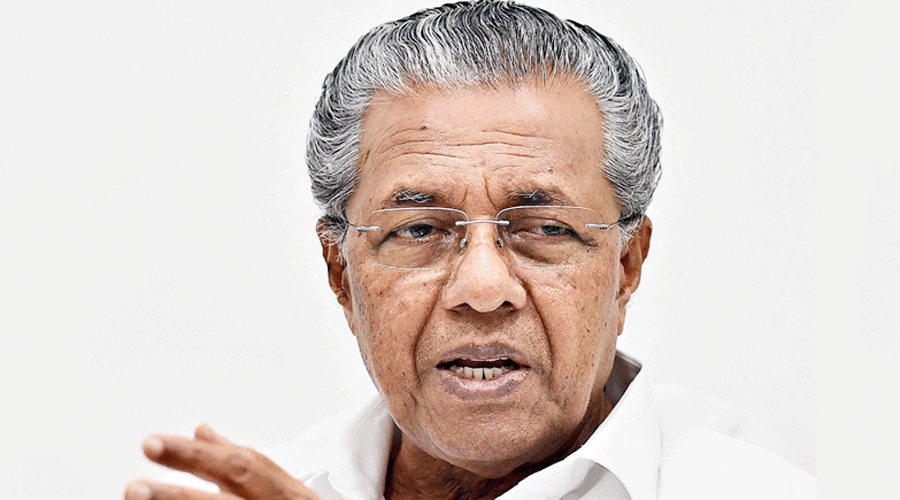 Pinarayi Vijayan.
File photo
---
Bangalore
|
Published 09.06.22, 04:11 AM
|
---
A gold-smuggling scam that the Opposition has been using to target the Left Democratic Front government in Kerala got a fresh lease of life in public debate with one of the main accused alleging the involvement of the chief minister and his family members, and a co-accused being taken for questioning by the state police vigilance department.
A day after accusing chief minister Pinarayi Vijayan, his wife, daughter, a former minister and two officials of complicity in gold smuggling, Swapna Suresh on Wednesday accused Vijayan of playing "dirty games" by "kidnapping" her colleague P.S. Sarith from his flat in Palakkad where the two work with HRDS India, an NGO backed by RSS leaders.
"Sarith was kidnapped in broad daylight from our staff accommodation. This is disgusting. If you cannot speak to a woman of Kerala, why are you sitting in that chair?" Swapna said, speaking before  reporters. She also sought protection.
Vigilance department sources said Sarith was taken for questioning in connection with a bribery scandal over a housing project for the 2018 flood victims. Sponsored by the UAE Red Crescent Society, the UAE consulate general in Thiruvananthapuram was tasked with finding a builder who allegedly bribed some officials to win the contract.
After being let off, Sarith said: "They wanted to know at whose behest did Swapna make yesterday's statement."
Swapna and Sarith, who were previously colleagues at the UAE consulate in Thiruvananthapuram, were among those arrested for an attempt to smuggle 30kg of gold ingots worth Rs 14.82 crore in diplomatic baggage addressed to the attache of the foreign mission in July 2020. They have been out on bail since last year.
Swapna had on Tuesday alleged that the chief minister, his wife Kamala, daughter Veena, his former principal secretary M. Sivasankar, former additional private secretary C.M. Raveendran, former minister K.T. Jaleel and former civil servant Nalini Netto were involved in the smuggling.