GN Saibaba acquittal: Activists cheer, rue suffering
Narendra Modi brigade's 'urban Naxal' label proves to be bogus, says Congress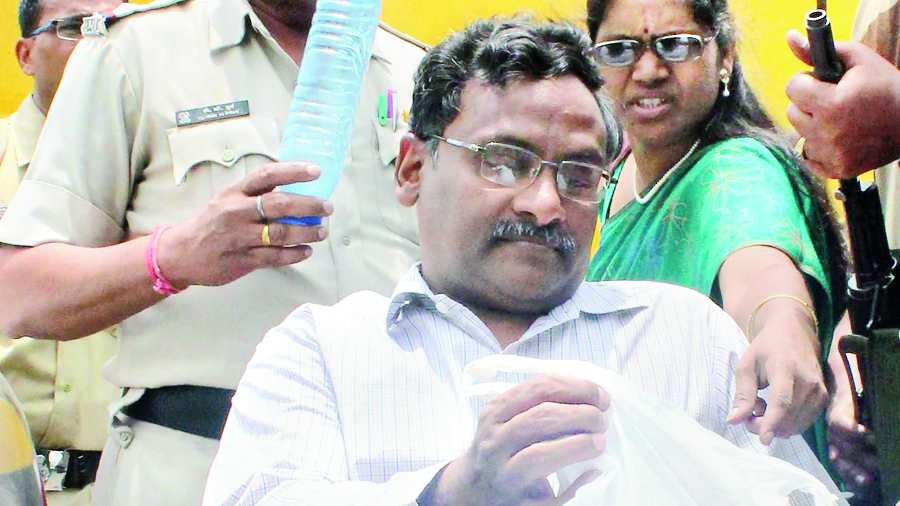 Saibaba outside the Nagpur Central Jail.
File picture
---
New Delhi
|
Published 15.10.22, 01:59 AM
|
---
Activists, lawyers and politicians have welcomed former Delhi University professor G.N. Saibaba's acquittal in a Maoist links case and rued that the human rights defender who uses a wheelchair had to endure the "torture" of imprisonment since 2014.
Bombay High Court on Friday acquitted Saibaba and ordered his release from jail, saying the sanction order to prosecute him under the anti-terror law UAPA was "bad in law and invalid".
Activist Kavita Krishnan congratulated Saibaba's wife Vasantha and his lawyers for "winning his acquittal".
"This disabled human rights defender — proved innocent now — had to suffer what amounts to torture in prison for so long, damaging his health. Shame," she tweeted.
The Congress said Saibaba's acquittal proved that the "urban Naxal" tag "invented by the prime minister's brigade is completely bogus".
The Left parties welcomed the verdict and demanded the immediate release of all political prisoners in the country.
"He was jailed almost as long (as Narendra) Modi has been Prime Minister," academic Ashok Swain tweeted. Saibaba was arrested in 2014 and convicted in March 2017.
Supreme Court lawyer and activist Indira Jaising congratulated Saibaba's legal team and expressed her "heartfelt tribute to Pandu Narote, his (Saibaba's) co-accused who died in prison".
All India Majlis-e-Ittehadul Muslimeen chief and Hyderabad MP Asaduddin Owaisi said that Saibaba "suffered immensely in prison for years because of UAPA and his loved ones had to watch helplessly".
"(The) UAPA is a monster created by the collaboration of BJP and Congress. Its victims are mostly innocent Muslims, Dalits, Adivasis and dissenters," he tweeted.
"Only 3 per cent of accused have been convicted under UAPA, but innocent people arrested under it remain in jail for years."
Disability rights activists too lauded the verdict. "It's a very good order," Arman Ali, executive director of the National Centre for Promotion of Employment for Disabled People, said. "We were all saddened and alarmed by the treatment he (received) by being kept in a solitary cell. Being a person with a disability, he had the right to certain accommodations even in prison."
The National Platform for the Rights of the Disabled said that prisoners with disabilities were entitled to "reasonable accommodation" under Indian laws and international covenants.
"In spite of repeated appeals by human rights organisations, democratic-minded people and disability rights organisations, Saibaba was denied bail even on medical grounds, though his health was deteriorating due to 19 medical conditions, some of them life-threatening," it said.
Congress general secretary Jairam Ramesh tweeted: "... Prof G N Saibaba's acquittal after five years in jail proves that 'urban naxal' tag invented by the prime minister's brigade is completely bogus.
"Many others are still in wholly unjustifiable custody. Such smear tactics must be resisted. I wouldn't be surprised if the prime minister calls me one too!"
The CPM tweeted: "CPI(M) welcomes (the) acquittal of G N Saibaba and expresses solidarity with him. Many more continue to be persecuted under false charges. Release all political prisoners immediately."
The CPI said: "After years of state-sponsored torture, terror and lies, truth has finally triumphed. Struggle for human rights, repeal of draconian laws and release of political prisoners will continue!"
CPIML Liberation general secretary Dipankar Bhattacharya tweeted: "G N Saibaba and four others acquitted by the Bombay High Court! Rarely does one hear such good news in today's India."
He added: "Welcome back, Professor Saibaba! It's a victory for the battle for the release of all political prisoners and abolition of draconian laws."