G.N. Saibaba admitted to jail hospital with Covid
The wife and brother of the paraplegic professor, serving a life sentence at Nagpur, urged CM Uddhav Thackeray to shift him to a private hospital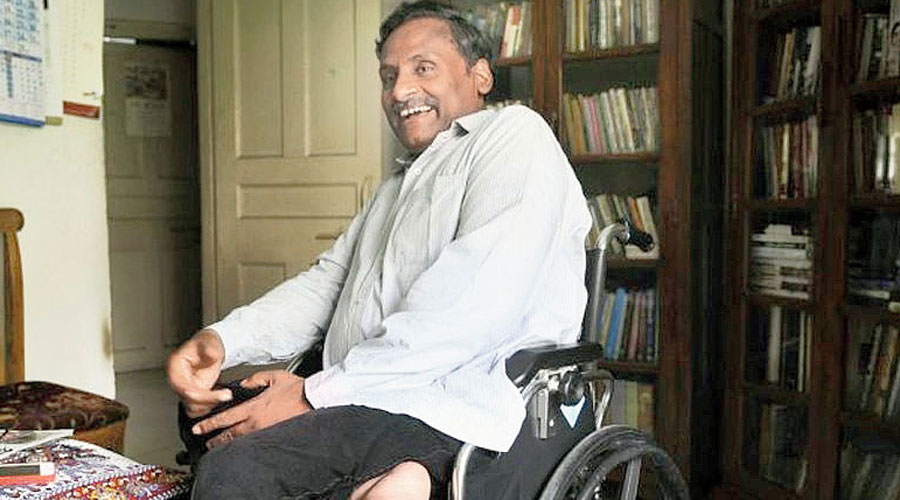 G.N. Saibaba
File picture
---
New Delhi
|
Published 14.02.21, 01:31 AM
|
---
G.N. Saibaba, the paraplegic professor serving a life sentence at Nagpur Central Prison for links with the banned CPI (Maoist), has been admitted to the jail hospital to be isolated for Covid-19.
The 53-year-old professor, who taught English at Delhi University's Ram Lal Anand College until his arrest in 2014, is paralysed below his waist due to polio and his family says his arms are getting paralysed because of irregular medical treatment by jail authorities.
Maharashtra prisons spokesman Shahu Bibhishan Darade told this newspaper that after testing positive in prison, Saibaba was taken to the Government Medical College for a check-up. 
"As per government guidelines only those with serious symptoms are admitted to hospital. His condition is not serious, hence he has been shifted from his cell to the prison hospital," Darade said.
Saibaba's wife and brother on Saturday urged Maharashtra chief minister Uddhav Thackeray to shift him to a private hospital in Nagpur. 
In the letter, the Delhi-based A.S. Vasantha Kumari and the Hyderabad-based G. Ramadevudu said: "The test was performed at the request of family members as Dr Saibaba informed us over telephone that he was facing severe symptoms of the virus. This is a serious attack on Dr Saibaba, who suffers from 19 health ailments and has serious comorbidities, including heart and kidney issues that can lead to further complications under Covid-19. 
"Currently, he has a very high fever with low oxygen levels which might drop further if he does not receive treatment or is in stressful environments. He has severe headache, constant breathlessness, frequent bouts of hiccups, blocked nose and throat with severe joint and muscle pain."
Over the past week, several prisoners in Nagpur including don turned politician Arun Gawli have tested positive for the coronavirus and are in the prison hospital. 
Saibaba's parole applications have repeatedly been rejected despite him having hypertrophic cardiomyopathy with left ventricular dysfunction.
The letter said: "Being 90 per cent physically challenged, Dr Saibaba was assigned two helpers, both of whom have tested negative for Covid. Currently, because of this he has no helpers to take care of daily needs or help him in emergency situations and has been kept in isolation. The Government Medical College Hospital, Nagpur, is not an optimal place to shift him as it is overflowing with patients and may intensify the infection further."
Last year, Saibaba had threatened to go on a hunger strike demanding access to letters, books and medicines. 
Telugu litterateur Varavara Rao, 80, had to petition Bombay High Court last year to be moved to a private hospital after he caught a urinary tract infection in the jail hospital that had failed to change his urinary catheter for three months. 
Rao, facing a different case on similar charges, had also got Covid in a Navi Mumbai prison.