Former Bihar CM's party joins NDA
The move comes ahead of the Assembly elections expected to be held in November this year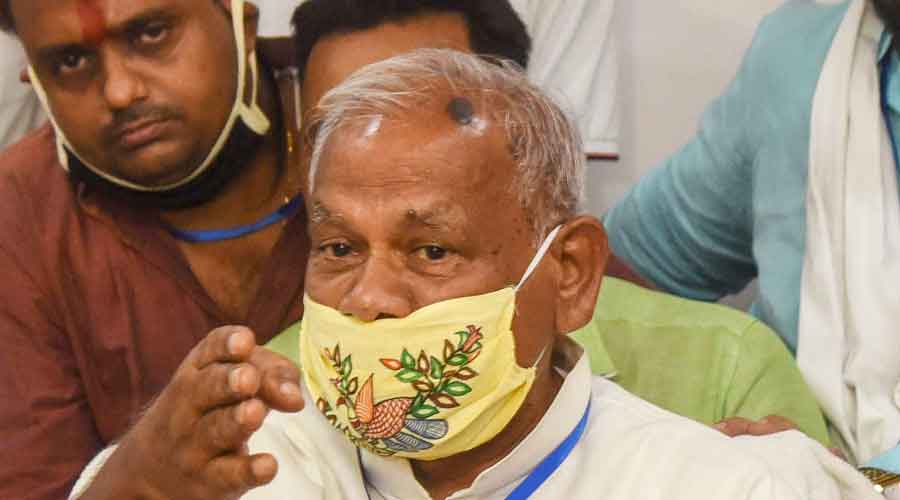 ---
|
Patna
|
Published 03.09.20, 01:15 AM
---
Former Bihar chief minister Jitan Ram Manjhi's Hindustani Awam Morcha Secular (HAMS) joined the BJP-led National Democratic Alliance (NDA) on Wednesday.
The move comes ahead of the Assembly elections expected to be held in November this year. HAMS had quit the Opposition Grand Alliance of the Rashtriya Janata Dal (RJD), the Congress and other smaller parties last week. The party's entry into the NDA could shore up its reach among the Scheduled Castes.
"We are a part of the NDA from today. Good things should be done as soon as possible. We will work in close coordination with chief minister Nitish Kumar's Janata Dal United (JDU), though we will not merge with it. We have not imposed any condition for our entry into the alliance," Manjhi said at a hurriedly convened press conference in the state capital.
Manjhi said he left the Grand Alliance after his demand to constitute a coordination committee to steer the seat-sharing talks was not met. The former chief minister also said that he will not contest the Assembly polls. He is currently an MLA from Imamganj constituency in Gaya district.
HAMS spokesperson Danish Rizwan said, "Seats had never been an agenda for us. We are going with the NDA on the agenda of development. We will take ahead the stream of development launched by chief minister Nitish Kumar and Prime Minister Narendra Modi."
Bihar has around 16 to 17 per cent Scheduled Caste voters. Manjhi, who hails from the Musahar caste, claims to have influence on 5 per cent of the total SC votes, though poll experts assert that the figure could be less than 3 per cent.
Manjhi had been previously with the Congress, the RJD and the JDU. Nitish had anointed him the chief minister after resigning over his party's dismal performance in the 2014 Lok Sabha elections.
However, Manjhi quit the JDU and formed HAMS in 2015 after he was forced to resign from the post of the chief minister as Nitish wanted to come back. He then aligned with the NDA, but left it in 2018 to join the Grand Alliance.
HAMS could win just one seat despite contesting on 21 out of the total 243 seats as an NDA partner in the 2015 Assembly elections. Manjhi was the sole winner. It did not achieve any success in the 2019 Lok Sabha elections. Manjhi's son Santosh Kumar Suman is an MLC.
With the fortunes waning, sources say that Manjhi wants to contest on 15 seats in the coming state elections.