For them, Gandhism is a living religion
Even in this day and age, Tana Bhagats are a breed apart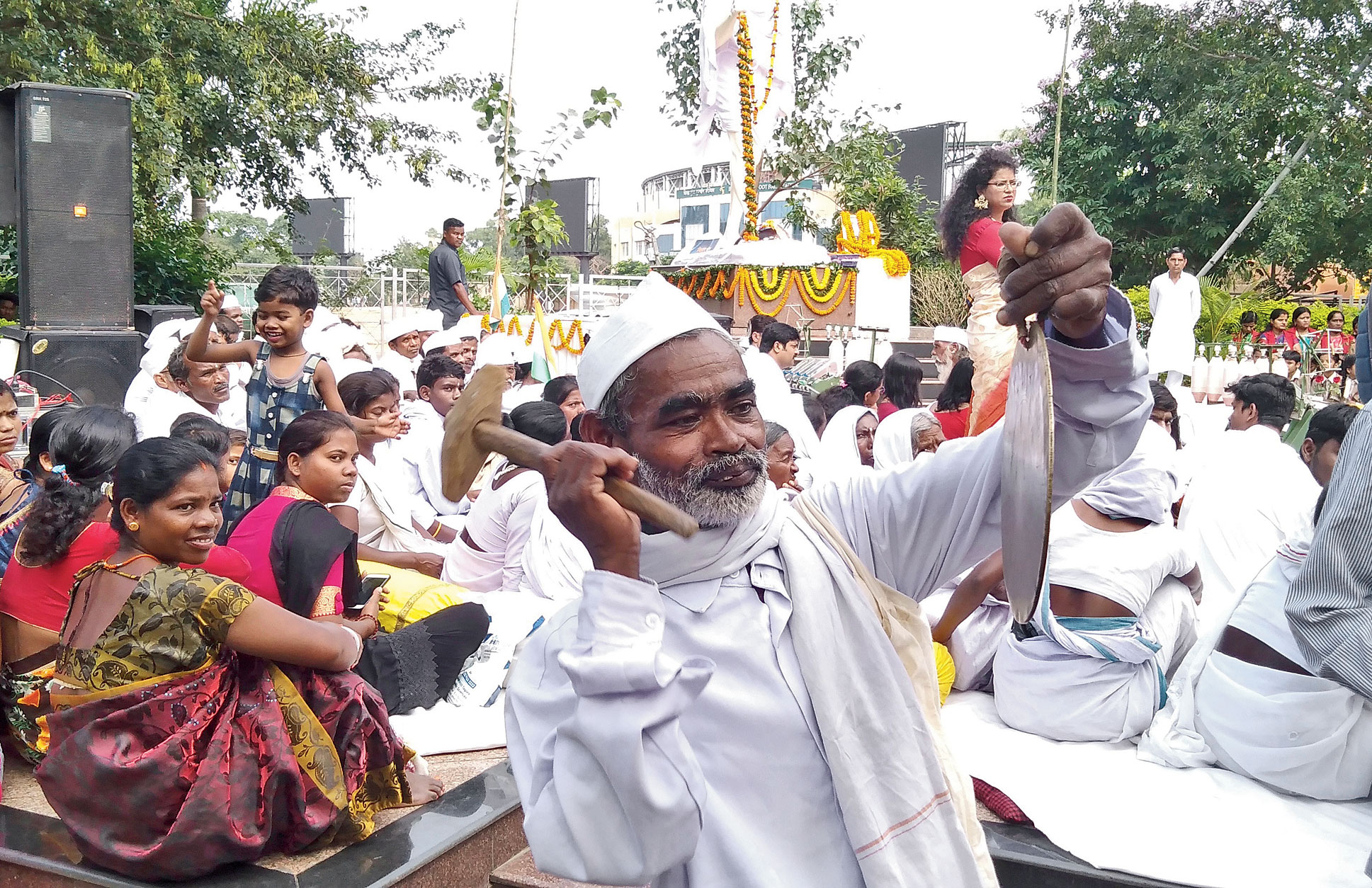 Tana Bhagats at a rally to mark Gandhiji's 150th birth anniversary at Bapu Vatika in Morabadi, Ranchi, on Wednesday.
Prashant Mitra
---
Ranchi
|
Published 02.10.19, 10:44 PM
|
---
 In 1914, a young Oraon man in Chotanagpur, Jatra Bhagat, met Mohandas Karamchand Gandhi, then in his mid-40s, and found that the Mahatma's philosophy of non-violence matched his own.
Jatra Bhagat along with Turia Bhagat, who had rebelled against British tax as early as in 1911, and that too peacefully, embraced Gandhian philosophy as their own. Over a century later, the followers of Jatra and Turia Bhagat, who have been ordained tribal saints, are known as the Tana Bhagats, the only community in India that worships Gandhism as a religion.
On the 150th birth anniversary of Mahatma Gandhi on Wednesday, a band of 30 Tana Bhagats, dressed in khadi with Gandhi caps, marched from Sarna Toli to Morabadi grounds via Raj Bhavan, blowing conches, clanging cymbals and singing the Mahatma's favourite bhajans, Vaishnav jan ko tene kahiye and Raghupati Raghav Raja Ram.
Some 10,000 Tana Bhagats live in Jharkhand across eight districts, Ranchi, Gumla, Lohardaga, Latehar, Palamau, Simdega, Chatra and Khunti. Around 865 Tana Bhagat families are clustered in Ranchi, Lohardaga and Gumla.
"We don't remember Gandhi Baba only on October 2 and January 30," said Nunun Tana Bhagat, a resident of Bero in Ranchi, now in his 60s. "We don't pay lip service to the Father of the Nation, we keep him in our hearts," he told this reporter as the rally reached Morabadi where the state government had hosted a mega Gandhi Jayanti event.
Asked about their religion, he said: "Satya, ahimsa and Gandhi Baba."
Raju Tana Bhagat, a native of Hatma Sarna Toli in Ranchi, said the Tana Bhagats were vegetarian and did not touch liquor, contrary to other tribal communities. They worship the tulsi plant and the cow, but there was no jingoism or violence in the worship.
Biga Tana Bhagat, 75, who works at Gandhi Seva Tana Ashram in Ranchi hinted at the spate of violence in Jharkhand. "I don't know where Jharkhand is headed. Bureaucrats and politicians respect Gandhiji but only in theory."
During the Non-Cooperation Movement, the Tana Bhagats stopped paying tax to the British. As per British records, the Tana Bhagats owned 4,332.66 acres, which the British seized and auctioned off. Even after Independence, Tana Bhagats refused to pay land revenue tax to the government, saying Mahatma Gandhi had asked them not to.
In 2017, the Raghubar Das government waived off Rs 61 lakh of land revenue tax dues. A decision was taken that Tana Bhagats will pay Re 1 as token revenue.
"But only some of our land was returned. We are waiting. Gandhiji has taught us patience," said Biga.
Veteran Congress leader Sukhdeo Bhagat called the Tana Bhagats a breed apart for their "pure-heartedness".
BJP slams Cong chief 
The BJP on Wednesday took strong exception to a purported statement of Jharkhand Congress president Rameshwar Oraon where he apparently attributed a statement to Mahatma Gandhi that he (Gandhi) never visited temples. BJP spokesperson Pratul Shahdeo said Oraon misquoted Gandhi and it showed the flawed approach of the Congress towards Hindus. Shahdeo demanded Oraon's apology.