Floods torment Kerala, Karnataka
Other affected districts are Kannur, Kozhikode, Malappuram, Pathanamthitta, Idukki, Palakkad and Malappuram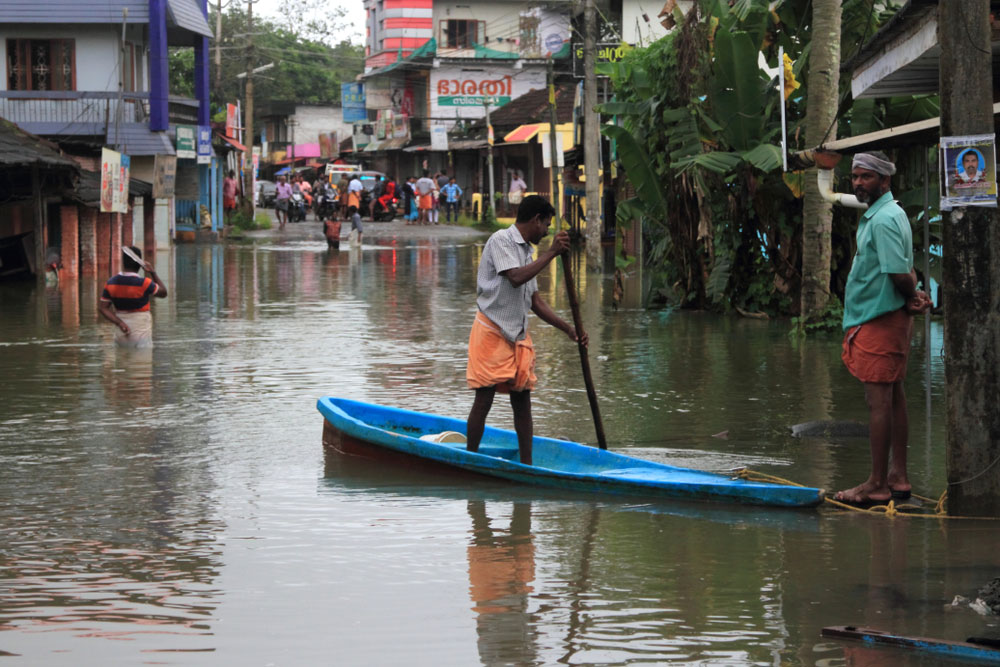 ---
---
Unrelenting rain has left Karnataka and Kerala reeling under floods, with at least 14 people dead and hundreds of villages cut off.
Eight people have died in Kerala, which last year lost more than 480 people to its worst flooding in a century, and the army has launched rescue missions in Wayanad.
Flight operations at Kochi international airport were suspended till Friday morning as floodwaters had inundated the apron area (parking area), authorities said, PTI reported.
The other affected districts are Kannur, Kozhikode, Malappuram, Pathanamthitta, Idukki, Palakkad and Malappuram.
"With heavy rain continuing in Gudalur, Tamil Nadu, the water level is worse than what we saw during last year's floods," P.V. Anwar, Nilambur MLA, told reporters on Thursday.
Eleven people have died in the floods in Karnataka since Wednesday, and more than 240 villages are inundated in the districts of Shimoga, Raichur, Bagalkot, Dharwad, Uttara Kannada, Dakshina Kannada, Kodagu, Udupi, Hassan and Chikamagalur.
More than 43,000 people from low-lying areas have been shifted to relief camps at higher altitudes.
Two air force helicopters and 10 columns of the Maratha Light Infantry have been deployed on relief and rescue missions in Belgaum. One column each from the Artillery Centre, Hyderabad, has been deployed in Raichur and Bagalkot.
An estimated 1,410km of roads and 211 bridges and check dams have been damaged in Belgaum alone.
Several roads linking the flooded districts, and a state highway connecting Madikeri in Karnataka to Kannur in Kerala, have been closed after landslides.
Karnataka chief minister B.S. Yediyurappa visited several flood-hit areas and made an aerial survey before asking all his party's MLAs and MPs to remain in their constituencies to help the affected people.
Infosys Foundation, the corporate social responsibility arm of IT major Infosys, has committed Rs10 crore towards flood relief in Karnataka.
A statement from the foundation said its volunteers had distributed survival kits — which include drinking water, food, clothing and medical kits — in Raichur and Bagalkot.
In Kerala, a tree crashed on a woman in Attappadi, Palakkad, killing her instantly. An aged woman collapsed and died while being rescued from her flooded home in Wayanad, and a one-year-old girl died in a landslide in Munnar, Idukki.
Several landslides have been reported at Nilambur in Malappuram.
The Kerala government has urged people not to visit high-altitude places after sunset because of the threat of landslides. People have been asked not to risk their lives by trying to take selfies at dams and places where rivers are in spate.
Kerala has opened the shutters of four dams.
The Pampa river near Sabarimala has broken both its banks, leading to the evacuation of many families. An orange alert has been issued at Pathanamthitta.
Sources in Kerala said that people in general were willing to move to relief camps unlike the trend witnessed during last year's floods, when many were reluctant to leave their flooded homes. More than 3,000 people have been shifted to 47 relief camps in the state.
All universities in Kerala have deferred Friday's scheduled exams because of the rain and the flooding. Many buses stayed off the roads.
Educational institutions were closed and red alerts issued in the affected areas in both states on Thursday.