Farmers' protest: Trade unions to hold demonstrations on June 26
Protesters to organise sit-ins at Raj Bhavans and in front of offices of district collectors across the country demanding repeal of the new farm laws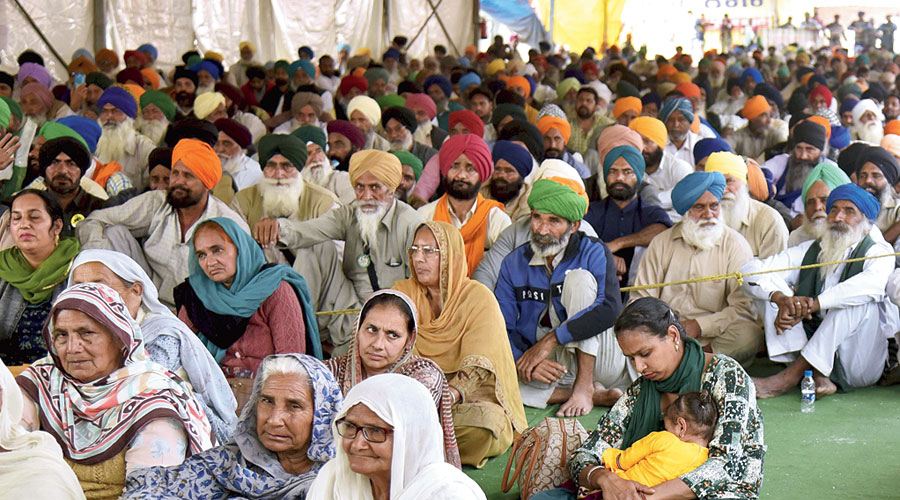 ---
New Delhi
|
Published 16.06.21, 01:50 AM
|
---
Ten central trade unions on Tuesday asked their members to hold demonstrations on June 26 to support the farmers' agitation against the new farm laws.
Farmers under the banner of the Samyukta Kisan Morcha, an umbrella body of over 40 farmer unions, are protesting since November 26, 2020, against the three farm laws. The 10 central trade unions have been supporting the farmers' agitation from the beginning.
On June 26, farmer unions will hold sit-ins at Raj Bhavans and in front of offices of district collectors across the country to mark the completion of seven months of the agitation.
The trade unions also demanded a legal guarantee for the minimum support price for farm produce.
The trade unions, including the Congress-backed Indian National Trade Union Congress, the CPM-affiliated Centre of Indian Trade Unions and the CPI-backed All India Trade Union Congress, also demanded repeal of the four labour laws brought by the Narendra Modi government.
"The labour laws brought by the central government are equally dangerous like the farm laws. The labour laws do not protect the workers but serve the interest of the rich corporates," said A.R. Sindhu, Citu general secretary.
Last year, Parliament passed the labour laws on health and safety standards, social security and industrial relations. In 2019, Parliament had passed a law on wages. All these laws have some stringent provisions allowing companies engaging up to 300 workers to sack employees without approval of government. The law on social security seeks to ensure security measures but there is no clear provision for funding. In India, 90 per cent of workforce are not covered under any social security scheme.
The unions also demanded a monthly assistance of Rs 7,500 to every non-income-tax-paying family in addition to 10kg of food grains till the Covid crisis gets over.
"The working class today has no work and no income. They are struggling to buy food and essential commodities. The government must provide each family Rs 7,500 for a few months till the economic activities return to normal," she said.