Congress demands probe by a parliamentary panel
Facebook's political can of worms
The Wall Street Journal reported on Friday that the social media platform had allowed posts by a BJP legislator that incite violence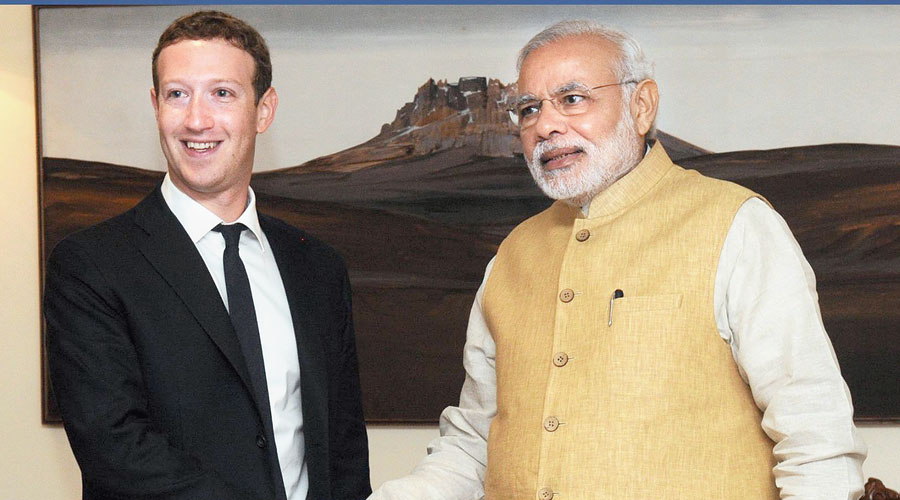 A picture uploaded by Narendra Modi on Facebook on September 13, 2015, shows the Prime Minister with Mark Zuckerberg
---
New Delhi
|
Published 17.08.20, 02:17 AM
|
---
A Wall Street Journal report that suggested Facebook condoned hate posts by the Hindutva ecosystem in India to protect the company's business prospects in its largest market in the world has opened a political can of worms on a toxic phenomenon called the "WhatsApp University".
The Congress on Sunday demanded a probe by a joint parliamentary committee (JPC) into Facebook's links with the BJP and the role of the social media platforms, including the WhatsApp chat service the company owns, in spreading hate and fake news in India.
Congress leaders disclosed that they had lodged formal complaints with Facebook and WhatsApp on multiple occasions, categorically asking them to stop influencing Indian elections, but no corrective measures had been taken.
The Journal, the New York-based business-focused paper controlled by Rupert Murdoch, reported on Friday that Facebook allowed — on the advice of Ankhi Das, its public policy director for South and Central Asia — posts by a BJP legislator that incite violence.
The report quoted unnamed current and former Facebook employees who said Das "told staff members that punishing violations by politicians from Mr Modi's party would damage the company's business prospects in the country, Facebook's biggest global market by number of users".
The Journal report named T. Raja Singh, an MLA and the BJP's House leader in the Telangana Assembly, and referred to some of his posts against Muslims, saying designated Facebook employees concluded that "Mr Singh not only had violated the company's hate-speech rules but qualified as dangerous". The employees contended that "his rhetoric could lead to real-world violence, and he should be permanently banned from the company's platforms world-wide…."
However, Singh "is still active on Facebook and Instagram, where he has hundreds of thousands of followers".
The report said Das, Facebook's top public policy executive in the country, "opposed applying the hate-speech rules to Mr Singh and at least three other Hindu nationalist individuals…."
The Journal report added that after queries from the newspaper, some posts of Singh, BJP MP Anant Kumar Hegde and Delhi leader Kapil Mishra were taken down on Thursday. Provocative speeches and posts by Mishra had immediately preceded the February Delhi riots in which 53 people were killed.
Singh responds
MLA Singh, however, claimed he did not have an account on Facebook. "Show me one case of rioting that I called for. There are many Facebook accounts open in my name which I am not responsible for…. I can't stop them all. I am not responsible if anyone likes or shares their posts. My official Facebook account was hacked in 2018 and blocked, which I complained about to the Cyberabad commissioner (of police). I have got no reply on why it was hacked. I have never given any incendiary speech on my official Facebook or Twitter accounts," he said in a video message on Twitter.
In response to questions from The Telegraph, a Facebook spokesperson said on Sunday evening: "We prohibit hate speech and content that incites violence and we enforce these policies globally without regard to anyone's political position or party affiliation. While we know there is more to do, we're making progress on enforcement and conduct regular audits of our process to ensure fairness and accuracy."
Facebook has more users in India than in any other country, and Prime Minister Narendra Modi and the BJP have more followers than any other head of government, or party, respectively, on the platform. Modi had addressed a public meeting at Facebook's headquarters in California in 2015. Facebook bought almost 10 per cent stake in Reliance Jio this year.
Last year, Facebook and other social media firms were summoned by the parliamentary standing committee on information technology in India on "safeguarding citizens' rights" after Right-wingers complained that the site was biased against them. Earlier this year, Facebook CEO Mark Zuckerberg had appeared to cite a speech made by Mishra, the Delhi BJP leader.
The rampant spread of fake news and hate speech and the propensity of some social media users not only to believe such fictitious accounts but also regurgitate them as verified information have led to the coinage "WhatsApp University". The fake factory, which is propelled by the wide reach provided by social media platforms, has become the principal source of information for propagandists of all hues, although the Right wing is more visible than the others.
Cong poll charge
On Sunday, the Congress said other legal options were open if the government refused to accept the JPC demand.
The party claimed that Facebook and WhatsApp were not only interfering with India's electoral processes but also poisoning the society by aiding the spreading of hate.
Rahul Gandhi led the party's attack after the Journal's report, tweeting: "BJP & RSS control Facebook & WhatsApp in India. They spread fake news and hatred through it and use it to influence the electorate. Finally, the American media has come out with the truth about Facebook."
Former Union minister Jairam Ramesh, who played a key role in the Congress's election management in 2019, tweeted: "I've seen first-hand how Facebook behaved during election campaigns. It is the greatest carrier of lies, and is a lethal threat to social harmony and reasoned debate. Parliament must institute an inquiry into Facebook's practices."
Three meetings
Praveen Chakravarty, the head of the Congress's data analytics department, said at a media conference on Sunday afternoon: "I met Facebook's global head of government relations and elections on July 17, 2018, in America and discussed the issue of bias and partisanship of their India team. I was told this would be looked into, but nothing happened.
"On October 12, 2018, I and a few of my party colleagues met Facebook India's head of government relations. We highlighted how Facebook India was blocking the Congress and denying permission to put ads on Facebook regarding the Rafale issue. We also raised many instances and cases of clear bias and presented evidence. The executive (Das) feigned ignorance and promised to look into the matter. Nothing happened."
Chakravarty said he also met the global CEO of WhatsApp and raised concerns about fake and hate speech being spread unchecked through the platform.
"I implored him to take serious notice and warned that such rampant spread of fake and hate propaganda during elections amounts to interference in India's elections. He heard me politely but did nothing," Chakravarty said, adding: "I was not surprised because WhatsApp was waiting for government permission and a licence to start their payments business in India."
Demanding a JPC probe, former minister Ajay Maken told the media conference: "The bias and alignment of Facebook India's leadership team with the BJP and the RSS is not limited to just their head of public policy in India. There are many others in that leadership team with a close working relationship with people in the BJP.
"There is clear and ample evidence to warrant a serious investigation by Facebook headquarters into the operations of their India team and their efforts in interfering in India's electoral democracy…."
US and Brazil probed
Maken asked why a JPC probe could not be ordered over a serious issue linked to India's democracy if the US Senate could summon Facebook CEO Zuckerberg and a Brazilian parliamentary committee could investigate the role of Facebook in election interference.
Maken said internal communications of Facebook had revealed that business in India would be affected if action was taken against BJP members. "We want the commercial deal between Facebook and WhatsApp with the BJP investigated," Maken added.
Congress social media head Rohan Gupta said he had written to Facebook's Das about incendiary posts and fake news spread through WhatsApp and Facebook this April and followed it up with a meeting with her, along with some Congress Working Committee members, to explain how the social media platforms used by over 40 crore Indians were being misused to help the BJP.
Union minister Ravi Shankar Prasad responded but steered clear of specifics: "Losers who cannot influence people even in their own party keep cribbing that the entire world is controlled by BJP & RSS. You were caught red-handed in alliance with Cambridge Analytica & Facebook to weaponise data before the elections & now have the gall to question us?"
In 2018, whistleblower Christopher Wylie had told a British parliamentary committee that he believed that the Congress was a client of data analytics firm Cambridge Analytica that used Facebook data without authorisation of users for political advertising. The Congress denied this.