'Duplicity' lash at Pakistan by Sushma
In the UN General Assembly, the Indian foreign minister lashed out at Pakistan while arguing for greater accountability in fighting terrorism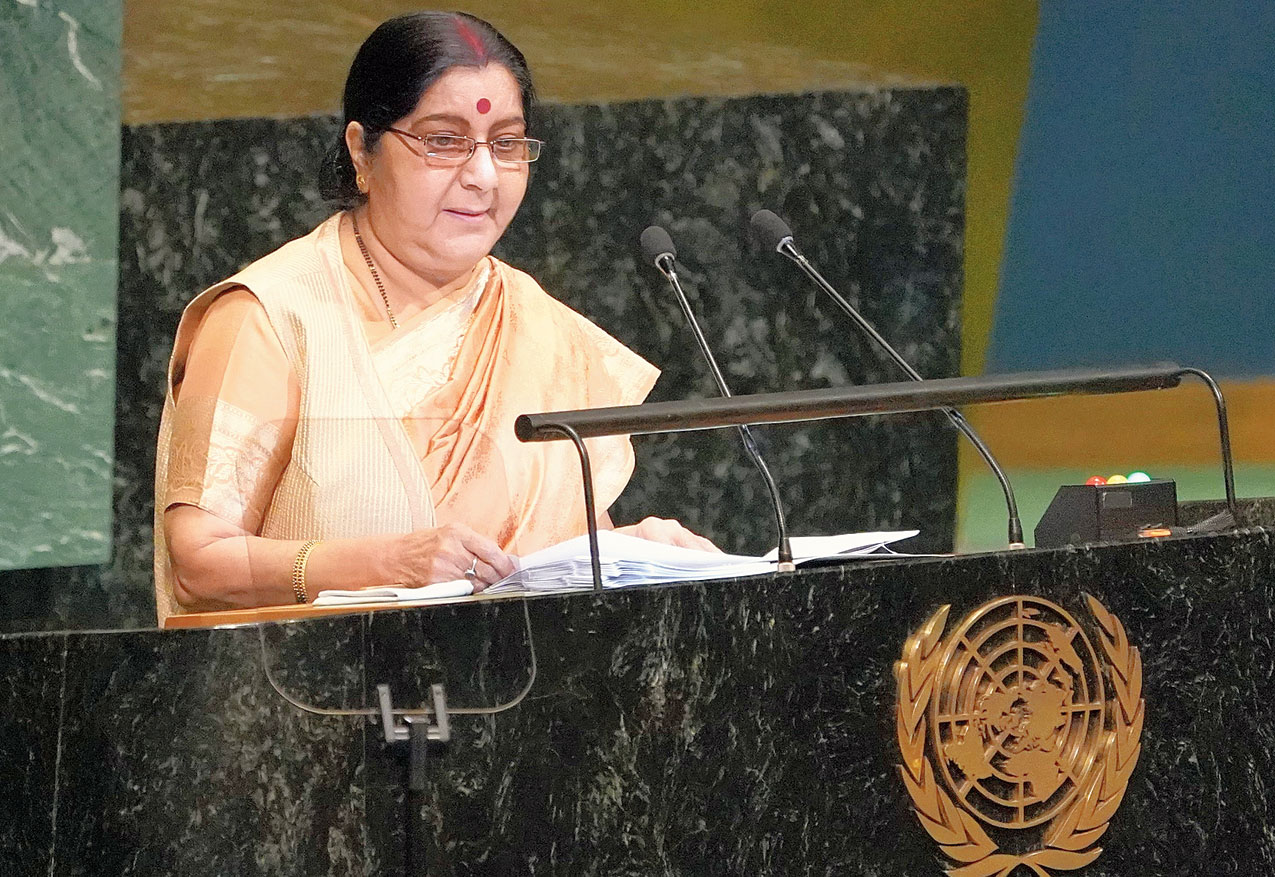 Sushma Swaraj at the UN on Saturday.
AFP
---
New Delhi
|
Published 29.09.18, 10:31 PM
|
---
External affairs minister Sushma Swaraj on Saturday alleged that Pakistan was trying to "mask malevolence with verbal duplicity", rejecting the "accusation" that New Delhi was the saboteur of talks with Islamabad.
Sushma, who was addressing the UN General Assembly in New York, lashed out at Pakistan while arguing for greater accountability in fighting terrorism through international law.
"Our neighbour's expertise is not restricted to spawning grounds for terrorism but is also an expert in trying to mask malevolence with verbal duplicity," the minister said.
"The most startling evidence of this duplicity was the fact that Osama bin Laden, the architect of the 9/11 attacks, was given safe haven in Pakistan."
Sushma said Pakistan had not changed its ways even after being caught red-handed. "Pakistan's commitment to terrorism as an instrument of official policy has not abated one bit. Neither has its belief in hypocrisy. The killers of 9/11 met their fate but the mastermind of 26/11, Hafiz Saeed, still roams the streets of Pakistan with impunity."
India accuses the Lashkar-e-Toiba co-founder of masterminding the November 2008 attack in Mumbai that left over 160 people dead.
Sushma's broadside at the neighbour came a week after the Indian government had called off a proposed meeting in New York between the foreign ministers of the two countries. The government's decision had come in the wake of public outrage over the killings of three policemen by Kashmir militants.
Pakistan Prime Minister Imran Khan had responded a day later, saying he was disappointed at the "arrogant & negative response by India to my call for resumption of the peace dialogue".
Sushma sought to address the criticism the Narendra Modi government has drawn at home and elsewhere for the lack of coherence in its policy towards Islamabad.
"We are accused of sabotaging the process of talks with Pakistan. This is a complete lie. We believe that talks are the only rational means to resolve the most complex of disputes. That is why we had begun talks with Pakistan many times. If they stopped each time it was only because of Pakistan's own behaviour," she said.
"There have been many governments in India by many different parties. Each government has tried the peace option. Prime Minister Modi, by inviting all the heads of Saarc nations to his swearing-in ceremony, attempted dialogue on his very first day in office.
"On December 9, 2015, I personally went to Islamabad and offered a comprehensive bilateral dialogue. But, soon after, Pakistan-sponsored terrorists attacked our air force base in Pathankot on January 2. Please explain to me how we could pursue talks in the midst of terrorists' bloodshed."
Sushma flagged the recent killings of security personnel, soon after India had agreed to Islamabad's offer of talks in New York, while speaking about the government's decision to withdraw from the proposed meeting.
"Does this (the violence) indicate a desire for dialogue? Can such a dialogue ever take place? Or should such a dialogue ever take place," she asked, rubbishing Pakistan's allegations of human rights violations by India.
Islamabad's allegations, the minister added, was a "thin cover for its own guilt".