Doubts hang on J&K District Development Council polls
The reluctance to vote may explain why the first phase clocked a modest 40.65 per cent turnout in the Valley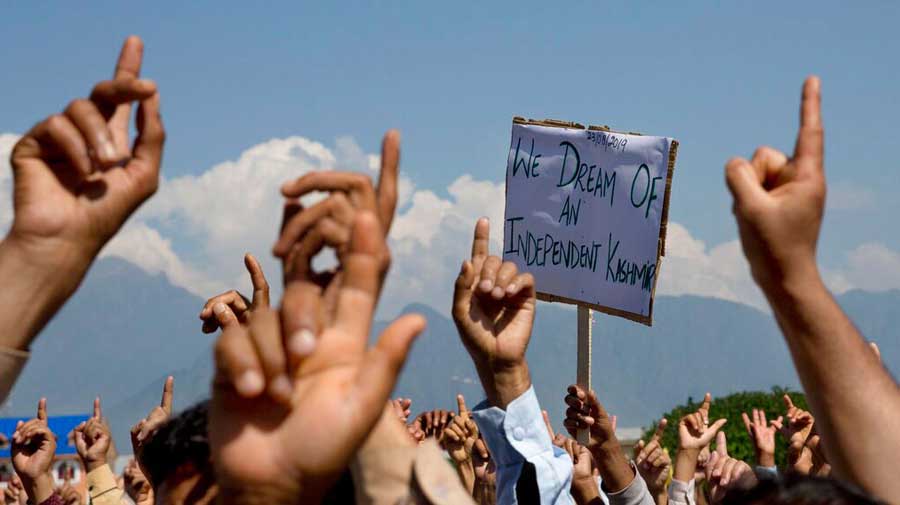 ---
|
Srinagar
|
Published 29.11.20, 01:26 AM
---
Mohammad Sultan Shah of Theed village, a Srinagar suburb, was deeply agitated when Jammu and Kashmir's special status was scrapped last year.
But the shopkeeper is unwilling to trust the seven-party alliance that wants Article 370 restored and has asked Kashmiris to vote for it and turn the District Development Council elections into a referendum on the issue.
So, as the eight-phase election got under way on Saturday, Shah chose to stay away despite a trickle of voters heading towards a booth opposite his shop.
"All these parties (in the People's Alliance for Gupkar Declaration) have been in power at one time or the other in our state, but look at the drain adjoining my shop. All these years they could not repair it," Shah, sporting a salt-and-pepper beard, said.
"How do you expect them to fight for our larger goals? I put my trust only in God."
Many others have a deeper objection to the major partners in the alliance, such as the National Conference, People's Democratic Party and the People's Conference. They see these parties as having helped consolidate the Indian State's grip over Kashmir in the past.
Their reluctance to vote may explain why the first phase clocked a modest 40.65 per cent turnout in the Valley.
In contrast, polling was 64 per cent in Jammu division, whose Hindu majority had hailed the scrapping of the erstwhile state's special status. The overall participation in Jammu and Kashmir stood at 52 per cent.
One of the alliance's biggest problems, therefore, is the scepticism of many ordinary Kashmiris who otherwise support its key planks: restoration of Article 370 and revocation of the new laws that allow outsiders to buy land in Jammu and Kashmir.
A friend of Shah who is a mason by profession said the fault of the parties that make up the alliance is that they strengthened the "roots of the Indian State in Kashmir" over the decades.
For many, National Conference founder Sheikh Abdullah's support for Jammu and Kashmir's accession to India is behind their current plight.
Many others accuse the PDP of bringing the RSS into Jammu and Kashmir. The PDP was part of a ruling coalition with the BJP until the ally withdrew its support in 2018.
"A candidate came to me asking for votes but I candidly told him that I wouldn't vote. Are they not the same people who sold us to Delhi?" Shah's friend said, asking not to be named.
"Obviously, we are for azadi -- only that can alleviate our pain."
Apart from the perception handicap, the seven-party alliance is allegedly up against dirty tricks being played by the BJP-led central government. It claims that many of its candidates were locked up to prevent them campaigning.
However, alliance leaders say they are confident of victory.
"There may be people who are boycotting (the election) but there are many others who trust us and are coming out to vote for us," Ali Mohammad, alliance candidate from the Harwan area of Srinagar, said.
"But (the government machinery) is being used against us. Look at these (dozen-odd) voters: all of them have come to vote for me but are being told their names are missing."
While many Valley booths saw voters turning up in ones and twos, many others witnessed long queues despite the cold weather.
State election commissioner K.K. Sharma said the voting was by and large peaceful in the 43 constituencies that voted on Saturday. The district council has 280 seats in all.
Sharma said that Reasi district had recorded the highest turnout of 74.62 per cent, followed by Rajouri at 70.52 and Poonch at 68.69. All three are in Jammu.
In the Kashmir division, Budgam district recorded the highest polling percentage at 56.96, while Pulwama was bottom at 6.7.