Double-standard finger at Election Commission on poll code violations
Poll panel moves against Prakash Ambedkar over 'jail' remark, not against Modi's communal spin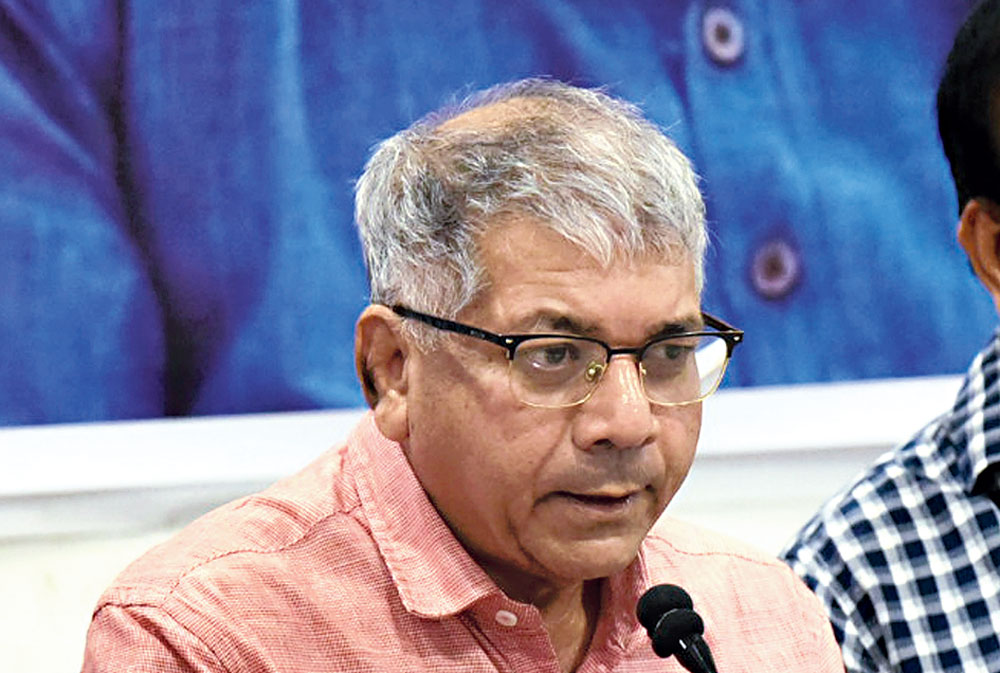 Prakash Ambedkar
A Telegraph picture
---
New Delhi
|
Published 05.04.19, 12:09 AM
|
---
The Election Commission of India said on Thursday that "cases are being registered" against Maharashtra Dalit leader Prakash Ambedkar for declaring his intent to "jail" the poll panel if he came to power.
The EC, however, said it was unaware of Prime Minister Narendra Modi's speech in Maharashtra's Wardha on Monday putting a communal spin on Congress chief Rahul Gandhi's decision to contest the Wayanad Lok Sabha seat in Kerala in addition to Amethi in Uttar Pradesh.
The EC has taken suo motu cognisance of the remarks of Prakash, the grandson of B.R. Ambedkar, at a rally in Yavatmal on Wednesday.
Prakash, who is contesting the Lok Sabha election from the Solapur and Akola constituencies as a candidate of the Vanchit Bahujan Aghadi — an alliance of his Bharip Bahujan Mahasangh and Asaduddin Owaisi's AIMIM — had said: "We lost 40 soldiers (in the February 14 Pulwama terror attack), but are still sitting quietly. We have been asked not to speak on the Pulwama attack. How can the Election Commission gag us? Our Constitution has given us the right to speak. I am not the BJP. If voted to power, we will jail the Election Commission for two days."
Deputy election commissioner Chandra Bhushan Kumar quoted recent guidelines against using the defence forces for political propaganda, and told reporters on Thursday that Prakash's comments were a "clear violation of our instructions".
"We have sought a detailed report from the CEO (chief electoral officer) of Maharashtra. Cases are being registered under the appropriate law pertaining to this particular issue…. As per the IPC (Indian Penal Code), there are violations related to criminal intimidation. We will be able to know once the CEO submits a detailed report to us."
Asked why the EC had not taken suo motu cognisance of Modi's comments on Monday, Kumar said: "We have checked with the CEO, Maharashtra, and he has confirmed that he has not received any complaint…. First we need to look at the things, then only can we get into this area."
Modi had told a campaign rally in Wardha on Monday that the Congress had committed a grievous sin by linking Hindus with terrorism and mocked Rahul for "taking shelter in a constituency where the majority (Hindu community) is in the minority".
"…Now they (the Congress) haven't the courage to contest from a constituency where the majority dominates. This is the punishment for using 'Hindu terror'. They are now compelled to take shelter in a place where the majority is in the minority," the Prime Minister had said.
Hindus make up 49 per cent of the population in Wayanad.
Section 123 (3A) of the Representation of the People Act criminalises "the promotion of, or attempt to promote, feelings of enmity or hatred between different classes of the citizens of India on grounds of religion".