Delhi's oxygen requirement exaggeration report not final, says SC panel head
Need to wait and see what Supreme Court says about it, opines Dr Randeep Guleria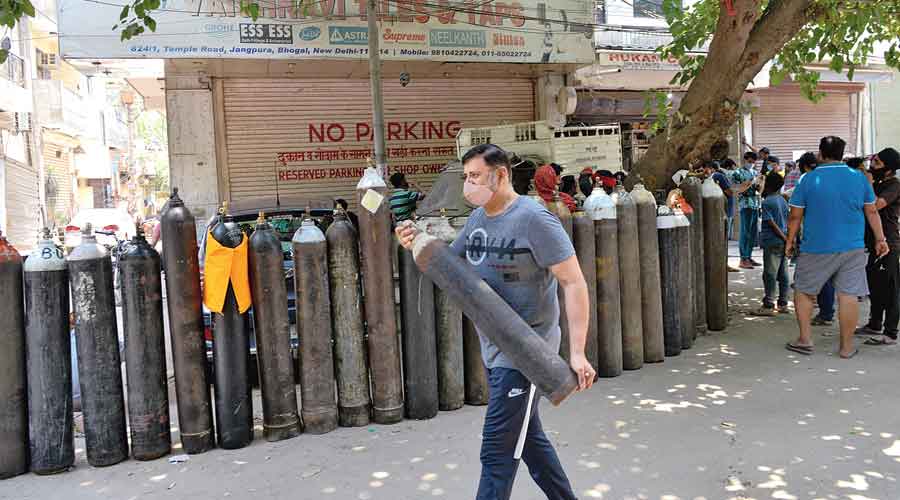 There was a gross discrepancy in the data recorded from proformas, the SC-appointed panel said on Friday.
File picture
---
New Delhi
|
Published 26.06.21, 12:45 PM
|
---
AIIMS chief Dr. Randeep Guleria on Saturday said it would not be correct to say that Delhi "exaggerated" its oxygen needs by four times during the second wave of Covid-19 as the report by the Supreme Court-appointed sub-group, which he incidentally heads, is an interim report.
"Delhi oxygen audit is an interim report. We should wait for the final report," Dr Guleria told  ndtv.com on Saturday morning.
Asked whether the report was exaggerated four times, Guleria replied, "I don't think we could do that".
"The matter is in the Supreme Court. We need to wait and see what the top court says about it. Undercounting of active cases and other factors need to be considered," he added.
The sub-group constituted by the Supreme Court to audit oxygen consumption in hospitals in the national capital during the second wave of Covid-19 said that the Delhi government exaggerated" the consumption of oxygen and made a claim of 1140 MT, four times higher than the formula for bed capacity requirement of 289 MT.
The panel in its report pointed out that four model hospitals in Delhi --Singhal Hospital, Aruna Asaf Ali Hospital, ESIC Model Hospital and Liferay Hospital -- have claimed extremely high Oxygen consumption with very few beds and the claims appeared to be clearly erroneous, leading to extremely skewed information and significantly higher oxygen requirement for the entire state of Delhi.
The panel, which submitted its interim report to the top court, said that during the meetings of the sub-group, it was repeatedly noted that there was a gross discrepancy in the data recorded from proformas.