Delhi not looking for 'deliverables now' in US talks
Pompeo and Jaishankar set to hold first meeting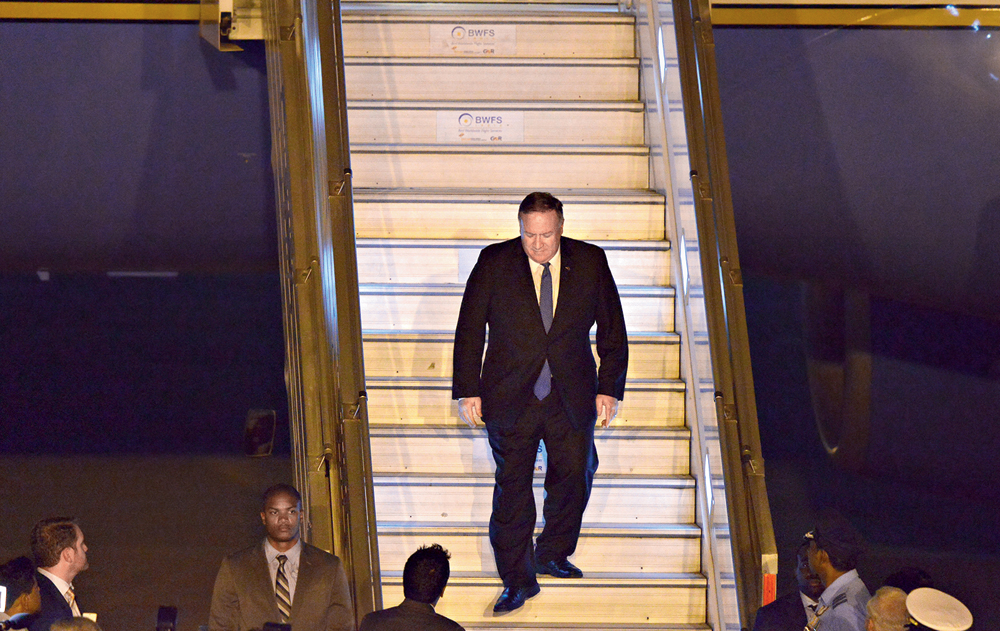 ---
---
Ahead of the first-ever engagement between foreign minister S. Jaishankar and US secretary of state Mike Pompeo on Wednesday in the capital, India sought to tamp down expectations with diplomatic sources saying that "they are not looking at deliverables in this visit".
With several irritants on the trade front, besides issues over US sanctions on Russia and Iran, India is viewing this visit as the start of a conversation between the two principals heading foreign policy in both countries before Prime Minister Narendra Modi meets President Donald Trump in Osaka on the sidelines of the G-20 meeting.
Although Jaishankar has been India's ambassador to the US, he has never met Pompeo, not even during his three-year stint as foreign secretary.
India is expected to iterate its case for a waiver of US sanctions on the $5.4-billion Russian S-400 missile defence system. India's contention is that it has a long-standing defence relationship with Russia, which cannot be wished away. The S-400 deal has been in discussion for a decade and was signed last year.
Further, according to India, the Countering America's Adversaries Through Sanctions Act (CAATSA) of the US offers waivers and the Indian case fits the bill for getting the exemption.
"We believe the US administration has enough flexibility to give us the waiver," a diplomatic source said.
India's assertion came on a day Turkish President Tayyip Erdogan announced that his country would go ahead with its purchase of the S-400 from Russia despite US sanctions.
In a background briefing on Pompeo's India visit last week, state department officials had said that the US was urging all allies and partners, India included, to forego transactions with Russia that risk triggering the CAATSA sanctions.
The state department officials also pointed out that the administration has taken measures to enhance military interoperability with India, and finalise enabling agreements that allow the two countries to do more together militarily. In particular, officials flagged the administration offering the armed UAV Sea Guardian to India, the first non-treaty partner to be offered that high technology.
On Iran, Indian diplomatic sources said New Delhi has not been asked by either side to play a mediator role, adding that India has been underscoring the need to de-escalate tensions in the region.
With the Director General of Civil Aviation now telling airlines not to fly over Iranian airspace, travellers to and from India have to reckon with longer routes as Pakistan is yet to open some of its routes for flights in and out of India.
As for the various trade-related issues, including the US decision to withdraw preferential tariff benefits to India, and differences over data localisation and e-commerce, sources maintained that the US Trade Representative and not Pompeo is the point person on these matters.
India is unlikely to raise the recent adverse report of the United States Commission on International Religious Freedom released by Pompeo on Friday.
"We see this is an internal matter and that will be our position if the US brings it up," a source said, indicating that India was not inclined to flag it, given the contention that it is an internal matter and no foreign country or entity has any locus standi to talk about it.