Dangal girl Zaira Wasim quits films for faith
An acquaintance said that although Zaira had enjoyed her acting stint, at times she 'felt out of place' in Bollywood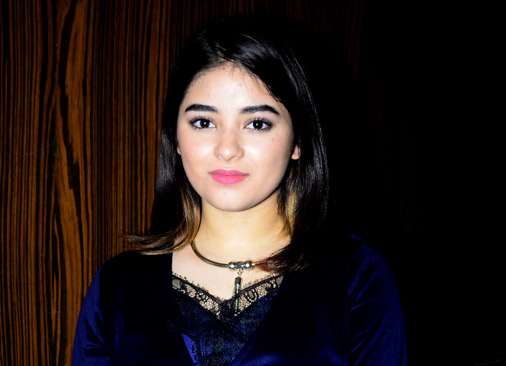 ---
|
Srinagar
|
Published 30.06.19, 09:47 PM
---
Dangal girl Zaira Wasim has chosen to give up Bollywood and stardom for religion.
The award-winning 18-year-old Kashmiri actor, praised widely for her role as the wrestler Geeta Phogat in Aamir Khan's 2016 movie, on Sunday announced she was quitting her career as it was interfering with her "imaan" (faith).
"For a very long time now it has felt like I have struggled to become someone else," she wrote on Facebook.
"As I had just started to explore and make sense of the things to which I dedicated my time, efforts and emotions and tried to grab hold of a new lifestyle, it was only for me to realise that though I may fit here perfectly, I do not belong here."
She added: "This field indeed brought a lot of love, support, and applause my way, but what it also did was to lead me to a path of ignorance, as I silently and unconsciously transitioned out of imaan. While I continued to work in an environment that consistently interfered with my imaan, my relationship with my religion was threatened."
Zaira did not take calls from The Telegraph. An acquaintance said that although Zaira had enjoyed her acting stint, at times she "felt out of place" in Bollywood.
"You could see that she was in a dilemma about which way to choose: stardom or spirituality," he said.
Zaira has given no indication that she was quitting under pressure, although she had earlier faced criticism from some in the Valley who believe that watching or acting in films is un-Islamic.
Kashmir's dozen-odd cinemas had been shut on the militants' orders right at the start of the insurgency three decades ago. Police sources, however, said Zaira had not faced any militant threat.
While many social media users said they respected her decision, some trolled her alleging she had simply been unable to find work, or was playing a stunt to grab attention, or had buckled before Islamist threats.
Among those defending Zaira was former chief minister Omar Abdullah. "Who are any of us to question @ZairaWasimmm's choices? It's her life to do with as she pleases," he tweeted.
Last year, Zaira had revealed she had been suffering from depression for four-and-a-half years, even before she had started acting in films, and was "popping 5 antidepressants every day".
Zaira won the National Film Award for Best Supporting Actress for Dangal and the Filmfare Critics Award for Best Actress for Secret Superstar (2017). She ended shooting in March for The Sky is Pink, which also features Priyanka Chopra Jonas and Farhan Akhtar.