Cyclone Fani landfall expected in Odisha today
Bengal braces for impact, winds clocking 100kpm an hour likely to blow in Calcutta, accompanied by driving rain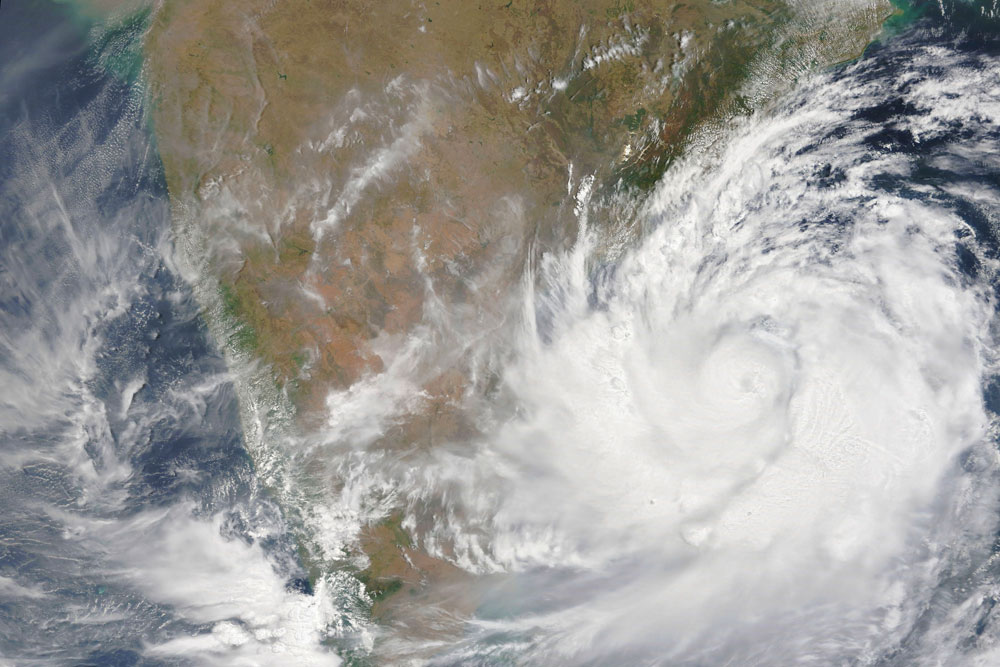 This May 1 photo provided by NASA shows a satellite view of Cyclone Fani
Picture by AP
---
New Delhi
|
Published 03.05.19, 12:43 AM
|
---
Warnings were issued over loudhailers on Calcutta's streets, billboards were pulled down, airlines were advised not to operate in the city from Friday night and over 200 trains were cancelled in the country as the eastern coastline braced itself for an extremely severe cyclone called Fani.
The cyclone is expected to make landfall Friday morning near Puri with winds up to 200kmph and affect in different ways nine districts in Odisha, eight in Bengal and three in Andhra Pradesh.
Cyclone Fani (pronounced Phoni, meaning snake) centred on Thursday morning over west-central Bay of Bengal about 210km south-southeast of Visakhapatnam and 610km south-southwest of Digha.
Winds clocking 100kpm an hour are likely to blow in Calcutta, accompanied by driving rain from Friday night as cyclone Fani is expected to barrel into Bengal as a "severe cyclonic storm" after making landfall in Odisha on Friday morning.
The last such cyclone to have hit Calcutta was Aila in 2009. Aila had struck the Sunderbans at 110kmph and the maximum wind speed in Calcutta was 103kmph. But Aila had hit Bengal directly from the sea and tall waves had wrecked havoc along the coasts. This time the cyclone would have already made landfall. However, it will still be a cyclone when it reaches Calcutta, the weather office has said.
The Calcutta Municipal Corporation has requested residents of "dilapidated, dangerous or insecure buildings" to shift to shelters for the next few days. Billboards are being taken off in several parts of the city. The civic bodies in and around Calcutta have asked hawkers to remove the wood and bamboo frames of their stalls along with plastic sheets. Trident streetlamps and the twining fairy lights around them will be switched off until the storm passes over. (See Metro)
The Bengal government has declared a school holiday over the weekend and several private schools too have followed suit.
The East Midnapore district administration on Thursday instructed tourists in the beach resorts of Digha, Mandarmoni and Tajpur not to venture out of their hotels on Friday and Saturday because of Cyclone Fani. Hoteliers said the three places had around 30,000 tourists on Thursday morning, but around 20,000 had left by afternoon.
Chief minister Mamata Banerjee and Prime Minister Narendra Modi have modified their campaign plans because of the looming cyclone.
The IMD has warned that the storm could destroy poorly built houses, bend or uproot trees and communication poles, and damage roads, crops and orchards. It is also likely to cause a storm surge — giant waves 1.5-metre tall — and heavy rainfall that could inundate low-lying coastal areas along the Ganjam, Khurda, Jagatsinghpur and Puri districts, the IMD said.
The storm also portends heavy rain in Kendrapara, Bhadrak, Jajpur and Balasore. East and West Midnapore, South and North 24-Parganas, Howrah, Hoogly, Calcutta, Srikakulam, Vijaynagram and Visakhapatnam will also be affected but the impacts in Bengal and Andhra Pradesh are expected to be less severe than those in Odisha, an IMD official said.
Weather scientists say Fani's long journey over the sea and the heat content within the ocean has allowed the cyclone to gather enormous energy, which is contributing to its severity.
"Fani formed much closer to the Equator than such tropical storms usually do — this has given it more time to gather moisture and energy along its way towards the land," said Mrutyunjaya Mohapatra, a senior meteorologist with the IMD, New Delhi.
"Warm sea temperatures in the central Bay of Bengal also contributed to its intensification," Mohapatra told The Telegraph.
Multiple government agencies, including the Union home and health ministries, the National Disaster Response Force and the Indian coast guard have initiated steps to protect or rescue local communities from the cyclone's impact.
Odisha is expected to evacuate over 750,000 people into 900 cyclone shelters and the NDRF has "pre-positioned" 54 teams equipped with boats, tree-cutters and telecom equipment and kept 31 more on standby, the Union home ministry said in a media release on Thursday.
The health ministry has prepared 17 public health response teams and five quick response teams with emergency medicines, while other agencies are ready to distribute food packets and drinking water, the ministry said. It said it had already released Rs 1,086 crore to the states likely to be affected.
The coast guard and the navy have deployed ships and helicopters for relief and rescue operations. Disaster relief teams and medical teams are on standby in Chennai, Visakhapatnam and Calcutta.