Cyclone Fani flattens Puri
Town cut off as power and phone links snap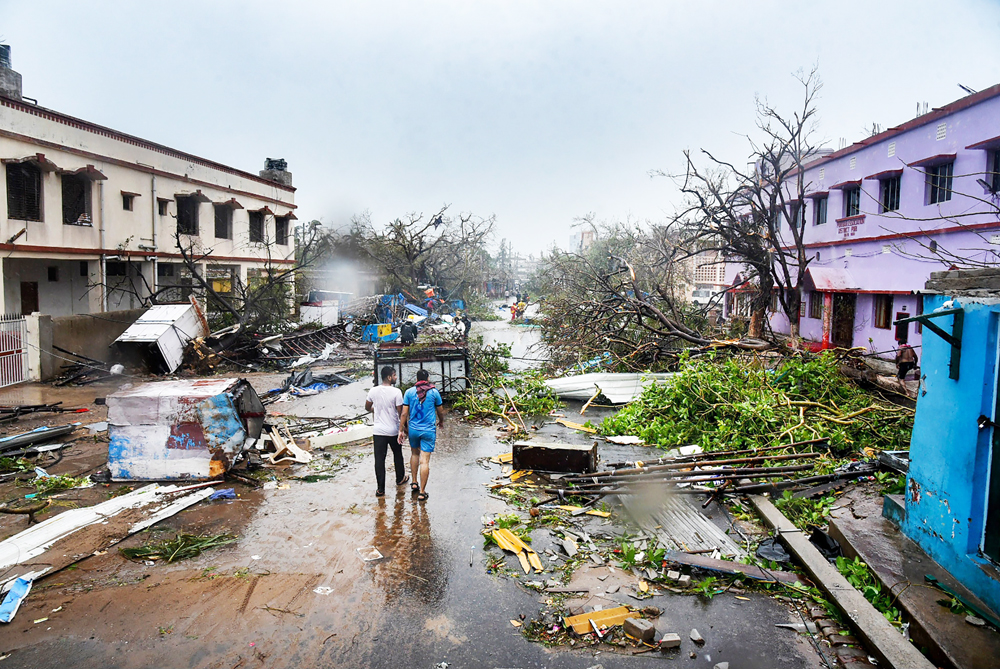 ---
---
Cyclone Fani ravaged Puri after making landfall in the pilgrim-and-tourist hub on Friday morning, littering roads with uprooted trees, power poles and telephone towers, blowing off roofs and swamping streets.
Sources said the very severe cyclonic storm, which struck at 8am, caused three deaths in Puri district and nine overall in Odisha, and left people struggling to cope without electricity and communications.
A teenage boy was killed when a tree collapsed on him in Puri; flying debris from a concrete structure left a woman dead in Nayagarh; and an elderly woman died of a heart attack at a relief shelter in Kendrapara, PTI reported.
The 12th-century Jagannath Temple was almost deserted. "The rituals of Lord Jagannath had been completed before the cyclone hit," shrine PRO Laxmikanta Pujapanda said.
All roads and lanes in Puri and Konark were waterlogged following heavy rain. Even the road connecting the Jagannath Temple with the Gundicha Temple was submerged.
Rainwater entered many major shrines in Puri, including the Loknath Temple and the Jameswar Temple. Sources said the town would take a few months to recover.
Chief minister Naveen Patnaik said the full extent of the damage would take time to assess but added: "Puri district has been extensively hit. The power infrastructure was badly hit. Relief operations have begun."
Tidal waves rising up to three metres left the townspeople terrorised, with many fearing a tsunami-like situation.
Officials said the six main 33kV grid lines in Puri district were destroyed, and communications with state capital Bhubaneswar cut off. BSNL sources said nearly 20 telecom towers had collapsed in Puri district alone.
Bhubaneswar, a smart city, was plunged in darkness, with trees, power poles and lampposts uprooted. The airport equipment were damaged.
Transmission towers and power poles fell on the roads near Chandanpur, about 15km from Puri town. Fallen trees lay on the normally busy road connecting Puri to Konark, home to the Sun Temple.
Cuttack, Khurda and Jagatsinghpur districts were also badly hit, as were those living on the Chilika's shores.