Cricket Association of Uttarakhand: 'Internal affairs' guardians silent
Wasim Jaffer has faced a barrage of abuse after he quit as Uttarakhand's cricket coach and was accused by officials of forcing religious-based selections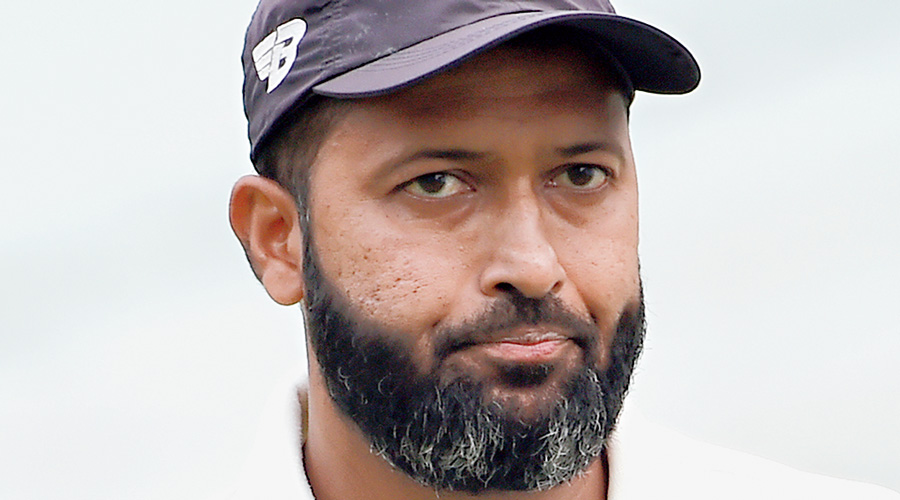 Wasim Jaffer.
File picture
---
New Delhi
|
Published 12.02.21, 03:16 AM
|
---
After Bollywood, cricket. The poison is spreading.
Former India opener Wasim Jaffer has faced a barrage of abuse and targeted disinformation after he quit as Uttarakhand's cricket coach and was accused by officials of forcing religious-based selections.
Although Jaffer, who played 31 Tests for India and was a colossus of domestic cricket, has received support from some former players, conspicuous by their silence were most of the luminaries of the game who had last week bristled at international criticism of the government's handling of the farm protest and tweeted in support of the ruling dispensation.
Jaffer quit on Tuesday, accusing Cricket Association of Uttarakhand (CAU) officials of pushing "undeserving players". The trolling began after CAU secretary Mahim Verma publicly accused Jaffer of "communalising the team and favouring Muslims".
He also alleged that Jaffer had dissuaded players from chanting "Rambhakt Hanuman ki jai" and allowed a Muslim cleric to enter a Covid-induced bio-bubble to conduct prayers. Jaffer has denied both allegations.
On Thursday, the CAU sought a report from senior team manager Navneet Mishra on the alleged bio-bubble breach.
"The Cricket Association of Uttarakhand has taken cognisance of the seriousness of the Wasim Jaffer incident and accordingly instructed its senior team manager Navneet Mishra to submit a detailed report on the matter," Verma said in a media release.
Online, a troll army pounced on Jaffer, who has over 19,000 first-class runs and 57 centuries at an average above 50, with a barrage of invectives. Some videos claimed he was involved in proselytising — an unproven allegation that, if true, does not signify anything illegal.
The trolls claimed that those supporting Jaffer were hypocrites as they had not supported Sachin Tendulkar when he and other former Indian players tweeted in support of the government over the peasants' movement.
Jaffer has defended himself against the allegations, tweeting on Wednesday night: "1. I recommended Jay Bista for captaincy not Iqbal but CAU officials favoured Iqbal. 2. I did not invite Maulavis 3. I resigned cos bias of selectors-secretary for non-deserving players 4. Team used to say a chant of Sikh community, I suggested we can say 'Go Uttarakhand' #Facts."
Iqbal Abdulla is a spinner. The chant of the Uttarakhand team is the Sikh religious slogan "Rani Mata Sache Darbar ki jai".
Some of Jaffer's teammates and other cricketers backed him.
Spinner Anil Kumble tweeted: "With you Wasim. Did the right thing. Unfortunately it's the players who'll miss your mentor ship."
All-rounder Manoj Tiwary tweeted: "I would request the Chief Minister of Uttarakhand (BJP) Mr. Trivendra Singh Rawat 2 intervene immediately nd take note of the issue in which our National hero Wasim bhai was branded as communal in the Cricket Association nd take necessary action. Time 2 Set an example #WasimJaffer."
Seamers Irfan Pathan and Dodda Ganesh too tweeted in favour of Jaffer.
"Unfortunate that you have to explain this," Pathan tweeted in reply to Jaffer's tweet explaining his stand.
Notable for their silence were Tendulkar, captain Virat Kohli, India's head coach Ravi Shastri and the other cricketers who had tweeted in support of the government's farm laws with the hashtags "IndiaStandsTogether" and "IndiaAgainstPropaganda".
A joke doing the rounds on Twitter on Thursday was: "Fans ask Indian cricketers to support Wasim Jaffer since it is cricket's 'internal matter'."
The government and its backers had claimed that the farm protest and its handling were India's "internal matter".
Sudheendra Kulkarni, a former BJP member who was in Atal Bihari Vajpayee's PMO, tweeted: "Stop bringing the virus of communalism into cricket. I stand by #WasimJaffer, the pride of Indian cricket. He's rendered great service to the game. Has an almost unbeatable record as the highest run-scorer (12,038) in Ranji Trophy. Stop maligning India's Muslim heroes!"