Covid vaccine shortage, 400 Odisha sites shut
The state has just 1.5 lakh jabs left at present which will last another two days only, according to sources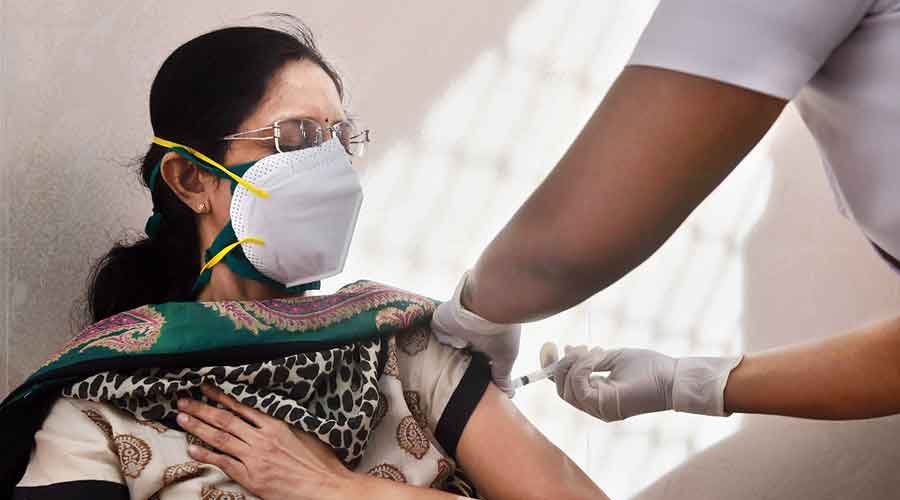 ---
---
Shortage of Covid-19 vaccines has forced the Odisha government to close down nearly 400 vaccination centres across the state.
Odisha has just 1.5 lakh doses of vaccine left at present which will last another two days only, according to sources. The vaccination campaign is under way currently at 700 sites after the closure of the 400 vaccination centres.
"The Centre has given Covid-19 vaccines to nearly 80 countries under its vaccine diplomacy. We have no objections. But it should not ignore its own people. We raised the issue of acute shortage of vaccines in Odisha during the review meeting of the chief minister on the state's preparedness to contain the surge of coronavirus cases. Our chief minister Naveen Patnaik will take up the issue of acute shortage of vaccines with the Prime Minister tomorrow (Thursday) when he talks to the chief ministers through videoconference," a senior official told The Telegraph.
Sources said the Odisha government has decided to take up the issue again with the Union health minister (Harsh Vardhan) and demand immediate supply of Covid-19 vaccines to the state. "We had earlier raised the issue of short supply of vaccines to the state. It seems they are yet to wake up to our demand," the official said.
Health and family welfare director Bijay Panigrahi told reporters on Wednesday: "The state is unable to set its target for vaccinating people due to the shortage of vaccines. Whatever stock we have has been kept in cold storage. It will last for two days only. The vaccination drive is likely to be hit severely if we don't receive more supply (of vaccines) at the right time."
Odisha recorded as many as 791 positive cases on Wednesday, the highest daily count in 2021 so far, with the tribal-dominated Sundergarh district leading the tally with 147. One patient succumbed to Covid-19 on Wednesday. "Regret to inform the demise of 28-year old male Covid patient of Puri district who was also suffering from diabetes mellitus," the health and family welfare department tweeted.
The total number of Covid cases in the state has touched 338,415. The number of active cases now stands at 4,255.
Following a direction from the chief minister to launch a drive, police across the state have started a massive awareness programme urging the people to wear masks.
The Bhubaneswar Municipal Corporation on Wednesday sealed the banquet hall of Ram Mandir and an engineering college for allegedly violating Covid-19 guidelines.
In view of the rise in coronavirus cases in the state, the Odisha government on Wednesday decided to suspend physical teaching of Classes IX and XI students at all schools including private and aided institutions, reports PTI. Classroom teaching will remain suspended from April 8 to 30, an order said.