Covid: UP hospitals defy Yogi gag bid by flagging oxygen shortage
Adityanath has been steadfastly claiming that his government supplies enough life supporting gas, and has ordered a crackdown on those 'spreading panic'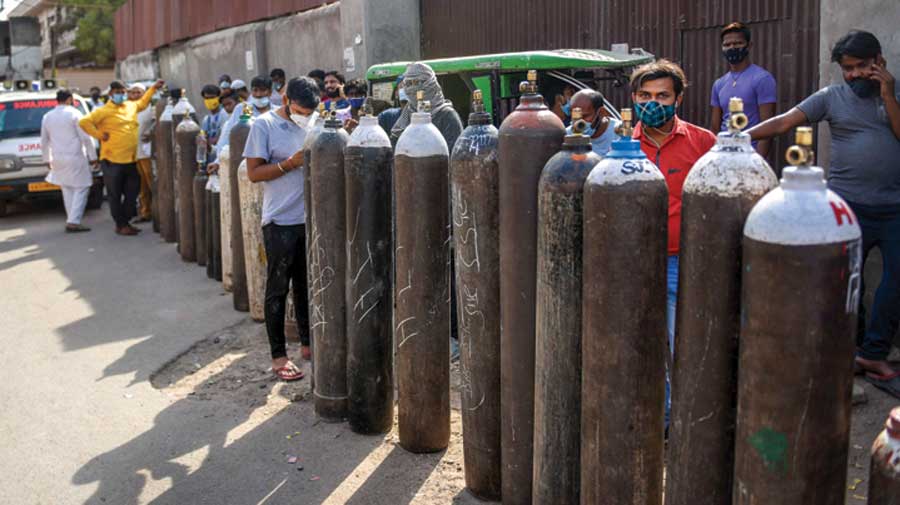 Vinay Sharma, superintendent of Tender Palm Hospital in Lucknow's Gomti Nagar neighbourhood, told reporters he was queuing at the gate of an oxygen refilling centre because his patients urgently needed supplies.
PTI
---
Lucknow
|
Published 30.04.21, 03:25 AM
|
---
Some hospital authorities are continuing to speak out about the oxygen shortage in Uttar Pradesh despite chief minister Yogi Adityanath's attempt to gag them with a crackdown, which has led to a notice to a Meerut hospital threatening to cancel its licence.
Vinay Sharma, superintendent of Tender Palm Hospital in Lucknow's Gomti Nagar neighbourhood, told reporters he was queuing at the gate of an oxygen refilling centre because his patients urgently needed supplies.
Adityanath, who denies any oxygen shortage in the state, has been steadfastly claiming that his government supplies enough oxygen to every hospital, and has ordered a crackdown on those "spreading panic".
Subhas Yadav, superintendent of Anand Hospital in Meerut, on Thursday blamed the oxygen crisis for the death of three Covid patients at the facility in the past 24 hours.
"We need 400 cylinders every 24 hours but are getting only 90. The patients died because of an oxygen shortage," Yadav told reporters.
Sharma had told reporters on Wednesday night: "I'm standing at the gate of an oxygen refilling centre. Our hospital has about 100 patients who need oxygen immediately." 
A source at Tender Palm Hospital said its staff were still in the queue early on Thursday morning, and that eight patients had died between Tuesday evening and Wednesday night because of a lack of oxygen.
"We got about 30 cylinders against the immediate need for 200 on Thursday morning. These will run out in 10 hours," the hospital employee, who didn't want to be named, told reporters at 1pm on Thursday.
Four people died in the past 24 hours at Meerut's KMC Hospital, which had on Wednesday received a notice from the district administration accusing it of falsely claiming an oxygen shortage and threatening to cancel its licence.
Meerut chief medical officer Akhilesh Mohan said the hospital was "getting everything" and "action would be initiated after receiving the reply in three days".
Dr Sunil Gupta, who runs the hospital, denied the allegation. "I have not slept for the last three days as I have to arrange oxygen. I need 300 cylinders every day," he told reporters on Wednesday.
A hospital official said the facility received less than 100 cylinders a day and procured the rest from other sources.
An official quoted Adityanath as saying at a meeting on Thursday that the government had supplied 600 tonnes of oxygen to hospitals and refillers on Wednesday, and reaffirming there was "no shortage of oxygen".
But hundreds were seen queuing since early Thursday morning at the gates of oxygen refilling centres in Lucknow.
"We are waiting for the oxygen tanker to arrive. Only then will they start giving us oxygen cylinders," said a middle-aged Radha Singh, whose husband is Covid-positive, at the gates of Oudh Oxygen Private Limited in the Talkatora area.
Arrests, PIL
A public interest plea was moved in Allahabad High Court on Wednesday seeking protection for relatives of Covid patients who appeal for oxygen or medicines on social media, and for volunteers who help them, amid reports of people being arrested for "spreading rumours about scarcities".
Saket Gokhale, a social activist, filed the letter petition following the arrest of about a dozen people on the charge of carrying oxygen cylinders or life-saving medicines without genuine reason.
At least some of the accused are, however, said to be members of citizens' volunteer groups that are responding to appeals from Covid-hit families to arrange beds, ambulances, medicines and oxygen, often by using their contacts in the administration.
Gokhale's petition says some of the relatives appealing on social media too have been arrested recently.
"Filing criminal cases against families of critical patients issuing SOS calls for oxygen on social media is a gross misuse of the powers of the State and is illegal coercive action that is being taken to maintain the image of the government and to clamp down on any criticism of their handling of the Covid-19 pandemic and to present a fake picture that everything is hunky dory in the state," the petition says.
Gokhale has said that family members of Covid patients are now afraid to seek help.
Sources said several of the voluntary groups had wound up their services for fear of being harassed by government agencies.
"Police and even some journalists are bullying us and asking us to stop working, saying we are sending out the message that the government is ineffective," a social worker told The Telegraph.