Health ministry asks all states to declare mucormycosis a 'notifiable disease'
The directive sent is intended to get govt and private health facilities to report all suspected and confirmed cases to their district health authorities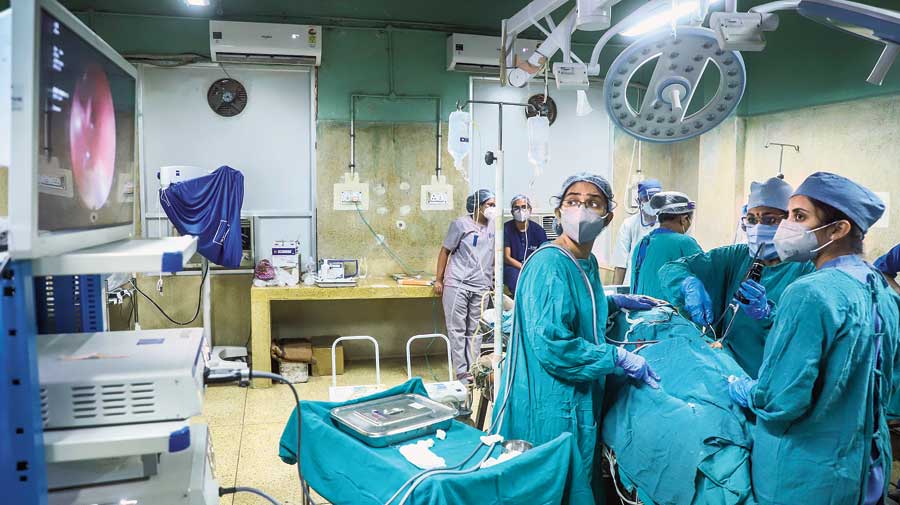 Doctors perform a diagnostic nasal endoscopy on a patient to detect black fungus at the NSCB Medical College and Hospital in Jabalpur, Madhya Pradesh, on Thursday.
PTI
---
New Delhi
|
Published 21.05.21, 01:11 AM
|
---
The Union health ministry has asked all states to declare the fungal infection called mucormycosis as a "notifiable disease" requiring official documentation of all patients, signalling growing concerns about its emergence among Covid-19 patients.
The directive sent on Wednesday is intended to get government and private health facilities, including medical colleges and private practitioners across the country, to report all suspected and confirmed mucormycosis cases to their district health authorities.
Mucormycosis — a fungal infection also called black fungus that can affect the eyes, face, nose or the brain — has emerged in hundreds to thousands of Covid-19 patients across India, primarily among patients with poor sugar control and on oral steroid therapy prescribed for moderate to severe coronavirus disease.
The standard treatment for mucormycosis is an anti-fungal drug called amphotericin-B, but the large numbers of cases in multiple states has led to a high demand and a shortage of this drug.
Union chemicals and fertilisers minister Mansukh Mandaviya said on Thursday that he expects the shortage to be resolved soon as Indian companies have placed orders for 600,000 vials of the drug.
Mandaviya also said existing domestic manufacturers have begun to ramp up production and the drug regulatory authority has given permission to five more companies to produce the drug.
The health ministry has asked states to invoke the Epidemic Diseases Act, 1897, and make mucormycosis a notifiable disease that would also require all government and health facilities to follow guidelines for diagnosis and management of the infection.
Rajasthan on Wednesday had labelled mucormycosis as a notifiable disease. A senior health official said the directive for notification would also allow the country to compile the burden of mucormycosis at the district level across India.
Senior doctors guiding India's Covid-19 response had cautioned last week that steroid abuse and uncontrolled diabetes are likely contributing to the mucormycosis outbreaks, urging vigilance and preventive steps to curb its growth.
Maharashtra, the state hardest hit by the Covid-19 epidemic, had until last week reported more than 2,000 cases of mucormycosis while some other states have reported 400 to 500 cases. The Union health ministry had said on May 14 that at least 10 patients have died and some have gone blind.
Doctors classify the fungus as a low-virulence organism which has been known to cause infections mainly in patients with compromised immune systems such as transplant recipients who have been on immunosuppressant medications or cancer patients on chemotherapy.
Although mucormycosis had been observed during the first wave too, the counts are much higher this time, a phenomenon that doctors say they do not fully understand yet.