Steroid abuse and uncontrolled diabetes link to black fungus infection among Covid patients
Maharashtra, the state hardest hit by the epidemic, has reported over 2,000 cases while some other states have reported 400 to 500 cases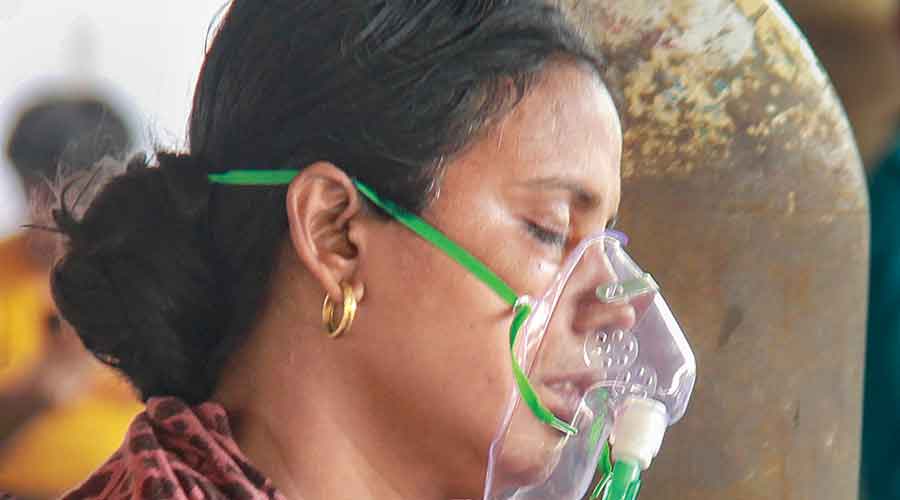 ---
New Delhi
|
Published 16.05.21, 01:31 AM
|
---
Steroid abuse and uncontrolled diabetes are likely contributing to outbreaks of a black fungus infection among Covid-19 patients across India, two senior doctors guiding India's pandemic response said on Saturday, urging vigilance and immediate preventive measures.
The doctors said some states had reported among their Covid-19 patients hundreds of cases of the mucormycosis infection that can start in air pockets behind the forehead, nose, or cheekbones and spread to the eyes, lungs, or brain.
Maharashtra, the state hardest hit by the Covid-19 epidemic, has reported over 2,000 cases while some other states have reported 400 to 500 cases. The Union health ministry said on Friday that at least 10 patients had died and some had gone blind.
"This has emerged as a new priority — we need to fight this," said Vinod Paul, chairman of the national Covid-19 task force and member of the Niti Aayog, the government's apex think tank. He said the Centre was trying to gather data from states on the numbers of cases detected.
Doctors classify the fungus as a low-virulence organism that has been known to cause infections mainly in patients with compromised immune systems such as transplant recipients who have immunosuppressant medications or cancer patients on chemotherapy.
"But because of Covid and Covid treatment, we're seeing quite a lot of cases," said Randeep Guleria, director of the All India Institute of Medical Sciences, New Delhi. "At AIIMS itself, we have 23 cases admitted, 20 of these are Covid-positive, three are negative."
Guleria said the Covid-19 infection lowered a class of blood cells called lymphocytes, increasing the risk of infections.
"We'd seen this in the first wave too, but this time we're seeing much more because of two other factors — uncontrolled diabetes and misuse of steroids," he said.
The risk of mucormycosis increases when blood sugar is uncontrolled and through inappropriate use of steroids either too early during the mild stages of Covid-19 infection or excessive doses of steroids given too long.
Mucormycosis can lead to blackening or discolouration over the nose, blurred or double vision, chest pain, breathing difficulties or coughing of blood.
"We've said this earlier — steroids are not needed during the mild and early stage of Covid-19 when they can cause harm and yield no benefit," Guleria said. "Some patients don't even know their sugar levels and when they get steroids, their sugar shoots up."
Covid-19 patients on oxygen therapy where humidifiers are used may also be susceptible to the fungal infection because of exposure to moisture. Doctors recommend that sterile or distilled water be used in the humidifiers to reduce risk.
The standard treatment for mucormycosis involves the anti-fungal medicines called amphotericin B, posaconazole or isavoconazole. Paul said India had sufficient stocks of anti-fungal medicines.
He cautioned that extensive spread of the infection sometimes needs to be treated through complex surgery that would require multi-disciplinary teams, for instance, ear-nose-throat (ENT) surgeons working with neurosurgeons.