Coronavirus updates: Cases climb to 3,20,92, death toll now 9,195
Nursing homes in Delhi with 10 to 49 beds declared as virus facilities; Meghalaya extends night curfew till June 22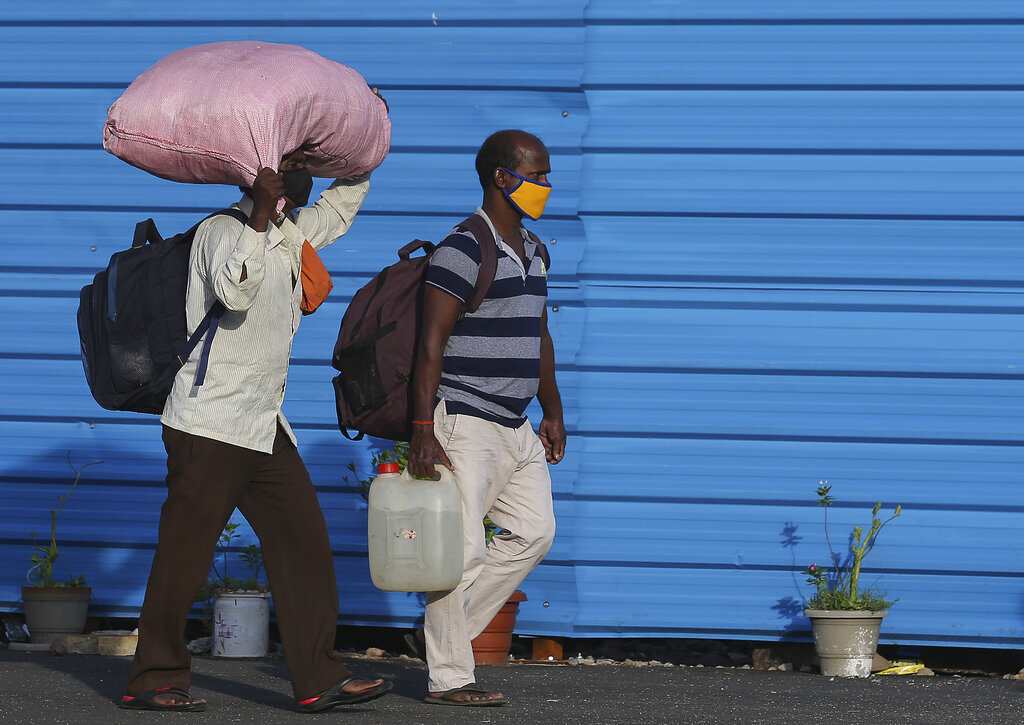 People wearing face masks carry their luggage and walk to board trains to return to their home states in Hyderabad, Saturday, June 13, 2020
AP
---
New Delhi
|
Published 14.06.20, 05:21 AM
|
---
Delhi: Nursing homes declared Covid centres
Small and medium multi-speciality nursing homes in the city having 10 to 49 beds have been declared as 'Covid nursing homes' by the Delhi government to increase the bed capacity for coronavirus patients, according to an official order.
Only standalone exclusive eye centres, ENT centres, dialysis centres, maternity homes and IVF centres are presently exempted, the order issued on Saturday said.
'In order to avoid intermingling of Covid and non-Covid patients in small and medium multi-speciality nursing homes (10 bedded to 49 bedded) and also to augment the bed capacity for Covid-19 patients, all nursing homes in NCT of Delhi having bed strength of 10 beds or more up to 49 beds are declared as Covid nursing homes,' it said.
All such nursing homes are required to make their Covid beds functional within three days of the issuance of the order failing which it would be treated as violation of Clause 14.1 of the schedule appended to Rule 14 of the Delhi Nursing Homes Registration (Amendment) Rules, 2011, it said.
Read full story here.
Bhopal allows reopening of religious places
The Bhopal administration has allowed religious places outside Covid-19 containment zones in the district to reopen from Monday after a gap of about two- and-a-half months.
In an order issued on Saturday, the district administration said authorities at the religious places need to ensure that social distancing guidelines are followed, and put in place all safety measures.
Devotees will not be allowed to touch the idols or religious books and there would be no distribution of 'prasad' (religious offering of food), the order said.
People will need to perform 'Wudu' (ablution before prayers) at their homes before visiting mosques, it said.
Religious singing, choirs, recital of Gurbani and any kind of gathering or religious function would not be allowed, it said.
Devotees will have to maintain a distance of six feet from each other, the order said.
All religious places are needed to adhere to the guidelines and standard operating procedures prescribed by the Centre and the state government, it added.

India saw the highest single-day spike of 11,929 novel coronavirus cases in the last 24 hours, taking the number of infections to 3,20,92 on Sunday, while the death toll rose by 311 to 9,195, the health ministry said.
This is the third day in a row that there were more than 10,000 cases of the coronavirus disease (Covid-19) in India, which is the fourth worst-hit nation by the pandemic.
There are 1,49,348 active Covid-19 cases, while 1,62,378 people have recovered and a patient has migrated, according to the ministry data updated in the morning.
The number of recoveries are more than the active cases as 50.60 per cent of the patients have recovered so far, an official said.
Of the 311 more deaths, 113 were from Maharashtra, followed by 57 in Delhi, 33 in Gujarat and 30 in Tamil Nadu.
There were 20 more fatalities in Uttar Pradesh, 12 in West Bengal and 10 in Rajasthan. Haryana and Telangana registered eight more coronavirus deaths each, followed by seven in Madhya Pradesh, three in Bihar.
Andhra Pradesh, Jammu and Kashmir, Karnataka, Punjab and Uttarakhand reported two deaths each.
Of the total 9,195 deaths, Maharashtra tops the tally with 3,830 fatalities, followed 1,448 by Gujarat and 1,271 in Delhi.
The toll from the pandemic rose to 463 in West Bengal, 447 in Madhya Pradesh, 397 in Tamil Nadu and 385 in Uttar Pradesh. There have been 282 Covid-19 deaths in Rajasthan and 182 in Telangana.
The number of fatalities reached 82 in Andhra Pradesh, 81 in Karnataka, 78 in Haryana and 65 in Punjab. Jammu and Kashmir has reported 55 Covid-19 deaths, followed by 39 in Bihar, 23 in Uttarakhand and 19 in Kerala.
Odisha registered 10 deaths so far, followed by eight each in Jharkhand and Assam, and six each in Chhattisgarh and Himachal Pradesh.
Five people have succumbed to the contagion in Chandigarh, followed by two in Puducherry, and one each in Meghalaya, Tripura and Ladakh, the ministry said.
More than 70 per cent of the deaths have happened due to comorbidities, it added.
101-year-old patient dies
A 101-year-old man, who was among the oldest Covid-19 patients in the country, died at a private hospital in Madhya Pradeshs Indore city, the hospital authorities said.
The victim, who was suffering from breathing difficulty, was admitted to the Intensive Care Unit of Sri Aurobindo Institute of Medical Sciences on Thursday, the hospitals chest department head Dr Ravi Dosi said.
'His condition was serious, so we put him on oxygen support. We tried hard but could not save him. He died on Saturday,' Dr Dosi said.
Apart from pneumonia, which a complication caused by coronavirus, he was also suffering from renal and heart ailments, he said.
The man had not ventured out of his house at Chhatribagh locality in the last many days and he possibly got infected through a family member, Dr Dosi said. Meghalaya extends night curfew till June 22
The Meghalaya government has extended the night curfew till June 22 to contain the coronavirus outbreak, officials said on Sunday.
Restrictions on inter-state movement of people will also continue, exempting only those having permission for medical purposes, they said.
'In view of the prevailing situation regarding Covid-19 in the state, district authorities have promulgated night curfew with effect from June 15 up to June 22 between 9 pm and 5 am each day,' a senior government official told PTI.
The night curfew was first imposed along with the lockdown in March, and is renewed after regular intervals.