Coronavirus updates: India recovery rate 22.17 per cent according to health ministry
Cases rise to 28,380, death toll now 886; ICMR tells states to stop using rapid antibody test kits procured from two Chinese firms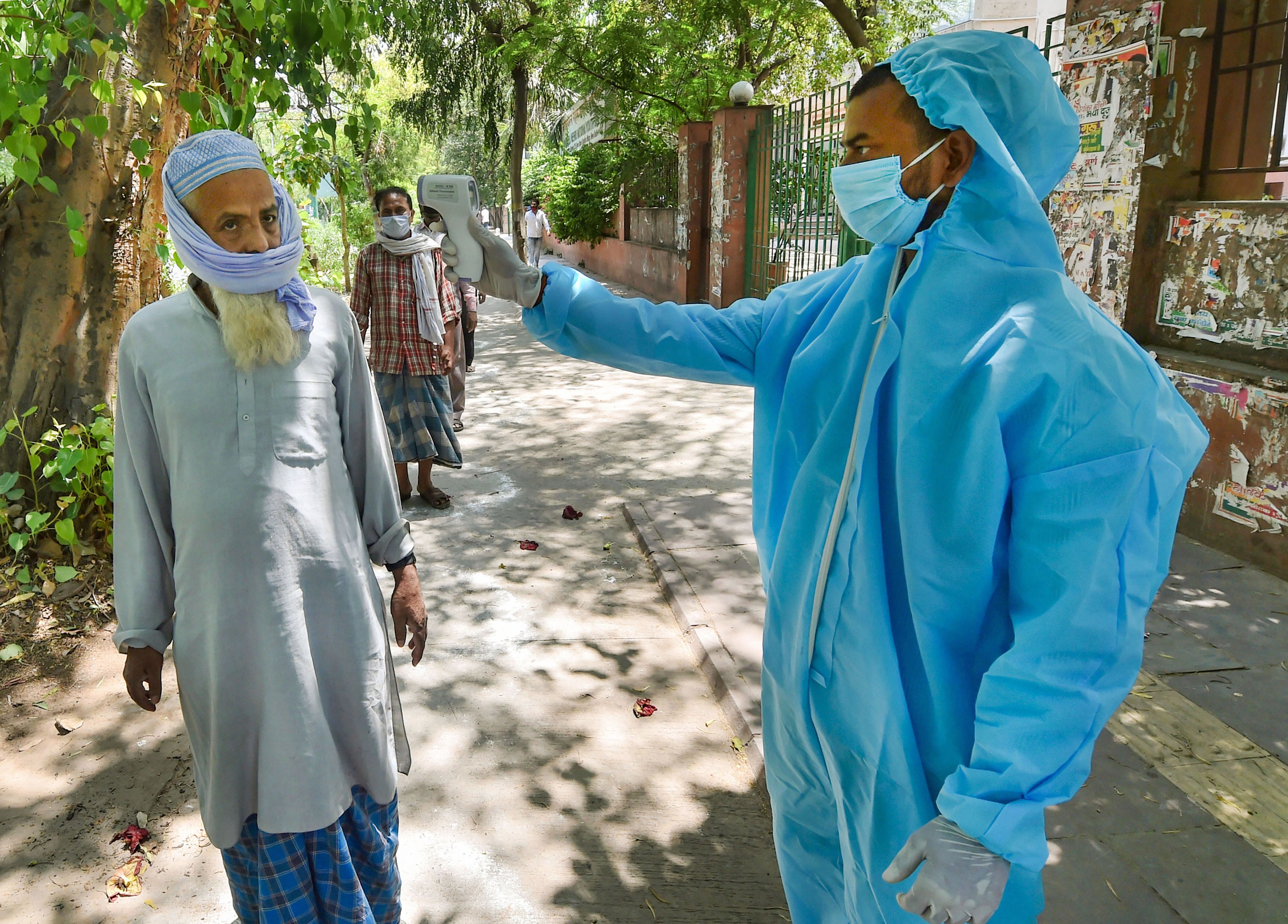 A Congress worker checks the temperature of a man standing in a queue to collect food distributed by the government during ongoing Covid-19 lockdown, in New Delhi, Monday, April 27, 2020.
PTI
---
New Delhi
|
Published 27.04.20, 04:26 AM
|
--- Cases rise to 28,380, death toll now 886

The number of Covid-19 cases climbed to 28,380 and the death toll due to it rose to 886 in the country on Monday, registering a record increase of 60 deaths in 24 hours, according to the Union Health Ministry.
There has been a spike of 1,463 cases since Sunday evening.
The number of active Covid-19 cases stood at 21,132, while 6,361 people have recovered, and one patient has migrated, the ministry said.
Thus, around 22.41 per cent of patients have recovered in the country so far.
The total number of cases includes 111 foreign nationals.
A total of 60 deaths were reported since Sunday evening, of which 19 fatalities were reported from Maharashtra, 18 from Gujarat, eight from Rajasthan, seven from Madhya Pradesh, two each from Karnataka, West Bengal and Uttar Pradesh, and one each from Punjab and Tamil Nadu.
Of the 886 deaths, Maharashtra tops the tally with 342 fatalities, followed by Gujarat at 151, Madhya Pradesh at 106, Delhi at 54, Rajasthan at 41, and Andhra Pradesh and Uttar Pradesh at 31 each.
The death toll reached 26 in Telangana, 24 in Tamil Nadu while West Bengal and Karnataka have reported 20 deaths each.
Punjab has registered 18 fatalities so far. The disease has claimed six lives in Jammu and Kashmir, four in Kerala while Jharkhand and Haryana have recorded three Covid-19 deaths each.
Bihar has reported two deaths, while Meghalaya, Himachal Pradesh, Odisha and Assam have reported one fatality each, according to the ministry data.
According to the Health Ministry data updated in the evening, the highest number of confirmed cases in the country are from Maharashtra at 8,068, followed by Gujarat at 3,301, Delhi at 2,918, Rajasthan at 2,185, Madhya Pradesh at 2,168, Uttar Pradesh at 1,955 and Tamil Nadu at 1,885.
The number of Covid-19 cases has gone up to 1,177 in Andhra Pradesh and 1,002 in Telangana.
The number of cases has risen to 649 in West Bengal, 523 in Jammu and Kashmir, 511 in Karnataka, 469 in Kerala, 313 in Punjab and 289 in Haryana.
Bihar has reported 277 novel coronavirus cases, while Odisha has 108 cases. Eighty-two people have been infected with the virus in Jharkhand and 51 in Uttarakhand.
Himachal Pradesh has 40 cases, Chhattisgarh has 37 and Assam has registered 36 infections each so far.
Andaman and Nicobar Islands has 33 Covid-19 cases while Chandigarh has 30 cases and Ladakh has reported 20 infections so far.
Meghalaya has reported 12 cases, Puducherry has eight cases while Goa has seven Covid-19 cases.
Manipur and Tripura have two cases each, while Mizoram and Arunachal Pradesh have reported a case each.
Shops in urban markets to remain shut in Himachal
In view of the Centre's lockdown guidelines, the Himachal Pradesh government on Sunday clarified that shops in urban markets and shopping malls will remain shut.

An official spokesperson said in rural areas, all shops except those in shopping malls, can be opened from Monday.
In urban areas, all standalone and neighbourhood shops and those in residential complexes, except in multi-brand and single brand malls, can be opened during the curfew relaxation time, the government clarified.
These shops will be allowed to open only with 50 per cent strength of workers and strict adherence to the norms regarding social distancing and wearing of masks.
The spokesperson said these relaxations will not be applicable in containment zones.
Restaurants, salons and barber shops will also remain shut during the lockdown period.
The sale of liquor and other specified items as per national directives for the Covid-19 management will also not be allowed.
Students arrive in Assam from Kota on bus
Over 390 students of Assam arrived in Guwahati on Monday from the coaching hub of Kota in Rajasthan and have been kept under institutional quarantine, state health minister Himanta Biswa Sarma said.
Sarma and his junior minister Pijush Hazarika received the students at the Sarusajai quarantine facility in the city after they arrived at 3am by buses.
'After a long journey from Kota, 391 children are back with smiles and cheers. To ensure that they and their families remain safe, we are putting them into 14 days of quarantine,' the health minister tweeted.
The boys have been kept at the Sarusajai quarantine facility and the girls in three hotels. Situation under control: Telangana Governor
The Telangana government is doing its best to contain the spread of coronavirus and the situation is under control, Governor Tamilisai Soundararajan has said.
She also said that the 'positive cases' curve has almost started flattening in the past few days' in the state.
Telangana has reported 1,002 Covid-19 cases so far, with 280 persons cured or discharged. The death toll in the state is 26, according to Union health ministry data.
In three of the 33 districts in the state, there has been no new cases in the last few days, the Governor, who is a doctor, told PTI over phone on Sunday.
'Chief minister K. Chandrashekar Rao's government is doing its best to contain the disease. The spread of the infection is under control and the positive cases' curve has almost started flattening in the last few days,' Soundararajan said.

Kumaraswamy calls for need to lower cost of living
Former Karnataka chief minister H. D. Kumaraswamy has called for citizen-centric measures and stressed the need to lower the cost of living, as he cautioned the state and central governments about the impact of Cvoid-19 lockdown on economy and people in-turn.
Calling for measures like partial waivers of EMIs, rents, school fees, cut in petrol and diesel prices, the JD(S) leader said, the loss of revenue may be offset partially by imposing Covid cess on the ultra rich.
'According to RBI and international economic assessment agencies, the GDP growth rate of the country is expected to fall to a historic low. Such a dire situation calls for citizen centric measures like full or partial waivers of EMIs, rents, school fees and other levies,' Kumaraswamy tweeted.
Stating that the economy won't bounce back within a very short period, he said, it is important to lower the cost of living as spending power of the consumer has depleted.
'The govt must cut the petrol and diesel prices. The loss of revenue may be offset partially by imposing COVID cess on the ultra rich,' he added.

33 staff of Delhi hospital tested positive in 2 weeks
As many as 33 staffers of a leading private hospital in east Delhi, including two doctors, nurses and paramedic staff, have tested positive for coronavirus over the last two weeks, sources said on Monday.
Max Healthcare group had announced two weeks ago that it was going to conduct tests for Covid-19 on all its employees and patients at its facilities across the country.
'Since the test started, 33 staffers, including two doctors, nurses, paramedics, and non-medical staff have tested positive for Covid-19 at Max Hospital, Patparganj, till date,' a source said.
Max Hospital, Patparganj is an upscale health facility in east Delhi.
All the affected people have been shifted to a quarantine facility in East Block of Max Hospital, Saket in south Delhi, sources said.
The East Block of the hospital is a dedicated Covid-19 facility.
Healthcare workers from hospitals under Max Healthcare (18,000), BLK Hospital (3,000) and Nanavati Hospital, Mumbai (3,000) will be tested over the next few weeks, officials of Max Healthcare had earlier said.
The move had come in the wake of a doctor, a nurse and a non-medical staff at Max Hospital, Saket earlier testing positive for coronavirus.
Personnel ministry's training division employees on self-isolation
The sudden death of an officer, working with the personnel ministry's training division, prompted the authorities to seal an office building and send the other employees on self-isolation for a few days as a preventive measure, officials said Monday.
The employee, who worked as a Section Officer, died Sunday evening.
He was feeling uneasy since Saturday and on Sunday his family admitted him to the Ram Manohar Lohia hospital here where he later died, the officials said.
It is not yet confirmed whether or not he was suffering from coronavirus. 'A postmortem report is awaited,' an official said.
As a preventive measure, the building of the training division at old JNU premises has been sealed, the official said.
'All staff members have been asked to be on self-isolation at home for a few days till postmortem report of the deceased is available,' he said. A total of 6,184 Covid-19 patients have recovered so far, taking the recovery rate in the country to 22.17 per cent, the Health Ministry said on Monday.
There has been a rise of 1,396 cases in 24 hours since Sunday morning, the ministry added.
Addressing a press briefing, Health Ministry Joint Secretary Lav Agarwal said 16 districts which earlier had positive cases have not reported any new case of Covid-19 in the last 28 days.
A total of 85 districts in 25 states and UTs have not reported any fresh case in the last 14 days, Agarwal said.
He further urged people to ensure that no community or area should be blamed for the spread of the virus and healthcare and sanitation workers should not be attacked as they are helping in bringing the crisis under control.
At the briefing, empowered group-5 chairperson Param Iyer said cooked meals are being served to 1.5 crore people daily by the government, NGOs and industry as per data available on April 25.
ICMR tells states to stop using rapid antibody test kits procured from two Chinese firms

The Indian Council of Medical Research (ICMR) ICMR on Monday asked states to stop using the Covid-19 rapid antibody test kits procured from two Chinese companies and return them to be sent back to the suppliers.
In an advisory sent to chief secretaries of all states and Union Territories on Monday, ICMR said it 'evaluated the kits of Guangzhou Wondfo Biotech and Zhuhai Livson Diagnostics in field conditions. The results have shown wide variation in their sensitivity, despite early promise of good performance for surveillance purpose'.
'In view of this, states are advised to stop using these kits, procured from the above mentioned companies and return them to be sent back to the suppliers,' it said.
The health ministry on its part issued a statement saying that after receipt of some supplies, ICMR has conducted quality checks on these kits in field conditions.
'Based on scientific assessment of their performance, the order in question (Wondfo) along with order in respect of another make found under-performing have been cancelled,' it said.
'It is stressed that ICMR has not made any payment whatsoever in respect of these supplies. Because of the due process followed (not going for procurement with 100 per cent advance amount), GoI does not stand to lose a single rupee,' the ministry said.
Congress leader Rahul Gandhi has alleged that some people were indulging in profiteering while supplying rapid test kits for Covid-19 to the government.
In its advisory, the ICMR said that several states have procured rapid antibody test kits and on their demand the ICMR also provided these kits with clear instructions that they are to be used only for surveillance purpose.
Some states have raised issues regarding their performance during the testing exercise that they have undertaken.
Additional Director General of ICMR G S Toteja advocated that RT-PCR throat/nasal swab test is the best use for diagnosis of Covid-19. RT-PCR test detects the virus early and is the best strategy to identify and isolate the individual, the advisory said.
According to RBI and international economic assessment agencies, the GDP growth rate of the country is expected to fall to a historic low. Such a dire situation calls for citizen centric measures like full or partial waivers of EMIs, rents, school fees and other levies.

— H D Kumaraswamy (@hd_kumaraswamy) April 27, 2020