Covid: Odisha government eases curbs in 20 districts
However, the state has extended the partial lockdown, which was scheduled to end on July 1, by another 15 days, to July 16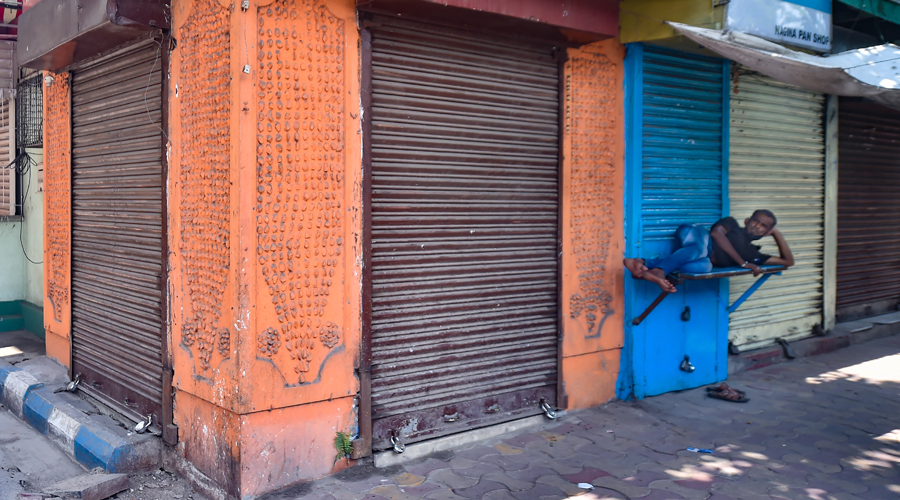 ---
Bhubaneswar
|
Published 01.07.21, 12:56 AM
|
---
In a bid to strike a balance between life and livelihood, the Odisha government on Wednesday eased a number of coronavirus-related restrictions to provide the much needed thrust to business activities. However, it has extended the partial lockdown, which was scheduled to end on July 1, by another 15 days, to July 16.
Chief secretary Suresh Chandra Mohapatra told a news conference: "The threat of Covid-19 still persists. But at the same time, we are worried about the livelihood of people. The state has been divided into two categories — A and B. The (20) districts that come under category A are those where the test positivity rate is below 5 per cent and category B districts (10) are those where the rate is still above 5 per cent. Mostly districts in the coastal belt come under category B. We need more time to ease restrictions in the category B districts."
In category A districts, the shops will remain open from 6am to 6pm. "There will be no weekend shutdown (Saturday and Sunday) in the category A districts," the chief secretary said.
According to the revised guidelines, bus transport is also allowed in category A districts under strict Covid guidelines. Buses will be allowed to carry passengers upto their seating capacity. "Taxis and autos can carry a maximum of two passengers," said Mohapatra.
Considering the demands of the artistes' association, the state government has allowed outdoor film shooting in category A districts. Daily markets and weekly haats can open, small salons can function while street food vendors can operate takeaway businesses in these districts.
The category A districts are Sundergarh, Jharsuguda, Boudh, Sambalpur, Deogarh, Bolangir, Nuapada, Sonepur, Ganjam, Gajapati, Kandhamal, Baragarh, Kalahandi, Koraput, Nabarangpur, Malkangiri, Rayagada, Angul, Dhenkanal and Keonjhar.
The category B districts — Cuttack, Khurda, Nayagarh, Puri, Jajpur, Kendrapara, Jagatsinghpur, Bhadrak, Balasore and Mayurbhanj — are those where the number of Covid cases are still high. Capital Bhubaneswar falls under Khurda district. "In these districts, shops will remain open from 6am to 2pm," Mohapatra said.
But shopping malls, spas and beauty parlours shall continue to remain closed in the category B districts.
The state government has entrusted the job of maintaining Covid guidelines in the market areas to the shopkeeper associations and shop owners.
"We have given the responsibility to (shopkeeper) associations to ensure that their members adhere to the Covid guidelines. The shopkeepers will engage their staff to ensure that people follow social distancing and other norms on their premises. We have empowered the collectors and municipal commissioners to make surprise checks to find out whether the guidelines are being adhered to or not. They can seal the market building (if norms are being violated) and also initiate criminal action," said the chief secretary.
Mohapatra made it clear that night curfew would continue across the state from 6pm to 6am. "Only authorised people will be allowed to move (at night). The threat of Covid-19 still persists. Hundreds of cases are being still reported every day across the state," he said.
The restrictions on the number of people who can attend marriages (maximum 25 people) and funerals (maximum 20 people) will continue.
Religious and educational institutions and cinema halls shall continue to remain closed, while the ban on public gatherings, trade fairs, exhibitions and jatra (theatre) shall continue across Odisha, Mohapatra said.
Additional reporting from PTI