Private hospitals can serve Covid vaccine at Rs 250 per dose
Union health ministry announced the prefixed cost and eligibility criteria for the campaign's next phase starting on March 1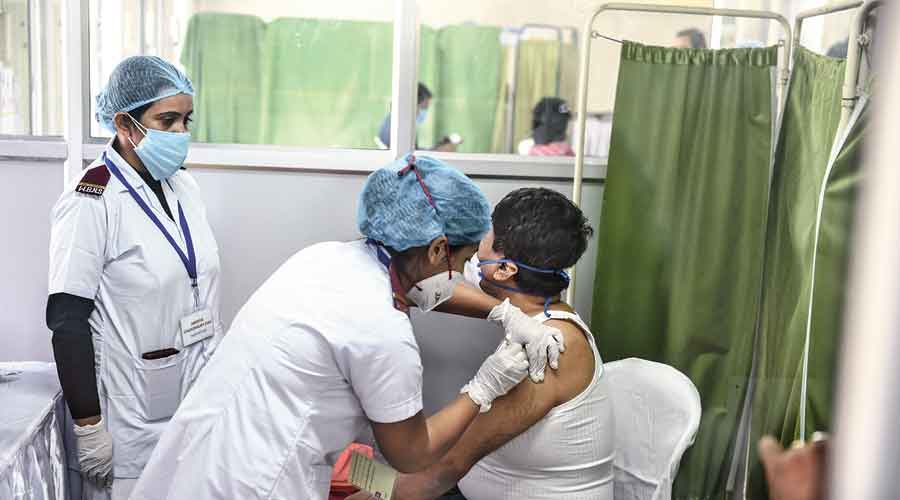 ---
---
Private hospitals serving as Covid-19 vaccination centres may charge Rs 250 per dose, the Union health ministry said on Saturday, announcing the prefixed cost and eligibility criteria for the campaign's next phase starting on March 1.
The campaign that expands vaccination to people older than 60 years and those between 45 and 59 years with chronic health disorders will offer the vaccines free in government facilities.
The ministry also released a list of 20 chronic health conditions defining the eligibility of those between 45 and 59 years. The list includes cardiovascular diseases with hypertension or diabetes, severe respiratory disease, advanced
cirrhosis, end-stage kidney disease, among other disorders.
The Centre has told the states that private hospitals can charge up to Rs 250 per dose of a vaccine.
The ministry did not specify how the cost would be split between the cost of the vaccine and the cost a hospital could charge for the vaccination service, but a hospital industry representative told The Telegraph that hospitals would get Rs 100 per dose.
The campaign is currently using two vaccines — Covishield, the Astra-Zeneca vaccine produced in India by the Serum Institute, and Covaxin, the homegrown vaccine from Bharat Biotech. The government has not yet specified how the two vaccines might be distributed across hospitals and whether recipients would have an option to choose between the two vaccines.
The government is procuring Covishield at Rs 200 per dose and Covaxin at Rs 295 per dose and industry analysts had expected the cost in the private market would be higher than the government's procurement costs.
The list of comorbidities for people between 45 and 59 years for vaccine eligibility includes;
⚫ Heart failure with hospital admission over the past year
⚫ Post-cardiac transplant/left ventricular assist device
⚫ Significant left ventricular systolic dysfunction (LVEF less than 40 per cent)
⚫ Moderate or severe valvular heart disease
⚫ Congenital heart disease with severe pulmonary arterial hypertension
⚫ Coronary artery disease with past history of bypass, stents, heart attacks, and hypertension/diabetes on treatment
⚫ Angina and hypertension
⚫ CT/MRI documented stroke and hypertension/diabetes on treatment
⚫ Pulmonary arterial hypertension and hypertension/diabetes on treatment
⚫ Diabetes (>10 years or with complications) and hypertension on treatment
⚫ Kidney/liver/hematopoietic stem cell transplant recipient/on wait-list
⚫ End-stage kidney disease on haemodialysis/CAPD
⚫ Current prolonged use of oral corticosteroids/immunosuppressant medications
⚫ Decompensated (advanced) liver cirrhosis
⚫ Severe respiratory disease with hospitalization in last two years/FEVI <50 per cent
⚫ Lymphoma/leukemia/myeloma
⚫ Diagnosis of any solid cancer on or after July 2020 or currently on any cancer therapy
⚫ Sickle cell disease/bone marrow failure/aplastic anemia/thalassemia major
⚫ Primary immunodeficiency diseases/HIV infection
⚫ Persons with disabilities due to intellectual disabilities/muscular dystrophy, acid attack with involvement of respiratory system, persons with disabilities having high support needs/multiple disabilities, including deaf-blindness.